By Inside Track
Boston Herald
November 21, 2009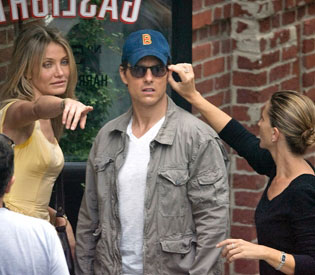 Photo by Mark Garfinkel
Tom Cruise and Cameron Diaz, left, prepare for a 'Knight & Day' shoot in the South End in September. Yesterday Cruise thanked the 'people of Boston' and the local crew on his Web site.
"Knight & Day" leading man Tom Cruise took to his Web page yesterday to thank the "wonderful people of Boston" for rolling out the red carpet for his cast and crew.
"My family and I would like to take this opportunity to thank you for your warmth and hospitality during our incredible stay here," wrote Cruise, who began filming "Knight & Day" (then called 'Wichita') with Cameron Diaz on Sept. 15 in Worcester.
"We absolutely love Boston and will treasure our memories of the Freedom Trail, the Duck Tours, the museums, restaurants, gorgeous parks and, of course, our unforgettable runs around the St. Charles River. It was an autumn to remember!"
OK, he's being nice, ignore his "St. Charles River" faux pas . . .
"On behalf of the cast and crew of 'Knight & Day' we thank you for being so accommodating, patient and understanding throughout our filming," said the box-office biggie whose crew shut down the Zakim Bridge and the HOV lane to the airport and "blew up" a plane in Bridgewater during the 2 -month shoot.
"By lending us the beauty of your city you've made this film something truly special. Words can only begin to express our appreciation."
Cruise took his classy move one step further by giving a "very special shout-out" to the local crew, who he called "impeccable."
"It was a great pleasure working with you," he wrote. "We wish for you a very happy holiday season and a healthy and prosperous New Year."
He signed the note posted on the official Web site: "Warmly, Tom Cruise."
The shoot wrapped earlier this week, and after Tom stayed behind an extra day to attend the memorial service for Boston-based Church of Scientology attorney Earle Cooley, the Hollywood he-man was off to Salzburg, Austria to contiue filming. Another crew headed for Seville, Spain to film a motorcycle chase scene during a bull run.