The Inside Track
By Gayle Fee and Laura Raposa
Boston Herald
December 20, 2009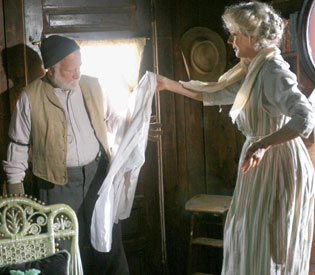 Photo by Abby Peterson
"The Lightkeepers," the made-on-Cape Cod flick about a pair of women-hating old salts, is a dark-horse candidate for Oscar bling.
So says none other than the Hollywood Reporter, which declares that Cape director Dan Adams' flick gives Richard Dreyfuss his "showiest lead performance since 1995's 'Mr. Holland's Opus.' "
It also "features strong performances by Blythe Danner, Tom Wisdom and Mamie Gummer (Meryl Streep's daughter) in an old-fashioned love story set on Cape Cod in 1912," the show-biz bible says.
Adams, a Barnstable filmmaker whose previous effort, "The Golden Boys," was also set on the Cape in the early 1900s, said he's thrilled with the recognition.
"I am ecstatic that both Richard and Blythe are getting attention for their extraordinary performances in my film," Adams told the Track . "It proves that all great actors need are interesting, provocative roles in order to showcase their immense talents. I was happy to provide them with those roles."
The flick opened in L.A. on Friday in order to qualify for Academy Awards competition. And distributor Nesim Hason of New Films International has pledged to give it a big, expensive marketing campaign.
Hason committed to spend some $450,000 to advertise the picture and send DVDs of "Lightkeepers" to Golden Globe and Academy voters (although the plan apparently had little influence on the Hollywood Foreign Press, which blanked the flick in the Globe noms). Hason said he plans to spend several million more if the pic gets any awards-season traction.
"Everything is being done with my money," Hason told the Reporter. "I went 29 years to make it, and now I'm trying to spend it to get more."
"The Lightkeepers" will get a sneak-peek, two-week engagement at the Cape Cinema in Dennis, with Dreyfuss on hand Dec. 27 for a Q & A with the audience after the 7 p.m. screening.
File Under: Keeping It Real.
Article URL: http://www.bostonherald.com/track/inside_track/view.bg?articleid=1220080