MFO NEWS
DECEMBER 22, 2009
THE BEELZEBUBS of Tufts University in Medford, Massachusetts were edged out last night by Puerto Rico's NOTA for NBC's Sing-Off Championship. While the BUBS didn't take home the prize money ($100K) or the Sony Music recording contract, they won the hearts and votes of millions of new fans across America who chose them as one of the two best a cappella groups in the country. NBC's The Sing-Off was Executive Produced by Newton filmmaker, Sam Weisman. Here is a recent Boston Globe feature on the BUBS: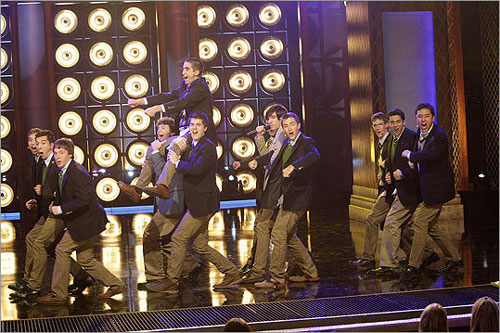 Taking their shot
Fresh from the classrooms of Tufts to the stage of NBC's 'The Sing-Off,' the Beelzebubs compete for glory (and a major-label record contract)

By Joan Anderman
Boston Globe
December 15, 2009
While most of his classmates are holed up in dorm rooms cramming for finals, Eric Morrissey has been studying in the lobby of the Burbank Airport Marriott. In the middle of the night. With 7 a.m. wake-up calls to look forward to. Happily, he has company: 11 of his brethren in the Beelzebubs, Tufts University's all-male a cappella group, who have spent the past two weeks juggling schoolwork with a shot at fame on "The Sing-Off,'' a national talent competition which premiered last night on NBC.
"It's exhausting,'' says Morrissey, 19, a sophomore, a tenor, and the group's business manager. But if the Beelzebubs win the grand prize on Dec. 21, they'll walk away with $100,000 and a major-label record contract, not to mention a boatload of glory. "This is the biggest thing the Bubs have ever done. Oh my God. We want this so so badly.''
"The Sing-Off,'' hosted by Nick Lachey and executive produced by Newton filmmaker Sam Weisman, pits eight a cappella groups against each other, "American Idol''-style. (For the uninitiated, a cappella means vocalizing with no instrumental accompaniment.) Contestants run the gamut from Medford's own to Maxx Factor, an award-winning quartet of middle-aged moms from Baltimore; Voices of Lee, a group of devout churchgoers from Tennessee with a penchant for patriotic numbers; and Solo, an inner-city Omaha septet that features a homeless woman. The show's panel of judges has been cast for maximal diversity, as well: Boyz II Men's Shawn Stockman, Pussycat Doll Nicole Scherzinger, and singer-songwriter Ben Folds, who earlier this year released an album of college a cappella groups covering his songs.
To the suggestion that a sizable chunk of the television-viewing public thinks the genre is – let's just say it – corny, Folds says, "I think this competition might change some people's minds. We've really mined the conventions in pop music: drums, bass, guitar, maybe keyboards. I'm a big fan of anything that has to be inventive, musically. This isn't about who can sing the best, it's about who can invent the best.''
It's also about keeping quiet. Everyone involved has been sworn to secrecy during filming, but just in case, each group has been assigned a "wrangler'' who accompanies them wherever they go, and groups are required to go everywhere together. Thus far the Bubs have traveled a three-mile loop between the hotel and NBC studios by van, with occasional stops at Subway and McDonald's. So much for the glamorous life. But Morrissey's spirits were high the day after taping the first of the show's four episodes, waxing about the warm weather and his proximity to the "Ellen'' set. And in an interview conducted after the second show was in the can, Folds gushed that "Beelzebubs are rock stars. They're killing it.''
So far, one surmises, so good. The show continues tonight and tomorrow with the live finale airing next Monday. The shows are at 8 p.m.
So how did they get here? Picture 12 fresh-scrubbed college boys in khakis, ties, and jackets hitting rapper Flo Rida's club track "Right Round'' with tight harmonies and brazen good cheer – see for yourself at www.bubs.com – and it's pretty easy to understand why they edged out nearly 1,000 other groups that vied last summer for spots on "The Sing-Off.'' The hard part came next: getting their parents, professors, and Tufts academic dean James Glaser to sign off. It was touch and go for a while but the Bubs finally got the green light, if not a free pass. Which means that, temporarily, sleep is a thing of the past.
"One of the things I'm working on,'' says Eli Seidman, a psych major and the group's president, "is making sure nobody gets sick.''
Ten-hour days on set are typical. All of the groups work with choreographers, although Seidman says that unlike most collegiate a cappella groups, the Bubs are not fans of uniformity. They like to run on stage. Members are encouraged to let their own personal freak flags fly, which in this case translates to flailing arms and stamping feet.
"They're all over the place,'' says Lachey. "They step out of the box.'' And like any self-respecting college club, the Bubs have a motto: Fun Through Song.
Founded in 1962 and named by a member who was enjoying "Paradise Lost,'' Beelzebubs is Tufts longest-running student organization. They're experienced live performers, averaging 40 gigs a year, so nerves haven't been much of a problem on "The Sing-Off.'' The group has recorded more than 25 albums over the years; 1991's "Foster St.'' is a watershed in collegiate a cappella circles for its rejection of traditional doo-wop, barbershop, and glee club styles in favor of contemporary pop arrangements. So winning a record deal isn't the pot of gold it might be for a less-seasoned ensemble, and the money, Seidman points out, won't go far: the $100,000 prize would be split among the Bubs' 14 members, two of whom are international students and weren't allowed to compete on the show because of visa complications.
But oh, the glory of network television. Wardrobe has outfitted the 12 of them in flashier versions of their signature preppy togs. "Sweater vests might be involved,'' Morrissey blurts. "And some bright colors.''
Even better, over the past few weeks they've worked intensively with the show's cred-heavy vocal coaches: Petra Haden, a vocal innovator who several years ago recorded an a cappella version of the art-pop album "The Who Sell Out,'' and Deke Sharon, founder of the contemporary A Cappella Society of America, leader of the noted San Francisco group the House Jacks, and – drumroll, please – a former Beelzebub.
Sharon swears he's not playing favorites.
"Let me put it this way,'' he says. "I'm rooting for everyone. And remember, just like the 'American Idol' winners aren't necessarily the ones who go on to become the biggest stars, the group that wins 'The Sing-Off' isn't necessarily the one that's going to get the Toyota commercial.''
Joan Anderman can be reached at anderman@globe.com