By Mark Shanahan & Meredith Goldstein
Boston Globe
January 20, 2010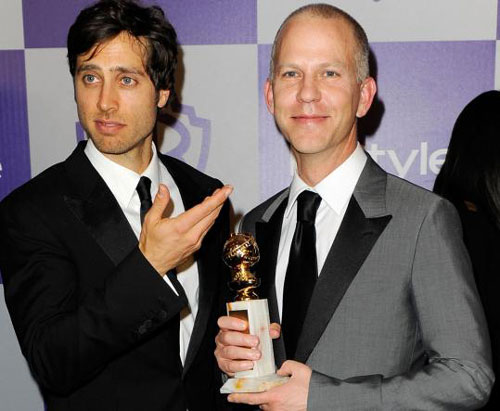 Brad Falchuk (left) and Ryan Murphy with their Golden Globe award for best comedy or musical series. (Kevork Djansezian/ Getty Images)
The Globe caught up with Newton-bred "Glee'' creator Brad Falchuk on the West Coast the other day, shortly after he picked up the Golden Globe for best comedy or musical series. "To be totally honest with you, you don't think you care until you get there and then it's like, I kind of care, I kind of want to win.''
Good thing he did. "It was just wild,'' said Falchuk, during a visit to the "Glee'' set on Monday, where the cast was celebrating. Falchuk, a Beaver Country Day School alum, has worked with "Glee'' co-creator Ryan Murphy on "Nip/Tuck'' for years. The two developed the show with fellow "Glee'' co-creator Ian Brennan.
The trio drew on all of their high school experiences to create the show, with Falchuk even naming two characters – Artie and Puck – after old friends from Newton. "We've put so much of our own personal voices into it that being recognized [with a Golden Globe] felt personal.
And when it happens you're standing there in front of Martin Scorsese and Quentin Tarantino and Tom Hanks. . . . I'm being recognized in front of my heroes; it just feels so amazing.'' Not only was the show recognized with the award but by the stars as well. "It was crazy, the people coming up to our table saying how much they loved the show, Tom Hanks and Sandra Bullock, and I was like, 'Really?' ''
"Glee'' returns to Fox April 13.