By Gayle Fee and Laura Raposa
Boston Herald
June 20, 2010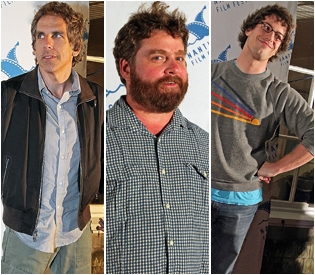 Photo by Nancy Lane
NANTUCKET – An all-star comedy roundtable starring Ben Stiller, Sarah Silverman, Andy Samberg and Zach Galifianakis yesterday during the Nantucket Film Festival devolved into a debate over YouTube.
While "Saturday Night Live" funnyman Samberg and Galifianakis, the breakout star of "The Hangover," owe much of their comedy career success to the online video sharing site, Silverman isn't a big fan.
"It's like rollerblading in an outdoor mall," she said. "We did it because it was fun and new, until there were laws made about rollerblading in an outdoor mall."
Silverman said YouTube ruins her ability to try out new material – see what bombs and what works – because it all ends up on the Internet before the act is ready for prime time.
"People put your stuff up there and it's not ready," she said, adding that old-school stand-up comics such as Richard Pryor honed their acts after months of performing.
But with YouTube, fans who show up at her shows expect to see new material all the time, not the old stuff they've been watching on the Internet for months.
Zach was more positive.
"I think it's a cool thing," said the hirsute Southerner. "It's a new avenue for people to get into the comedy business."
When asked by audience member Allison Weiss, 12, of Guilford, Conn., who he liked to watch on YouTube, Z gave props to Andy Milonakis, whose freestyle rhyming vids went viral, as well as Comedy Central's Bo Burnham, the Hamilton homey who recorded his shtick from his bedroom.
Sidenote: Zach was so impressed with the little girl's question, he took out his wallet and handed her $20 from the stage.
After the sometimes ribald comedy roundtable, Galifianakis, who interviews celebrities "Between Two Ferns" on the Funny or Die Web site, staged one of his funny chats with moderator NBC News man Brian Williams.
"So, I hear that (CNN's) Larry King farts a lot," Zach said. "And that there's a fan underneath his desk. Are you privy to any of that information?"
"Ah, no, everybody's different, of course," Williams deadpanned. "No rumors about an oscillating fan with three speeds?"
"There's been no chatter about that, no," said America's Most Trusted Newsman, who offered up that when he did see King, he would certainly ask him about his flatulence.
Other topics during the six-minute sit-down were Brian's favorite iPhone application (which was Shazam, an app that identifies songs), CNN newsman Wolf Blitzer, and how they were both going to celebrate Father's Day.
"Now, how did he get on TV?" Zach demanded to know of Blitzer. "He has the personality of one of those erasers from elementary school."
Brian, trying not to crack up, listed Wolf's resume, but Galifianakis wasn't interested.
"Does he go to raves?"
"Well, I think he danced on the 'Ellen' show once," Bri said.
As for Papa Williams' plans for today, he said his wife and two kids were with him on the island and it was up to them to fete him.
As for Zach, "I'm flying down to North Carolina to help my father take down the Christmas tree," said "The Hangover" star.
File Under: Farts, Ferns and Fathers