By Gayle Fee and Laura Raposa
Boston Herald
June 22, 2010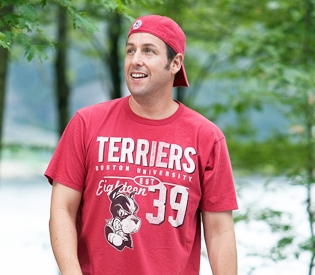 Photo by Tracy Bennett
You know we'll never see "Grown Ups" funnyguy Adam Sandler in a Red Sox [team stats] shirt or a Celtics [team stats] cap because for some unknown reason, the New Hampshire homey roots for the Yankees and Los Angeles.
But Sandler does pay homage to the local colleges in his new made-in-Mass. flick, which opens Friday.
In "Grown Ups," Adam wears a different New England university T-shirt or cap in almost every scene, including swag from BU, Harvard, UMass, Vermont, UConn, New Hampshire and Rhode Island.
In addition, Sandler also wears a shirt for the now-defunct Hartford Whalers of the National Hockey League . (And, come to think of it, we have seen Adam in a Bruins [team stats] jersey before, for whatever that's worth. . . .)
In "Grown Ups," Sandler and co-stars Chris Rock, Kevin James, David Spade and Rob Schneider portray the starting five for a youth-league basketball team that wins a big championship. Thirty years later, their beloved coach dies, and the five guys return to their hometown for the coach's funeral.
They spend the weekend together reminiscing and end up in a rematch against the team that they beat for that championship 30 years ago.
File Under: Fanboy.
Film fests pick best flicks
By Inside Track
"Undertow," the story of a volatile teen growing up in the woods of Georgia, and "Mao's Last Dancer," about Chinese ballet dancer Li Cunxin, tied for the HBO Audience Award Best Feature flick at the 2010 Provincetown International Film Festival at the awards ceremony Sunday night.
"Waste Land," a flick about an intrepid band of recyclers, won Best Documentary Feature, while "Come on Down," a short about a game-show aficionado, won Best Short Film.
"Chasing Amy" director Kevin Smith picked up his Filmmaker on the Edge Award, while "Michael Clayton" Oscar winner Tilda Swinton took home the Excellence in Acting Award.
Over on Nantucket, film festival audiences also were split and chose two features as the fest's best flicks.
"The Concert," directed by Radu Mihaileanu, and Jennifer Arnold's uplifting documentary, "A Small Act," both took home the Audience Award for Best Feature. "Apollo," an animated short about a German rocket, won the Best Short prize.