By Mark Shanahan & Meredith Goldstein
Boston Globe
June 22, 2010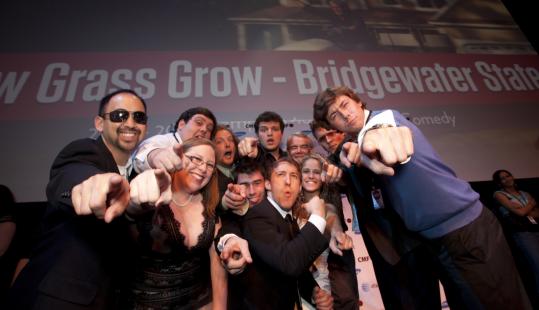 A pack of Bridgewater State College students were honored earlier this month for creating the funniest film at Campus MovieFest, a national film festival for college students.
"Grow Grass Grow,'' a short film about a man and his lawn, was honored with the best comedy award at the festival, which was held in Las Vegas and included workshops with Hollywood types such as "X-Men'' director Brett Ratner and "The Hurt Locker'' screenwriter Mark Boal.
The local film project was spearheaded by Bridgewater communications major Alex Perry (the young man flexing his muscle in the center of the pic), 22, who intends to pursue a career in filmmaking, and Nathan Clapp (the young fellow in the shades), 22, an art major who plans to go into graphic design.