By Robert Salzburg
Associated Press
June 23, 2010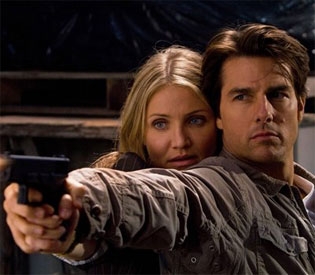 Photo by 20th Century Fox
BOSTON — The state's film office says for the first time two major motion pictures shot extensively in Massachusetts are opening in the same week.
"Knight and Day," starring Tom Cruise and Cameron Diaz, opens Wednesday. It was shot in Boston and other locations including a field in Bridgewater, where an airliner was blown up.
"Grown Ups," a comedy starring Adam Sandler, Chris Rock, David Spade, Kevin James and Rob Schneider, opens on Friday. Much of the film was shot in the town of Essex.
Massachusetts Film Office head Nick Paleologos says the only way it could get any better would be if "Knight and Day" and "Grown Ups" open as the two top-grossing films in the country.
Paleologos estimates that direct spending by movie producers in Massachusetts topped $400 million in 2009.