By Erik Potter
The Patriot Ledger
June 23, 2010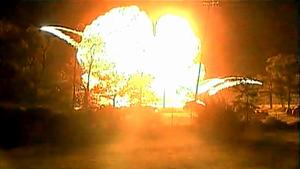 thebostonchannel.com
An explosion taken from a video still courtesy of TheBostonChannel.com lights up the sky over Curve Street in Bridgewater during the filming of "Knight and Day."

BRIDGEWATER —
1.
Bridgewater goes Hollywood in new movie: 
The new movie "Knight and Day," starring Tom Cruise and Cameron Diaz, opens nationwide today. Filmed partly in Bridgewater, the movie will be shown locally starting today at East Bridgewater Cinema 6 and Showcase Cinemas in Randolph.

2.
Firebomb scene drew many spectators: 
Bridgewater is where the plane crash scene in the movie was filmed. In September 2009, a month's worth of meetings, planning and set-up culminated in two days of acting and pyrotechnics. The film's crew, under the watchful eye of the Bridgewater Fire Department – several of whom were extras in the movie – exploded a plane with a firebomb in an open field off the 300 block of Curve Street on the far southeast side of town.


3.
Local students reach for the stars
: While in Bridgewater, Tom Cruise and Cameron Diaz met with a group of special needs students from Bridgewater-Raynham High School. Their teacher, Kara Kuntupis, had invited the stars to visit the school and eat at the cafeteria that the kids run. Cruise and Cameron instead invited the kids, teachers and one parent each on location. The actors treated them to an ice cream bar, chatted and posed for individual pictures, which they later autographed and mailed back to the students. "They still feel like they're these little stars," Lynn Temme, one of the classroom aides, said Tuesday.

4.
Filming brings thousands of bucks to town
: The film crew used the senior center in Bridgewater as a lunch site for the two days of the shooting and pyrotechnics. As payment for use of the space, producer 20th Century Fox donated $5,000 to the nutrition program at the center. The studio also paid the Fire Department more than $30,000 for the use of the department's personnel and equipment, netting the town a $20,000 profit.

5.
Bay State's tax break lures moviemakers: 
According to the Massachusetts Film Office, "Knight and Day" was one of 11 feature films shot in Massachusetts in 2009. Another was "Grown Ups," starring Adam Sandler and Kevin James, which opens this weekend, filmed in Wareham, Boston, Essex and Southboro
.