Islanders shooting for a new Dreamland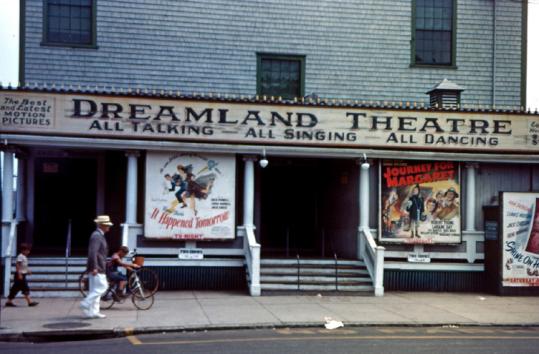 By Robert G. Pushkar
Boston Globe
July 11, 2010
NANTUCKET — When Ben Stiller stepped onto the red carpet at the recent Nantucket Film Festival and joked that "There should be a movie theater for a film festival,'' his friendly jab voiced what has been a pressing dilemma for more than five years. The 44-year-old actor and festival board member, who's been coming here regularly since he was 12, added, "It's really tough to get a movie theater on the island.''
Anyone who's been to the festival lately knows that its movies unreel in some unlikely places — a historic former school, the 'Sconset Casino (read: private club), a high school auditorium. That's because the island's only year-round venue for movies is smaller than many of its visiting yachts.
But that will soon change if the nonprofit Dreamland Foundation has its way. Its goal of reviving the much-loved Dreamland Theatre, which closed in 2005, is closer to realization than any previous efforts have been, lifting the hopes of 10,000 islanders and some 40,000 vacationers. With millions of dollars raised and a few million more to go, the foundation expects to break ground on a new 340-seat theater this fall.
To Foundation Executive Director Patty Roggeveen, 51, whose husband is descended from original settlers, the loss of the Dreamland was a "big blow.'' "It goes beyond just losing the movie theater,'' she explained. "I have to take my three kids off-island to see movies now.''
On-island, the only current year-round option for the movie-starved is the Starlight Theater & Café, with 89 seats and a slightly smaller screen than those at cineplexes on the mainland. The restaurant guarantees movie tickets for $7 and $10 to patrons with reservations in its dining room, patio diners have first dibs on the remaining seats, walk-ins can purchase the rest.
During the Nantucket Film Festival, which drew hundreds of movie fans to celebrate its 15th anniversary last month, the Dreamland's demise was particularly painful. Artistic director Mystelle Brabbèe said, "It's forced us to be very creative about where and how to screen films. We've been very fortunate to have had very loving, sympathetic audiences who have been willing to roll with us in outfitted churches and schools and other spaces for screenings. The Dreamland became our home with its big marquee feel, and we took it for granted.''
For over a half century the Dreamland had iconic stature in this close-knit community. In one sense, its storied history parallels the evolution of the island itself. It was built in 1829 as a Friends Meeting House by the Quakers, the first settlers after the Wampanoags to occupy this sandy swatch of land 30 miles out to sea from Hyannis. The Quakers declined in numbers, and the building was sold and transformed into a straw-hat factory.
In 1884, the building was hauled to Brant Point, where it was incorporated into the sprawling Nantucket Hotel. When the hotel closed, the same section was dismantled, loaded onto a barge, and floated across the harbor to its final location on South Water Street in 1906. Silent movies were shown along with "polite vaudeville.'' Talkies were introduced in 1930. Eventually four men assumed ownership: Orison Hull, Eugene Perry, Emile Genesky, and John Anastos. They were a mix of four nationalities and of four religions — Protestant, Catholic, Jewish, and Orthodox Greek. The partnership continued through their descendents for 75 years.
During that time the Dreamland shined as Nantucket's sole venue for theatrical entertainment. Comedy, romance, and adventure unreeled within its walls, and for the islanders it was a window to the outside world. Dances were held on the second floor.
The Dreamland fell on hard times several years before it closed. The previous four families who owned the building could not keep up with maintenance and sold it to a developer with large-scale plans for a theater, condos, and shops. "The developer without permission went beyond the exploratory permit and did a lot of demolition in the interior and compromised the foundation, making it unusable,'' Roggeveen recalled.
Finally, after years of thwarted efforts, including the failure of an article at town meeting to have the town buy the property, summer residents Philippe Laffont, James Pallotta, and Barry Sternlicht stepped up to rescue the Dreamland cause. They were joined by philanthropist Wendy Schmidt, wife of Google CEO Eric Schmidt, who winters in California and spends the rest of her time on Nantucket. In 2007, she signed on as president of the nonprofit Dreamland Foundation.
The bottom line in any such project is money, and the group has raised $22 million thus far, though not without struggle. Since Nantucket was transformed by commercial development in the 1970s from quaint to posh, outsider money has always been suspect.
The Foundation purchased the old theater and property for $9.8 million. But they, too, had to scale back their original plans by 25 percent after the economic downturn. A second architect, Catalano Architects Inc. of Boston, was hired to re-envision their new wishes and the size of the theater shrunk from 21,000 square feet to around 15,000.
In April 2009, the dilapidated building was demolished. Parts of it were salvaged and stored. Not only will the proposed new Dreamland house a sizable movie theater but also a studio theater for the performing arts, a harborview room for gatherings, a terrace, and offices. A small park is envisioned to face the rear of the building on Easy Street overlooking the scenic harbor.
The plan is to incorporate historic pieces of the former Dreamland into the new one. Large timber joists will be used as flooring in certain areas. To maintain historic accuracy, clapboard siding will cover the exterior, not the traditional cedar shingles seen on most Nantucket buildings. Also, Schmidt said the building will be as "green'' as possible. Recycled materials will be used wherever possible. Already, geothermal wells for heating and cooling have been dug in the swampy land beneath the vacant space.
All monies come from private and foundation donors. Still another $5 million is needed to complete the construction. Schmidt said, "We've been very lucky to raise the money in such a bleak economic climate. It's nothing short of miraculous to think that we've been able to get this far.''
Fund-raising is expected to be completed by the end of summer, and Schmidt is confident they'll break ground in September. "We're ready to roll. We're fully permitted. We're very optimistic.'' She said they wish to be debt-free before turning the ceremonial shovel of earth.
She is also realistic. Schmidt and others have worked hard to ensure the new Dreamland ultimately is for Nantucketers. "They want something simple. They don't want something fancy. They want it to have functionality,'' she said.
They want it to be just like their film festival.
Robert G. Pushkar can be reached at RobertPushkar@comcast.net.