By Gayle Fee & Laura Raposa
Boston Herald
September 15, 2010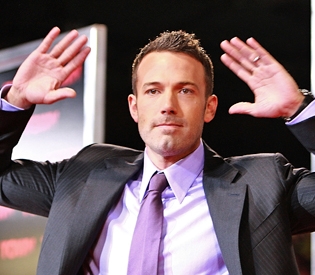 Photo by Matthew West
The stars of "The Town," Ben Affleck, Jon Hamm, Jeremy Renner, Chris Cooper, Blake Lively and Rebecca Hall – and Ben's BFF Matt Damon – shone at Fenway Park [map] last night for the world premiere of Affleck's set-in-Charlestown flick about some extremely good-looking cops and robbers who do battle in the bank-crime capital of America.
"This moment right now, being here at Fenway Park, getting to the finish line and bringing this movie to Fenway where I used to sit under the Ford sign with my dad in the bleachers, has to be the highlight of my career," Affleck told the Track.
The uber Red Sox [team stats] fan wrote, directed and starred in the movie, based on Canton writer Chuck Hogan's novel "Prince of Thieves." And instead of premiering it in New York or La-La, he brought the whole Tinseltown dog-and-pony show to Yawkey Way.
More than 1,700 locals – most of them cast, crew, family, friends, 'Townies and 'Tunies – filled the grandstand seats from home plate to third base to watch the movie's debut on a giant screen set up along the base path – and dig into the free popcorn, peanuts and beer!
"I want you to know that I love Boston," Affleck said. "This movie is from somebody who cares about this place, grew up here and that means a lot."
Affleck said he believes "Boston will get sick of Hollywood before Hollywood gets sick of Boston," and made a point to say – as the movie does in a post-script – that the recent spate of Hub crime flicks don't reflect the city as a whole.
"Charlestown isn't full of bank robbers and Dorchester isn't full of bad guys and Southie isn't full of math geniuses or bad people," said. "There's no question that these things make interesting movies, but I want people to appreciate what a unique place this is, and that there are proud people who live here."
Flanked by his impressive cast, Affleck said he is still in awe of his co-stars and the performances they turned in for "The Town."
"I don't know what to attribute it to, except luck," he said.
"Gossip Girl" star Blake Lively, who came to town with her BF Penn Badgley in tow, really "went for it" in her role as a 'Townie trainwreck, Affleck said.
In fact, Serena van der Woodsen's alter-ego told us she was so revved up to get her character right she slept in her makeup every night then went to the set the next day and started shooting in it!
"It was really important to me that it feel right," Lively told us. "I felt like a lot of the women I was seeing in Charlestown, their makeup is their mask. My character puts on her mask and her shield and doesn't care that it looks slept in. I thought that looked so much more tragic."
Lively said she spent a lot of time in Charlestown hanging with the locals in order to get into her role as "The Town" pump.
"They're so emotional, so visceral," she said. "It was really incredible to get to spend time with these women. You want to understand what's in their heart. You want to learn their attitudes and emotions and the way they talk about people they didn't like."
"The Hurt Locker" star Jeremy Renner, who displayed an impressive Boston accent in his role as a Charlestown thug, said he also spent a lot of time in the 'hood soaking up the cul-cha.
"The resources were everywhere," he said. "There's a lot of guys who opened up their lives and stories and it was invaluable. I couldn't do it without them."
Renner said he couldn't do the accent again today without that kind of Boston immersion. But when we asked him to do our favorite line from the flick – "Whose car are we takin'?" – he did a pretty passable job!
As for Hamm, who plays FBI agent Adam Frawley in the flick, Affleck said he also hit the jackpot with the "Mad Men" star. The red-hot Hamm is at the top of every director's wish list since his breakout role in the AMC drama. And speaking of which, we're a little worried about Don Draper, Jon!
"Well, you should be," the extreme hottie told the Track. "but sometimes you have to hit rock bottom before climbing your way back up."
And speaking of the Mad ad man, we couldn't help but notice that there was a little homage to Draper in "The Town": a scene in the FBI office where Hamm's Agent Frawley pours himself a whiskey and sits down to contemplate the Not (Bleeping) Around Gang.
"Ben, he's a cheeky one, he snuck that in there," laughed Hamm, who also told us he's reprising his role as Dr. Drew Baird on the Oct. 14 live show of "30 Rock."
Matt Damon – who was on hand to support his BFF but didn't speak to the press, also will return to "30 Rock" playing Liz Lemon's pilot paramour.
Dorchester rapper Slaine, a former Fenway concessionaire who plays the bank robbers' wheelman in the flick, said he thinks he's the first kid "to ever sell Coca Cola at Fenway and also shoot off an AK47 here."
Slaine, who got his big break playing a gangsta in Affleck's "Gone Baby Gone," said whenever Ben calls, he's available!
"I would never say no to him. I got nothin' but love for Ben Affleck."
And British actress Rebecca Hall said shooting the movie was "a blast from start to finish.
Resplendent in a pink and red Bottega Veneta, Hall said she did some time in the Charlestown bars while shooting "The Town" and wasn't scared one bit.
"I lived in the East End of London," she said. "I don't scare easily."
File Under: The Talk Of The Town.