By Inside Track
Boston Herald
September 17, 2010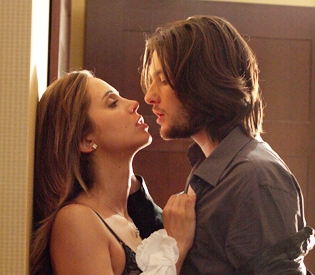 Much to her chagrin, "Locked In" bad girl Eliza Dushku won't make the red carpet scene at her flick's world premiere at the Boston Film Festival tonight.
"I have a lot of guilt and shame about it," the Watertown homegal groused in an interview from the Left Coast. "I was just there last week!"
And speaking of guilt and shame, can we discuss your Mean Girl character in this flick?
"Anytime a woman flirts with a man wearing a wedding ring, she is not going to be a likeable character," explained Eliza. "Renee's a little scary, but at the same time, she's not as scary as what is going on in Josh's head."
True. "Locked In," formerly known as "Valediction," is a made-in-Mass. thriller about a couple (played by Ben Barnes and Sarah Roemer) whose daughter is left in a coma after a car accident. The girl, however, continues to haunt her father who, at the same time, is being stalked by the creepy Renee!
"Not since my 'Buffy' days have I had a hot bedroom scene quite like the one we had in 'Locked In,' " said the Watertown homegal. "But it was filmed quite nicely. The direction and cinematography were fantastic. And it could have been so much worse!"
Eliza, who is busy taking meetings all over Tinseltown this week, said she cannot wait to see her hunky BF, Rick Fox, strut his stuff on "Dancing with the Stars" next season.
"I've been totally hooked since the year before last," she said. "I actually got hooked after my godfather, who is 70, and a terrific ballroom dancer, told me about it."
Fox, who played for the Boston Celtics [team stats] and Los Angeles Lakers, is working out six hours a day, and Eliza said she's caught him late at night silently going over steps in the living room.
"It's so cute, but he's so dedicated," said E, adding that Rick is the odds-on favorite to beat this season. "Here's a guy who is 6-foot-7 blossoming into this graceful flower before my eyes."
He may not be as graceful as Fox, but Eliza is "excited" about Shaquille O'Neal joining her beloved Celtics this year.
"I think that when a guy that big, not just in stature, but personality, comes to the team, it brings more attention and electricity to the game – not that our guys need anymore mojo."