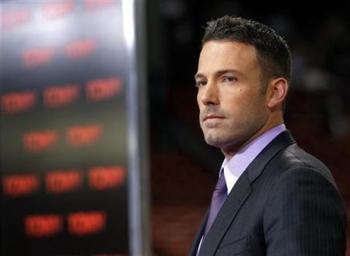 Actor Ben Affleck arrives for the premiere of the movie "The Town," which he co-wrote, directed and acted in, at Fenway Park in Boston, Massachusetts September 14, 2010. Photo by Brian Snyder.

REUTERS
September 19, 2010
LOS ANGELES (Reuters) – Ben Affleck made off with a bigger-than-expected haul at the weekend box office in North America on Sunday as his heist thriller "The Town" surprised observers with a strong No. 1 opening.
The movie, which Affleck both directed and stars in, earned an estimated $23.8 million during its first three days, distributor Warner Bros. said. It had been expected to open in the $15 million to $20 million range.
New high school comedy "Easy A" had to be content with second place and a solid $18.2 million start.
Also new were the diabolical horror "Devil" at No. 3 with a disappointing $12.6 million and the low-budget 3D cartoon "Alpha and Omega" at No. 5 with $9.2 million, which was in line with modest expectations.
Last weekend's champion, the zombie sequel "Resident Evil: Afterlife," dropped to No. 4 with $10.1 million; its 10-day total stands at $44 million. The film remained No. 1 at the international box office with a 10-day total of $103 million.
"The Town" marks Affleck's directing follow-up to 2007's "Gone Baby Gone," another crime drama set in his Boston hometown, although he did not appear in that one. He plays the brains among a gang of robbers, who complicates things by falling for a bank teller caught up in one of their heists.
The film got a boost in the last 10 days from a well-received premiere at the Toronto International Film Festival and from strong reviews. It played strongest to older male patrons, said Warner Bros. The Time Warner Inc unit partnered on the modestly budgeted $37 million project with studio-based financier Legendary Pictures.