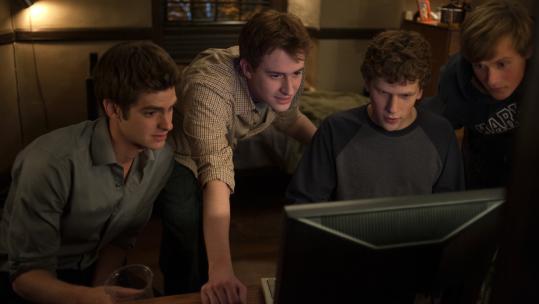 The movie "The Social Network'' depicts the launch of Facebook at Harvard University in 2003 and 2004. (Merrick Morton/Columbia Pictures)

Liberties taken with characters, motivations, they say
By Joseph P. Kahn
Boston Globe
October 2, 2010
It's witty and entertaining, with snappy dialogue and memorable performances bound to attract Oscar talk. But for one knowing slice of the audience for "The Social Network'' — the new film about the birth of Facebook — there is an awful lot less to "like.''
The movie opens this weekend to rave reviews from critics. For some people who were there during the website's launch at Harvard University in 2003 to 2004, though, "The Social Network'' is more than a cinematic revisiting of events and personalities. What's portrayed onscreen is their own college experience, and that's getting more mixed reviews regarding the film's authenticity and accuracy.
On Thursday night, four members of Harvard's class of 2004 and one 2002 grad watched "Social Network,'' then gathered afterward to share their reactions. All count themselves among Facebook's first few hundred subscribers.
One, Steve Grossman, was a fraternity brother of Facebook founder Mark Zuckerberg and knew many of the film's major players personally. Another, Sam Lipoff, has 1,500 Facebook "friends,'' many of them holdovers from his Harvard days.
The consensus? While well written and well acted, "Social Network'' takes ample liberties with the reality they lived as undergraduates. Motivations and character traits have been distorted, the five agreed, sometimes amusingly but often less so.
Grossman, 28, an information technology analyst at Northeastern University, was the most critical of the group. Watching the movie made him physically uncomfortable, he admitted.
"What was driving Mark in the movie didn't ring true at all,'' said Grossman, who faulted the movie for linking Zuckerberg's social network-building ambitions to his feeling shunned by Harvard's elite final clubs. Pure Hollywood invention, said Grossman. "Mark's a good person. My fear is, people will leave this movie thinking he's a royal [expletive]. And he's not.''
Elizabeth Burke Cantwell, 28, a career counselor at Boston University, and Lindsay Hyde, 28, who runs a Boston-based nonprofit, laughed at campus dating habits being depicted as a kind of running frat house bacchanal. In one scene, a group of women arrive from off-campus for a night of heavy drinking and striptease dancing at a final club.
"Taking off clothes — I never saw that at any party I went to,'' Cantwell said. Added Hyde, "The clubs do pose a gender challenge at Harvard, absolutely. But their portrayal far exceeded their prominence on campus.''
"The Social Network'' is based on Ben Mezrich's book "The Accidental Billionaires'' and was written by Aaron Sorkin, creator of "The West Wing'' and other dramas. Mezrich has acknowledged that his book re-creates conversations and scenes for dramatic effect and does not always faithfully follow history.
"The book and movie are entertainment vehicles,'' said Hyde's husband, Blair Baldwin. "But at the end of the day, the real story is much tamer. To make a good move I guess you have to take some liberties. It's a great movie, but it's not a documentary.''
Onscreen, the action initially unfolds at Harvard, where Zuckerberg uses his programming skills to create a university-specific website that quickly spreads to other campuses and beyond. Zuckerberg and his partners are soon sent on a dizzying ride to global fame and fortune.
Clashes with university officials and jilted business colleagues — Zuckerberg has paid tens of millions of dollars to settle lawsuits — shape the film's plot. Playing a pivotal role is his friend and business partner Eduardo Saverin, a victim in the end of Zuckerberg's ego and Facebook's rapid expansion.
Yet key figures in the site's creation, notably programmer Dustin Moskovitz, are reduced to cameo roles, to the dismay of Grossman and others who watched its launch from ground zero.
Lipoff, 27, a doctoral candidate in chemistry at MIT, said Zuckerberg's success derived less from his disdain for campus social snobs than from students' eagerness to embrace anything as fresh and cool as Facebook. The university's information technology department had promised its own online version of the college facebook but said it would take a year. Zuckerberg boasted he could do it in a week.
"The best line in the movie was Zuckerberg saying [to the Winklevoss brothers], 'If you had invented Facebook, you would have invented Facebook,' '' said Lipoff. "It captured his attitude perfectly.''
The group also agreed that the movie gets many smaller touches just right. For example, the phrase "Facebook me!'' did became a familiar campus refrain, they remembered. Another scene in which Zuckerberg hacks into Harvard computers to steal student information was also singled out as remarkably authentic.
All five got a kick out of a scene featuring Lawrence Summers, then president of Harvard. Two Zuckerberg antagonists, twin brothers Tyler and Cameron Winklevoss, visit Summers's office to complain about Zuckerberg stealing their intellectual property. Summers brushes them off, suggesting the brothers "go invent something else.''
Having been to Summers's office himself a time or two, Lipoff said, "He might have been thinking those things in his head. But even Larry Summers wouldn't have said them aloud.''
For Cantwell, the movie stirred memories of a time when Facebook felt local and familiar, not like a global brand with 500 million subscribers. "One thing I really liked about the movie was it made me think about how much Facebook has changed from its initial concept,'' she said.
For Baldwin, who graduated in 2002 but was on campus, dating Hyde, during Facebook's launch, it was a reminder of how elegantly simple the site was in its earliest days. "It just seemed natural, which is why everybody started using it,'' Baldwin said.
Hyde and Baldwin were the only two who had read Mezrich's book. While hewing closely to its narrative, they said, the film casts Zuckerberg as a socially inept college student, and a much less sympathetic figure, than the book's portrayal of a ruthlessly ambitious businessman who's now a multibillionaire. Grossman calls that a tragedy.
"This movie's going to sell really well, even get an Oscar nod,'' he said. "But people will walk out of there thinking about a Mark Zuckerberg that doesn't exist.''
Joseph P. Kahn can be reached at jkahn@globe.com.