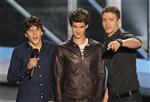 Stars of the film "The Social Network" Eisenberg, Garfield and Timberlake present an award at the 2010 MTV Video Music Awards in Los Angeles.

By Bob Tourtellotte
October 3, 2010
LOS ANGELES (Reuters) – Facebook movie "The Social Network" found millions of friends in theaters during the weekend, taking in $23 million and earning the No. 1 spot at box offices, according to studio estimates on Sunday.
The movie, which tells of the founding of the popular social networking website, played in just under 2,800 U.S. and Canadian theaters for a per-theater average of around $8,300, a solid number compared to its rivals.
"It's a terrific start for a terrific film," said Rory Bruer, president of worldwide distribution for the film's studio, Columbia Pictures.
Indeed, the movie from director David Fincher has earned wide praise from critics, scoring a 97 percent positive rating on website rottentomatoes.com, which ranks films after compiling reviews.
Columbia hopes "Social Network" may even compete for this year's Oscars, and a solid start at box offices will go a long way toward boosting its prospects for awards.
Based on positive buzz and a crush of publicity, some box office watchers thought its debut weekend ticket sales might eclipse the $25 million mark, but Columbia guided expectations to around $20 million because "Social Network" is a drama aimed at adults, who do not always turn out on opening weekends.
Columbia said women made up about 53 percent of the audience, while adults 25 years old and over were about 55 percent of those in theaters.
BEST OF THE REST
Landing at No. 2, where it debuted one week ago, was family film "Legend of the Guardians: The Owls of Ga'Hoole," with $10.8 million in revenue from nearly 3,600 venues for a per-theater average of about $3,000.
Dropping two places to No. 3 was last week's champ, "Wall Street: Money Never Sleeps," with $10.1 million. The Oliver Stone-directed sequel to 1987 hit "Wall Street" has sold nearly $36 million worth of tickets in two weeks for its distributor, Twentieth Century Fox.
But close behind was thriller "The Town," starring Ben Affleck, with $10 million, pushing its three-week cumulative ticket sales to just over $64 million.
Rounding out the top five was low-budget comedy "Easy A" with $7 million helping boost its total to $42 million.
Last week's No. 5 movie, "You Again," slipped to No. 6 with $5.6 million, and a pair of new entries,
"Case 39" and "Let Me In," opened to modest business in the sixth and seventh spots, respectively. "Case 39" took in $5.4 million and horror "Let Me In" had $5.3 million.
Finally, the No. 9 spot was held by "Devil" with $3.7 million, and at No. 10 was "Alpha and Omega" with $3 million.
"Social Network" was released by Columbia Pictures, a division of Sony Pictures Entertainment, which is owned by Sony Corp. "Legend of the Guardians" and "The Town" were released by Warner Bros., a unit of Time Warner Inc. "Wall Street: Money Never Sleeps" was distributed by Twentieth Century Fox, a division of News Corp., and "Easy A" was released by Screen Gems, also a Sony division.
"Let Me In" was released by Overture Films, a unit of Liberty Media Corp and "Case 39" by Paramount Pictures, a unit of Viacom Inc. "You Again" was released by Touchstone Pictures, a unit of Walt Disney Co. "Devil" was released by Universal Pictures, a unit of General Electric Co's NBC Universal, and "Alpha and Omega" was released by Lions Gate.
(Reporting by Bob Tourtellotte; Editing by Cynthia Osterman)