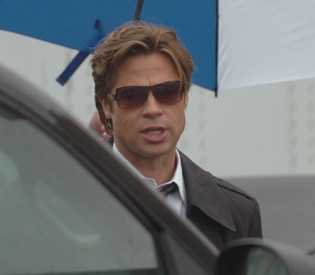 Brad Pitt on rainy Lansdowne Street yesterday.
(Photo by Patrick Whittemore)
By Gayle Fee and Laura Raposa
Boston Herald
October 6, 2010
Brad Pitt hit Lansdowne Street yesterday to film scenes for "Moneyball" – but if the script stays true to the book, the Boston Red Sox will not look as good onscreen as the Hollywood uber hunk!
Based on the 2003 Michael Lewis bestseller, the flick tells the story of Oakland A's GM Billy Beane, played by Pitt, who put together a winning ball team on a shoestring by drafting the then-obscure concept of Sabermetrics.
Ex-Sox catcher Scott Hatteberg, played by "Parks and Recreation" shoe-shine guy Chris Pratt, got his own chapter in "Moneyball" and is portrayed as the quintessential Beane ballplayer. But Hatteberg, who played catcher for the Sox for almost seven seasons, wasn't appreciated by the baseball brains on Yawkey Way back in the day.
"By late 1996, (Hatteberg) was in the big leagues for good," Lewis wrote in "Moneyball." "Once he arrived, however, he faced another challenge: the idiocy of the Boston Red Sox."
Oh, ouch.
According to the book, Beane saw something in Hatteberg that the Sox' hardball gurus didn't. The catcher was patient at the plate, worked the count, narrowed the strike zone and drew a lot of walks.
The Sox, on the other hand, had no use for these skills – especially then hitting coach Jim Rice, who Lewis said, regarded Scott's discipline at the plate as a weakness.
So when the Home Town Team released Hatteberg in 2002 after he ruptured a nerve in his elbow, Beane grabbed him and promptly made the catcher a first baseman. In his first season with the As, Hatteberg had an on-base percentage of .374.
Of course, those stats are now as ingrained in baseball as inappropriate scratching, but valuing them was a bold concept, pre-Beane.
Anyway, no one will tell us what scenes they're filming at Fenway today (weather, of course, permitting.) But we're betting it's Pitt (Beane) lusting after Pratt (Hatteberg).
Which brings us to the Greek God of Walks. Lewis' book describes then-college player Kevin Youkilis [stats] as "the fat third baseman who couldn't field, hit or throw." But three months later, Youkilis had the second-highest On Base Percentage in professional baseball after Barry Bonds. Beane dubbed him "Euclis, the Greek God of Walks."
Sadly, however, we're told there is no actor portraying Youk in the flick. He is, however, referred to in the script.
File Under: Play Ball!