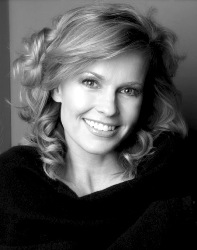 By Jeffrey Pickette

Canton Citizen
October 7, 2010
The Massachusetts Office of Travel and Tourism has the slogan "It's all here," hoping to draw visitors to the commonwealth. But for Cindy Lentol, that registered trademark also perfectly describes her career as an actress and model. She does not need to go to Hollywood to find work — it's all here.
"I've made a great living right here," Lentol said. "It's crazy, actually. I sit next to people [at auditions] … that moved to New York to get more work and they're actually getting less."
Lentol has lived in Canton for the last 11 years and her work schedule has actually been busier since moving here from Los Angeles. The key to staying busy, she said, is to be well-rounded.
Even if the name does not ring a bell, chances are you have probably seen — or heard — Lentol. Over the last 20 years she has done extensive work acting in various films, television shows, and commercials, as well as doing voice-over work and modeling for print advertisements or even billboards.
"When one thing is kind of slow, something else picks up for me," Lentol said. "If you're working here and you've broadened [yourself] a little bit, you're much more likely to be working all the time. If you're just here working as a film actor, yeah, you might be a little stale; things might get slow for you."
Just last week alone, Lentol filmed two commercial advertisements. Last Tuesday she went to Connecticut to film an Applebee's commercial with ESPN personality Chris Berman. In the advertisement, Lentol is "front and center," sitting at a table of her friends, Berman included. She said the spot will air in November. Last Thursday, she filmed a commercial for Hunt's Photo and Video, which will air on WCVB-Channel 5.
Living in Canton has afforded Lentol the opportunity to be both a full-time actress and model and a full-time wife and mother.
"I'm happy with my life and the balance that I've got going on," she said. "I've got a family (husband Gil and two young children), I live in Canton, and I'm able to do the stuff that people think you have to sacrifice to have the career that you want, and I don't think you have to.
"It's not easy," she said of balancing acting and motherhood. "It's sticky and tricky … we make it work and my husband is awesome. We have a great relationship. He supports me and what I want to do."
Lentol appears in the upcoming movie, "Company Men," which is set to hit theaters October 22. The movie, which centers on three men dealing with the effects of corporate downsizing, was filmed in the Boston area and stars Ben Affleck, Kevin Costner, Tommy Lee Jones, and Chris Cooper, among others. In the movie, Lentol plays Dana, a woman who hosts a dinner party, where Jones's character is one of her guests.
She will also be appearing in an episode of the upcoming ABC medical drama "Body of Proof," which was filmed in Rhode Island. The show is slated to premiere in October, and Lentol appears in the show's sixth episode, which she said will likely air in December.
Some of her other acting credits include appearances in movies like Ghosts of Girlfriends Past, The Departed, and Prozac Nation and in the television show Providence. Lentol has appeared in commercials for companies like Ocean Spray, Dunkin Donuts, Subway, and Papa Gino's. Her print work includes advertisements with Reebok, Macy's, and Pampers. And she has done voice-overs for the likes of Foxwoods, the 99 Restaurant, Arby's, and U.S. Cellular.
One key to Lentol's success is that she takes the audition process very seriously. "You can't wing it — not if you want to get the role," she said. Lentol also "constantly" takes acting and improvisation classes and advises aspiring actors to do the same.
She has worked with stars like the aforementioned Affleck or Jones and even Berman, as well as appeared in movies with Alec Baldwin, Matthew McConaughey, Leonardo DiCaprio, Matt Damon, and Jack Nicholson, but she does not get starstruck.
"We work together — we're coworkers … we're both there for the same reason and because somebody else has worked longer or has gotten bigger breaks or whatever, I still respect them as an actor, whether they are doing extra work or whether they are on a regular TV series," she said. "It's all the same to me and we're all working for the same thing."
Lentol said she would love a starring role in a big project, but she is pleased with where her career is now.
"I'm happy with the way my career is going, and I don't think unless you're extremely lucky that you get a big break overnight," she said.
"There's supposed to be a process to this and I've enjoyed it from the start. If you love what you do," she continued, "it makes all the difference."