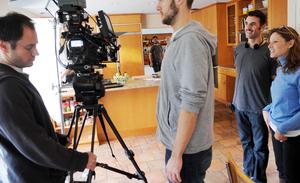 Director of Photography Vitaly Bokser, left; David Kruta, Cambridge, first assistant camera; Director Richard LeMay and Producer Nia Hatsopoulos prepare for Friday afternoon's filming of 'Naked As We Came In' at 3 Woodcock Lane in Lincoln. Photo by Matt Modoono for Wicked Local
By Peter Costa
GateHouse News Service
October 28, 2010
Lincoln – Movie producer Nia Hatsopoulos not only proves you can go home again but you can also film it.
Hatsopoulos, who grew up in Lincoln, is using her parents' home on Woodcock Lane as the primary setting for shooting the film, "Naked As We Came In."
"One of the main characters of the film, Lily, is obsessed with gardens and plants and my parents' house is covered in plants," she said.
Behind the modern house are two multistory greenhouses built with enough glass to challenge the Crystal Cathedral in Los Angeles in its prime.
"Perhaps I'm biased, but in my eyes, Lincoln is one of the most charming towns in New England. The efforts the town has made in terms of land preservation and environmental preservation are remarkable and it takes very little movie magic to capture the beauty of the area. The land makes an ideal backdrop for a lower budget, story-driven independent film like 'Naked As We Came In,'" she said.
"We had about 25 people here in Lincoln every day. It was a really special experience. We worked 12-hour days. We had local residents bringing food for us, donating tablecloths, bedding and artwork. The Council on Aging gave us a wheel chair. It was a cool family-driven work environment," she said.
"I studied at Boston College and was the first girl in the film program. It was a tiny program back then. It was mostly film theory and history. I did an honors thesis there. After college I was dying to get involved in film but there wasn't anything for me to do.
"So I ended up working in a financial advisory firm in Waltham. Eventually, I found work in film in the Bahamas," she said.
"I graduated in 2002 when there were few productions here. Now there are millions," she said. The main reason the productions are coming here is the tax incentives. Essentially, if your film budget is over $50,000 and you are shooting in the state of Massachusetts, you can get a 25 percent tax credit," she said.
"That support from the state combined with the historic buildings and landscape is a perfect combination."
Lead actor Ryan Vigilant grew up in Westford and finds returning a bit "unreal."
"I came home a week prior to filming and it was as if I wasn't even home. I was so immersed in the character and the work. There were a few times driving around the local spots, the old school, I did have a revelation and wondered, 'Where has my life gone?'" Vigilant said and laughed.
When he was a student at Westford Academy, he did not participate in theatre..
"The most I ever did in theatre at Westford Academy is that, during my senior year, I would sneak into the theatre during the day and just play hooky and hang out with friends in the theatre. That was my stage experience for high school," he said.
"Mike Towers [Director of Theatre Arts] is a fantastic guy and he tried to push me into that direction but I never scratched that itch in high school."
"This is my first lead in a feature film and it seems weird to let the character go. I never experienced that drastic change from constant work to constant nothing," Vigilant said.
Hatsopoulos said the film is about a mother who grew up in a dysfunctional household. She was married to a man who started a huge laundry company and was very successful. The mother barely paid any attention to her children, a boy and a girl. She was having affairs with the gardeners and was an alcoholic. The kids moved to New York for college. The dad dies and the kids take over the laundry business. Ten years later they get a phone call from a strange man who is staying at their mother's home. He informs them that their mother is dying of cancer.
"So the two kids come to Lincoln and find their mother who looks horrible. The story evolves at this house, the mother's house as they deal with relationship issues," she said.
Like the good producer she is, Hatsopoulos would not reveal the ending.
Richard LeMay, who is originally from Leominster, wrote and directed the movie.
The house on Woodcock Lane features an open, modern layout with floor-to-ceiling glass creating a boundary-less Zen-like, one-with-nature experience. There is an atrium with an indoor pool as well as a waterfall just as you enter the foyer.
"We had to turn the heat pumps in the pool off as well as the waterfall," she said. "Then it was wonderfully quiet."