By Darren Garnick
Boston Herald
December 3, 2010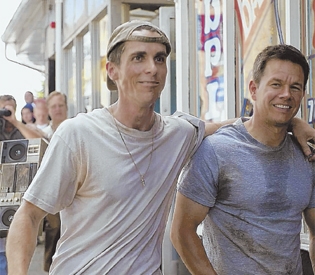 Photo by Paramount Pictures
Screenwriter Rich Farrell knows what it's like to take a punch.
On his 13th birthday, his father gift-wrapped two pairs of boxing gloves. When Richie's party was over, he was brought down to the basement for a presentation. Skipping the playful jabs expected between father and son, his dad gave him a savage beating.
The message: The world is not filled with nice people, and you have to be tough to survive.
That memory is especially vivid this month as "The Fighter'' opens, shot on location in Lowell, the city where Farrell grew up and succumbed to the temptations of heroin. The film, which stars Christian Bale and Mark Wahlberg as deeply troubled boxing brothers, grew out of Farrell's 1995 HBO documentary, "High on Crack Street.'' Two of his featured characters were celebrated local fighters Dicky Eklund (Bale), who struggled with drug addiction, and "Irish'' Micky Ward (Wahlberg).
Farrell, 52, has a cameo acting role in the movie — as documentary filmmaker Rich Farrell. But his life may soon get marquee treatment as his autobiography, "What's Left of Us," has been optioned by the producers of "The Fighter."
The book is structured around one week in a decrepit Lowell detox center "with windows held together by duct tape." The story intersperses Farrell's interactions with counselors and fellow addicts with flashbacks to his childhood.
"The story is told from the point of view of a madman junkie, not a 50-year-old man looking back," Farrell said. "I really don't know why I survived and others didn't. I don't offer any answers. It's just this is what happened to me and there is a way out."
Despite the severe physical abuse in his childhood — which included being bound to a chair and threatened with an electric carving knife — Farrell dedicates his autobiography to his father.
"It's a love story between me and my father that reveals how destructive love can be. He gave me discipline. He gave me courage. In a strange way, if I didn't go through the stuff my father put me through, I never would have made it to the other side.''