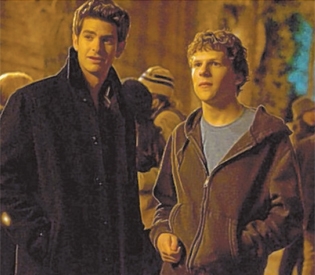 Andrew Garfield and Jesse Eisenberg in a scene from 'The Social Network,' which is getting early Oscar buzz.

By Gayle Fee and Laura Raposa
Boston Herald
December 5, 2010
The National Board of Review, an organization of more than 100 film critics and historians, has picked the made-in-Cambridge Facebook flick "The Social Network" as its top movie of the year.
The flick, based on a book proposal by Boston author Ben Mezrich, tells the tale of the Harvard computer geek who founded Facebook in his dorm room and the ensuing Boston legal battle over who really created the uber-social- media site.
The National Board isn't always a key indicator of Academy Award glory. Last year, its picks didn't predict any Oscar wins, but all of its choices did receive nominations. And as the award season gets under way, it appears that the Aaron Sorkin-penned "The Social Network," director David Fincher and star Jesse Eisenberg are the film, director and actor to beat.
Entertainment Weekly has all three as frontrunners in the nomination race. (The maggie pegs co-star Armie Hammer as a "longshot" for a Best Supporting Actor nomination.)
And "The Social Network" isn't the only local flick that could be headed for Oscar glory.
Ben Affleck's "The Town" and Mark Wahlberg's "The Fighter" are "possibilities" for Best Picture nominations, EW says. Christian Bale is a lock in the Best Supporting Actor race for his turn as Dickie Ecklund, the crack-addicted brother of Lowell fighter Micky Ward, the magazine says.
And Melissa Leo is heading the pack in the Best Supporting Actress category for her role as the broth ers' evil mom. But Marky Mark is deemed a "longshot" for a Best Actor nod for his lead in the made-in-Lowell flick and Amy Adams, who got lots of critical praise for her turn as Ward's galpal, is only a "possibility" to make a showing in the Best Supporting Actress race, according to the entertainment bible.
Other locals in the hunt include Matt Damon, who could get a Best Supporting Actor nomination for "True Grit," the maggie says, adding that his BFF Affleck is a possibility in the Best Director race for "The Town."
File Under: Network News.