Wahlberg revisits his working-class roots for his role in 'The Fighter'

Lynda Gorov
Boston Globe
December 5, 2010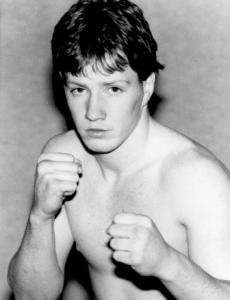 "Irish'' Micky Ward, played by Mark Wahlberg in "The Fighter.''
LOS ANGELES — Maybe it's all the talking he's done to promote his new fight film. Or maybe it's the cold that seems to be coming on. Or maybe Mark Wahlberg is still channeling Lowell boxer Micky Ward, who was the calm center of a crazy world filled with yakking sisters, a drug-addicted brother, and one domineering mother.
Whatever the reason, the former out-there underwear model, who describes the HBO show "Entourage'' that is partly based on his early days in Hollywood as tame by comparison, is accommodating but also reserved on a recent day. Then again, he is now a father of four and on the cusp of 40, although the body still appears to belong in an era far from his pending middle age. At least externally, Marky Mark survives, if not his Funky Bunch.
Actual age aside, the body is convincing in "The Fighter,'' opening Friday and based on the lives of light welterweight champion "Irish'' Micky Ward and his fighter half-brother, trainer, and addict Dickie "The Pride of Lowell'' Eklund, played to wiry perfection by Christian Bale. Wahlberg, of course, is from the working-class heart of Dorchester, but their dead-on banter, in never overdone ac cents, puts them square in Lowell, where the movie was filmed on a tight $11 million budget and even tighter 33-day shooting schedule.
Wahlberg has wanted to do a boxing film for a long time now. He says he's been training for 4 1/2 years. For one, he's a southpaw and had to change his stance, and re-center his power as a right-hander with Ward's notably specific style. That meant up to eight hours a day in the gym and in the ring he built in his backyard for an earlier boxing movie that fell through. It also meant more houseguests, with the boxing brothers, who are now 52 (Eklund) and 45 (Ward), and any number of other fighters bunking with Wahlberg, just like in old times.
"They lived at my house; everyone has lived at my house,'' Wahlberg said. "That's the problem now. What people don't understand now is that I have four kids, so no one can live in the house. . . . People were like, 'What do you mean we have to go?' I'm like, 'At some point you have to grow up and have responsibilities.' ''
And so Wahlberg's own entourage moved on. He did, too. The former bad-boy rapper who did jail time for an assault at age 16 is now a TV production powerhouse. In addition to "Entourage,'' he and production partner Stephen Levinson executive produce "How to Make It in America,''
"Boardwalk Empire,'' and "In Treatment,'' a therapy talker that is wordier and more intimate than anything Wahlberg has overseen before. He was also nominated for an Academy Award for his role as Sergeant Sean Dignam in Martin Scorsese's "The Departed'' (2006). He can get movies made.
"When I met him he was a 26-year-old mumbling kid from Dorchester who was coming right off of 'Boogie Nights' and he was slouching down on the couch,'' said director David O. Russell, who also worked with Wahlberg on "Three Kings'' and "I Heart Huckabees.'' "Now I call him Godfather because he's literally got a boardwalk empire and a television empire. . . .
"He's evolved into a really generous-hearted person both in generating projects and setting the tone on projects,'' added Russell, who was brought aboard by Wahlberg this time. "On this project, he sacrificed his body and he sacrificed his time and he sacrificed his money. . . . He paid for all the training on his nickel because we had no money. He carried the film on his back.''
Bale ("American Psycho'' and "The Dark Knight'') found himself in Wahlberg's backyard, too, after meeting up at the school their young daughters both attended.
Wahlberg says, "I knew we'd have rapport. We're both similar in the way that we don't hang out with anybody. We have our families. I have my old friends. I get along with everyone I work with but I don't hang out with other actors and get together with them. I'm with my kids. My other interest is golf. If Christian played golf, I'm sure we'd get a game.''
That would be some game, given Wahlberg's former tough, at times thuggish reputation, and Bale's own reputation as intense and intensely offbeat. But that's not how the two dads presented themselves on a recent day in separate hotel suites.
For his part, Bale had to drop the British accent along with his Rs and a ton of weight to play Eklund, whose career ended in crack addition and a comeback in his brother's corner, where he helped Ward win a championship title and make his name in an epic trilogy of fights against the late Arturo Gatti. If Wahlberg had to learn to hit the pads like Ward, Bale had to hold them like Eklund. They come across as real brothers, and if Bale has the showier role (Matt Damon and Brad Pitt were also attached to the project at various points), the importance of Wahlberg's quiet calm is equally essential to a movie that is about fighting, poverty, family, and falling in love, with a believably fleshy Amy Adams as a bartender named Charlene.
"I loved the script and that was it, the ball started rolling,'' said Bale, who signed up when Darren Aronofsky was directing and found himself helping Wahlberg search for a replacement when Aronofsky dropped out. "So we were like, let's go meet directors. We didn't want to go down the path of a deep down junkie movie. We've seen that so many times. When you know Micky and Dickie, that's not what you come away thinking. David has a great ability to get the humor out of tragedy and the most disturbing of situations. And so it came together. Bang, we were in Lowell shooting.''
Lowell, its architecture, its accent, and its hairstyles circa 1990, is in many ways another costar of "The Fighter.'' To hear the brothers' mother and sisters go at it is to be back in a specific time in a specific place. Russell says he encouraged everyone to follow Wahlberg's lead in how far to take their talk, even locals like Kate O'Brien (Conan's younger sister) in her film-acting debut as one of the hilariously foul-mouthed sisters.
"I changed my voice a little,'' Wahlberg said. "Micky has such a distinctive voice and not a lot of people outside of that area or the boxing world know Micky Ward, so I didn't want to lay it on too heavy after doing 'The Departed' and 'The Perfect Storm.' When people come into that world and do an accent, it always drives me crazy.''
Wahlberg says he stays sane by staying close to home, with model Rhea Durham, his wife since summer 2009. While that home is now a 15,000-square-foot Beverly Hills estate with a 2,500-square-foot gym, which he listed two years ago for $15.9 million before plunking down $8.25 million for a 6.14-acre vacant lot where he's expected to build his dream home, the Wahlbergs still gave their kids refreshingly normal names: Ella Rae, Michael, Brendan, and baby Grace.
There are also lots of trips to Boston, where his mom now lives in Braintree and cousins of the youngest of nine abound. And brother Donnie, an actor (TV's "Blue Bloods'') and a member of the 1980s boy band sensation New Kids on the Block, is nearby in LA.
The mogul Wahlberg has the good sense to regret dedicating a 1992 memoir to his penis. He says he's put the indiscretions of youth behind him and actually sounds sad to be missing his daughter's first jazz dance class to promote "The Fighter.'' Forget hearing him rap again. He says nothing could convince him, not even the idea of doing a kiddie album like so many other musicians who become parents.
"That was a part of my life then,'' he said, "but it's not where I want to go.''
Instead, Wahlberg, who is one of about a dozen people credited with producing, executive producing, or co-producing "The Fighter,'' has designs on overseeing more TV and more movies, starring in the latter with the occasional cameo in the former. Using the royal Hollywood we, he said:
"We want to produce our own material. We don't want to sit around and wait for offers to come and the next role to come. We want to create our own destiny and do our own thing.''
Wahlberg says he hopes that includes more movies with sports themes, though he concedes he's running out of categories. Still left, though, is golf, an admittedly hard sport to capture on screen.
"Boxing movies are some of my favorite movies ever made,'' he said. "Through acting, I got to fulfill so many of my childhood fantasies. I got to be an NFL football player, a basketball player, hockey player, welterweight champion. What kid wouldn't want to do that?''
Lynda Gorov can be reached at lgorov@aol.com.