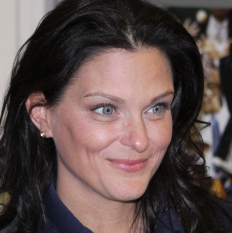 Erica McDermott
By Mark Shanahan & Meredith Goldstein
Boston Globe
December 7, 2010
"The Fighter'' premiered in LA last night and walking the red carpet with all the Hollywood heavies was Erica McDermott, the 36-year-old Scituate mom who plays one of Micky Ward's seven sisters. (She's pictured, above.)
Unlike Mark Wahlberg, who stars in director David O. Russell's gritty biopic, or Christian Bale, who plays Ward's half-brother Dickie Eklund, McDermott is not a veteran of the movies. In fact, this is one of her first films. "I have a measly resume,'' McDermott admits.
That's because she's a psychiatric nurse who only caught the acting bug a few years ago. She won the role of Cindy "Tar'' Eklund in "The Fighter'' when she showed up at a casting call for "tough women.'' Initially, Boston Casting's Angela Peri thought McDermott might be just another pretty face, but when the wannabe actress stepped out of line and swore at her, Peri was impressed.
"My acting coach told me I had to take risks, so I did,'' recalls McDermott. "I was shaking for 20 minutes afterward because I couldn't believe I did that.'' She auditioned for Russell and casting director Sheila Jaffe, employing her best Boston accent. "I talked about gahbage,'' she says.
McDermott doesn't have much to compare it to, but she says "The Fighter'' set was relaxed and peaceful — Russell's blow-ups with Lily Tomlin on the set of "I (Heart) Huckabees'' are YouTube classics — and how helpful Wahlberg and Bale were. "Mark was using his Boston accent . . . he could have been a guy I went to high school with,'' she says.
What's next? "I don't want to put the cart before the horse,'' McDermott said. "I just can't wait to see this, and then who knows.''