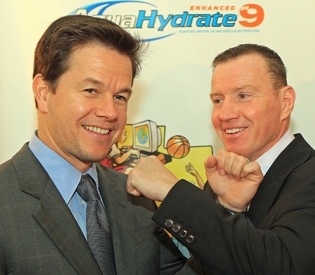 Photo by Stuart Cahill
By Inside Track
Boston Herald
December 9, 2010
"The Fighter" premiere at the Hingham Shipyard last night was a TKO with star Mark Wahlberg, director David O. Russell and a bunch of Boston boldfacers snagging ring-side seats.
The Dorchester homey, who bulked up to channel the Pride of Lowell fighter "Irish" Micky Ward, hosted the event at the Patriot Cinema for his Youth Foundation.
"I think every boxer has a story worth telling," Marky told the Track. "Micky was one of my heroes growing up, and he had such a compelling story. His family and upbringing mirrors mine in so many ways. It was a dream project for me."
It had to be a labor of love since it took five years to make!
"People, for whatever reason, didn't have the same desire as me to make this film. I made a promise to Micky and Dickie (Eklund, Ward's half-brother) and to Lowell that Lowell was not going to be perceived by the place where 'High on Crack Sreet' was made," he said, referring to the gritty HBO documentary featuring Eklund, a fighter-turned-junkie. "Lowell was going to be perceived as the birthplace of two great boxers."
Seen checking out the big screen boxing action were New England Patriots [team stats] big man Vince Wilfork [stats] and his Twitterific wife, Bianca (aka @mrs75); Boston Celtics [team stats] spouse Julie Pierce representing the Green Team, who were playing the Denver Nuggets at the Garden last night; Pats legend Tedy Bruschi [stats] and wife, Heidi; Mark's mom, Alma, brother, Robert, and various and sundry Wahlbergs.
Post-screening the pack headed over to the Hingham Beer Works where a swingin' time—orchestrated by Party By Design —was enjoyed by all.