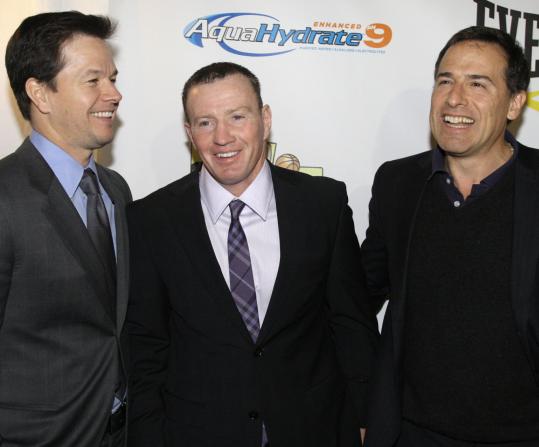 From left: Mark Wahlberg, "Irish'' Micky Ward, and director David O. Russell at last night's screening of "The Fighter'' in Hingham. (Bill Brett for The Boston Globe)

By Mark Shanahan & Meredith Goldstein
Boston Globe
December 9, 2010
Buzz is building for "The Fighter'' even though director David O. Russell's biopic of boxer "Irish'' Micky Ward won't be in theaters nationwide for another week. (How hyped is this movie? We're told Mark Wahlberg and Christian Bale are doing a photo shoot with Sports Illustrated this week and could end up on the cover.)
The performances of Bale, who plays Ward's crack-addled half-brother Dicky Eklund, and Melissa Leo, who plays their mom, Alice Ward, are being called Oscar bait, but what do the real-life characters think of the gritty flick starring Wahlberg as Ward?
At a private screening for family and friends in Lowell this week, Phyllis Eklund, one of Ward's seven sisters, was less than impressed. Played in the film by Conan O'Brien's sister, Kate, Phyllis angrily walked out of the movie and was overheard afterward saying, "I don't like it.''
Considering how feral and unfriendly the sisters are in the movie, that is not a surprise. But her opinion isn't shared by everyone. Other sisters said the film is fair, and even Alice, who's portrayed as a merciless, foul-mouthed matriarch, told friends she was prepared for worse. (In addition to family, the Lowell screening attracted a few of Ward's fellow boxers, including Chuck Zito, Vinnie Pazienza, and Kevin McBride.)
Bale was at the Mill City screening, but left before last night's premiere in Hingham. Wahlberg, Russell, Ward, and co-screenwriter Scott Silver did make the scene, and gathered afterward for a private party catered by Wahlberg's brother Paul, the owner/chef of Alma Nove.
Asked if he worried that the less-than-flattering portrayal might offend the Ward clan, Wahlberg said no. "To an extent, we did tone down [the script]. It was originally much more heavy-handed in terms of addiction and drugs,'' he said. "But, obviously, it's tough watching your life played out on a screen for two hours.''
That just one of the sisters objects to the film is worth noting, said Russell, who called the story "ultimately redemptive.'' "Hey, one out of seven ain't bad,'' said the director. (Kate O'Brien, who plays Phyllis Ward, was at last night's screening, as were actresses Erica McDermott and Melissa McMeekin, who play two of Ward's other sisters.)
Wahlberg was joined on the red carpet by friends from his Dorchester 'hood, his mother Alma, who called her son's success "surreal,'' and brothers Jimmy and Bob. Also there were Pats owner Robert Kraft and lineman Vince Wilfork with his wife, Bianca. (Tedy Bruschi and wife Heidi, and Paul Pierce's wife, Julie, were on the guest list, but we didn't see them.)
It was a five-year odyssey to get "The Fighter'' on film, but Wahlberg said it's been worth the wait. "It's a beautiful thing,'' he said.