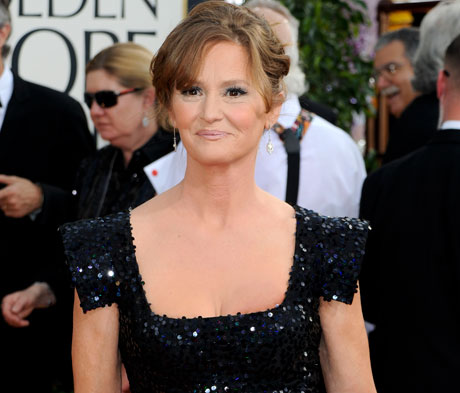 By John Lopez
Vanity Fair
February 4, 2011
As Oscar season enters its homestretch, Academy voters receive their final ballots, consensus gels around the favorites—and one name you hear over and over is Melissa Leo. She's already won a Golden Globe and a SAG award for her portrayal of Alice Ward, the tough-as-nails Massachusetts mother in The Fighter. Now her second Oscar nomination has the pundits predicting a win for both her and co-star Christian Bale (whose charismatic performance goes a long way toward rehabilitating public perceptions of crackheads everywhere). Little Gold Men caught up with Leo before the shower of accolades began, and she shared with us the process behind The Fighter's bravura performances, how the real-life community of Lowell helped create the vibe, and the key to creating a great girl fight on-screen.
John Lopez: What's remarkable about The Fighter is how real the characters feel. People I know from that part of Massachusetts say it's like watching old home movies.
Melissa Leo: You know, people that have spent time in that area feel that it's so of that area. But one of the most extraordinary things I find doing press for The Fighter is there's a lot of places like that. You know, a town that once was gonna be something…and then, it's just been dying off ever since.
The film really captures the energy of the community—is that David O. Russell's direction coming through?
It is indeed David O. Russell. The man has a huge heart. You know, he's not like Mark, who's grown up around those people. It was a whole new world to David; he didn't know what to expect. But he fell head-over-heels, madly in love with everyone in Lowell. He did, we all did.
How do you deal with such dramatic material while still retaining an essential lightness?
First, it has to do with the Ward-Eklunds themselves. They've lived complex, complicated, and extraordinary lives, a lot of rough water and some pretty high mountaintops. So the openness from the family was a big part of it. But it also goes back to David O. Russell. I've never met someone so non-judgmental. Looking at the portrait of the crack addict in the movie—yes, he's a crack addict, but [David is] not making a judgment about it. It's just a fact. And that's a brilliant touch.
I assume you prepared by working with the family?
It was very important to me, and I'll mention this so we don't have to linger on it, but Alice Ward is actually very sick right now. She's come down with pneumonia and had a heart attack, and we thought we lost her. Within 10 minutes of this occurring in the hospital, 50 people show up at the hospital! So that's where Alice is, and talking to you, I can't forget that. Anyway, my agents were all very excited about this role, and working with David and Mark and Christian, but then I thought, Wait a second, I'm supposed to play their mother?! Back up here! I mean, I'm 10 years older than the boys. Alice might've started having kids young, [but] not at 10!
Not even in Lowell.
Even in Lowell! But it was in meeting Alice that I saw in her my mother's mother—not so much the circumstances, but a time in America growing up. A woman with a brain, a woman with a fierce love for her children, living the American dream by making a better life for her kids. You can dress somebody up, but if their internal mechanism isn't living and breathing the character, you have only half a character. And, [from her perspective], I've never had the woman playing me dropping by the set and seeing how I'm doing with her kids all there, every day!
Was there a single moment, a gesture, a prop, when you knew you had her character down?
I don't know if there was a single moment, but I did have that exact experience just recently working with Kevin Smith on Red State. Kevin saw one photograph of me, and, [he told me later,] there was something in the way I had jammed my hands in the pockets of the hoodie for the photo. It was so brilliant, too, that he shared this with me; some directors might think something like that and never share it with the actor. However, Alice was not easy.
Well, she's a pretty complex character, and you're right, she's so fierce.
I'm not like Alice. I don't feel myself as a pushy, step-to-it, take-care-of-it kind of gal at all. That was a reach for me, and I think that what got me the confidence was David's belief in me, and the town of Lowell. I got all up in Mark Bridges's costumes and the hair and makeup, and they were delighted to see her 20 years younger than she is today. Their belief in me was the final bridge to cross to come to the set with the confidence I needed.
It sounds like you guys really engaged the community on set.
That's something that the big Hollywood film misses out on. It happens all the time in little independents where you're shooting in real locations with real folks and the vibe you pick up from that. There was no doubt we were doing something important and each one of us—Amy, Mark, Christian, Jack, the sisters—we all showed up with a very serious job to do and had a good time doing it.
I bet you had a fun time shooting the girl-fight sequence where Alice and the daughters come over to take down Amy Adams.
You know, as a female, I've been asked to do some fighting, a punch here and a kick there, but I have yet to meet a female fight director. I know that Amy Adams, in her great wisdom, nailed the one of the sisters who had the most experience, which was Dendrie Taylor, the first one that gets shoved to the ground. Amy and Dendrie spent a long time with the male fight director and the male director getting it to be a real girl fight.
It's one of the best, most realistic girl fights I've ever seen in cinema.
You even see Mark step back out of it.
We've all been there. As a male, you never, never get in the middle of that.
Yeah, and it's something that I know from experience is hard to capture on film. And you get a female involved in the action…. It's a cagey beast.
So you've had your share of girl fights, huh?
Along the way, indeed, I have…
So you guys pulled David aside and said, "Listen, this is how we throw down."
Well, not that I've done that much throwing down in my actual life, I did a play called Cinders, and I think there were nine of us girls in a Polish reform school. And there was a fight when all the girls gang up on one of the girls. It was a man who was directing it, and he kept not being happy with it, because it was being choreographed by a guy! Finally, when us women began to take over the fight, the choreography of it, that's when it really became this brutal moment onstage.
Maybe you should pitch your own spin-off based on Alice's character: The Girl Fighter.
[Laughs.] Yes, The Girl Fighter!
Seriously, though, this can be a male-dominated industry, but even just creatively it's important to get that female perspective up on-screen.
Well, Kathryn Bigelow gave us a lot of help last year. You're just starting to hear more and more about women directors. You know, it takes a while for people to evolve.
Sometimes I feel Hollywood is secretly one of the most conservative cultures—
Yeah, it's thought of as a trend-setting thing. But it's sort of the opposite.