By Bronislaus B. Kush
WorcesterTelegram.com
May 20, 2011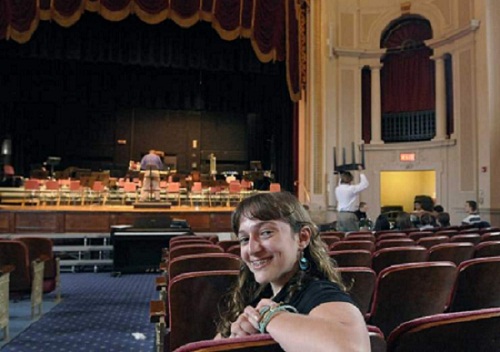 Student Rowen Price, 14, is an extra in the TV movie about bullying that is doing a bit of its filming at Worcester Academy. Some scenes will be shot here in the Warner Theatre at the school. (T&GStaff/JIM COLLINS)
WORCESTER — Lights, camera, and action!
Worcester this week took on some of the glitter of Hollywood as Frenemy Films LLC began shooting "Broken Silence," an independent feature about school bullying.
The drama — produced by Boston-based Moody Independent — is being directed by Princeton resident John Stimpson.
The movie, which is geared for television, is expected to be shot at 14 locations in the city, including the Beechwood Hotel, Ralph's Diner, Worcester State University, St. Vincent Hospital, Hope Cemetery, Worcester Academy and Burncoat High School, as well as in some local homes.
"This is a tremendous opportunity for the city," said Erin Williams, the city's cultural development officer. "As I understand it, most of the film will be shot in Worcester."
Film crews are expected to be in the city through June 6, city officials said.
Andrea Ajemian, a Rutland native who is line producer for the production, said the film is about a college field hockey player who is harassed by her peers and eventually commits suicide.
"It's a very timely subject, given the incidents that we've recently seen," she said.
Jenn Proske, who appeared in the movie "Vampires Suck," plays the lead role. Liz Vassey, who was a member of the "All My Children" soap opera cast and who appears in the "CSI: Las Vegas" television series, plays her mother.
The movie, which has a budget of about $500,000, has 16 speaking roles, with 11 of the cast members from the Boston and Worcester areas.
Ajemian said movie officials are attempting to include as many local people as possible in the production.
This weekend, for example, scenes will be shot at Worcester Academy's Warner Theater, Walker Hall, Gaskill Field and the gym.
Worcester Academy spokesman Neil Isakson said that — at the behest of movie officials — an e-mail was sent out encouraging students, faculty, and other members of the school community to serve as extras.
Rowen Price, an eighth grader who lives in Northboro, said she's hoping she'll be one of the lucky ones chosen.
Price, the daughter of Valerie and Howard Price, has appeared in the school productions of "The Tempest" and "Charlie and the Chocolate Factory."
"It really would be a fun thing to do," said the 14 year-old, who's thought a bit about pursuing a career in show business.
From time to time, filmmakers have used the back-drop of Worcester and surrounding communities.
Last December, for example, another crew from Moody Independent spent an evening taking shots of the holiday-decorated Worcester Common that were used for "Christmas Kiss," a romantic comedy set to air on television this fall.
"They were pretty much in an out that same day," said Williams. "The people involved with these movies know that the city is film friendly and that they can easily work with our parks and public works people."
Walt Disney Productions in 2006 also utilized Fitton Field at the College of the Holy Cross for "The Game Plan," which starred Dwayne "the Rock" Johnson.
Central Massachusetts was also featured in "The Legend of Lucy Keyes," a film about a 4-year-old who disappeared in the woods of Princeton in 1755.
That movie was also directed by Stimpson and appeared on cable television.
"The visit by the (Broken Silence) film production team is just a wonderful opportunity for Worcester area residents, who are involved in the arts," said Lea Ann Scales, assistant vice president of public relations and marketing at Worcester State University.
Fifteen members of the production crew will be residing at WSU during the filming. Many others have found housing in the various apartment complexes downtown.
City officials haven't determined how much money the production's visit will bring to Worcester but Ajemian said a number of local businesses are being patronized.
"We want to provide the local community with as many jobs and opportunities as possible," said Ajemian, a Wachusett Regional High School graduate. "We try to keep everything in state."
"Broken Silence" will be distributed by MarVista Entertainment Inc.
Bronislaus B. Kush can be reached at bkush@telegram.com.