By Jesse Roman
The Salem News
June 29, 2011
When Hollywood comes to the North Shore, dollars follow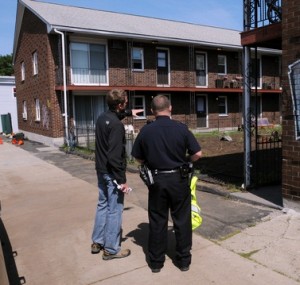 Peabody:14 Collins Street in Peabody is where a movie is being filmed with Adam Sandler. Photo by Ken Yuszkus/Salem News
Peabody is getting a dose of Hollywood this summer, with two big-budget films — "I Hate You, Dad," starring Adam Sandler, and "Here Comes the Boom," starring Kevin James — already passing through, and dropping thousands of dollars along the way.
"Ted," starring Mark Wahlberg, filmed recently in Swampscott.
And in just the last few years, "Grown Ups," "Bride Wars," "The Proposal," "Ghosts of Girlfriends Past" and a handful of others have filmed on the North Shore.
How much do these movies boost the local economy in the form of money and jobs?
Nobody really knows, but there's certainly an effort being made to figure it out. The seemingly overnight explosion of movie productions traveling north of Boston has left local economic and tourism organizations scrambling to find ways to quantify the economic impact. It's still a work in progress.
"We haven't figured out a good way to see how these productions impact us locally, but I definitely think it does," said Amanda Fancy, communications coordinator at the North of Boston Convention and Visitors Bureau.
"Towns on the level of Salem, like New Bedford and Quincy, are so new to this, we haven't really established the multipliers or a way to capture the economic impact of these movies," said Kate Fox, executive director of Destination Salem.
"The economic impact would be the crew and cast and the direct spending they are doing at restaurants and other businesses. But we have no sense of how great that is."
Even the Massachusetts Department of Revenue has no information specific to any region or county.
"And because of disclosure law, we can't even identify how much a specific production (spends or) receives (in tax credit), said Robert Bliss, a spokesman for the department. "It's all in the aggregate."
From lumber to tourists
if it were possible to learn how much each movie spends, how much of that trickles into the local economy is hard to say.
"Say you're trying to see exactly how much of the budget is used here. Well, are the trucks from here? How many of the people come from somewhere else? It's really hard to break down and get to the data," said Lisa Strout, the new director at the Massachusetts Film Office and a 20-plus year veteran of the movie industry.
"There's hotel use, restaurants and various things a movie production buys (or patronizes), such as lumber, hardware, car washes, dry cleaners, and things you wouldn't normally associate with film. I've seen numerous examples where they walk up to a local bagel shop and say, 'We're going to need 1,000 bagels every day for the next three weeks.'"
A movie production is a lot like a military operation, Strout said. It's a bunch of people traveling together, hunkered down in trailers and tents, with a massive amount of equipment, supplies and food.
"The needs of those people cross all economic sectors," she said. "It's very, very significant when a large movie comes in. Then the tourist stuff comes in later."
Salem, which hasn't seen a big-budget movie since 2008's "Bride Wars," is eager to cash in.
To aid the effort, the city's tourist office is developing a new film office and website with photos, contacts and information to help lure film producers to Salem. The website — the first of its kind on the North Shore — should go live "within the month," Fox said.
While numbers are hard to come by, those who've been involved in recent film projects seem certain they're an economic benefit.
When "Here Comes the Boom" shot a few scenes at Latitude Sports Club in Peabody over a few days last month, manager Christian Padilla couldn't believe the size of the operation. There were well over 100 workers — from electricians to set builders, cameramen and cleanup crew — and several trailers full of equipment.
"A lot of them were local," Padilla said. "The feeling I got talking to them was that it was a lot of union work; they get on this movie and then that project, and continue on like that."
Club manager: 'We're happy'
Several of the same crew that came to Latitude are now working on "I Hate You, Dad," which has been filming in Peabody now for a couple of weeks. This week, the crew showed up at the Cabaret Lounge, a Route 1 strip club. They are building the sets and will continue filming there past the July Fourth holiday — shutting down the club the entire time, club manager Peter Hickey said.
In addition to paying all of the club's 30 or so employees their regular wages during the shutdown, the movie production is paying the club an undisclosed sum for its troubles.
It must make up for all the lost revenue, because Hickey said the sum "is fine for us, and we're happy with it."
Hickey, like Padilla, said a lot of the workers hired to build the set were from the area.
"All the people are local people, local Teamsters, and there's an awful lot of them — maybe 30 or 40 working in here, so it's real good for them," Hickey said. "And I think it's beneficial for the club. We get good publicity and public relations. And the staff get paid time off, and I know a lot of them wanted to be off for the Fourth of July."
While numbers are not available locally, the state has gone through great pains to document — at least in aggregate —the benefits it sees from the movie industry.
According to the Massachusetts Film Office, more than $1 billion has been spent on movie production in the state from 2006 to 2009, the last year numbers are available. The state has paid movie studios about $150 million of that back in tax credits over that time, which is likely the main reason for the sudden film boom here.
The average annual cost to taxpayers for the credits over that time was about $27 million, but the average annual benefit to the economy is more than $267 million, according to the state.
Some 4,972 jobs have been created from 2006 to 2009 as a direct result of the film industry, the film office says. Those jobs, by the way, have a median salary of almost $68,000.
How Peabody's recent fling with Hollywood impacts the local coffers, however, is less easy to quantify. But everyone seems to believe it certainly can't hurt.
"It's a benefit," Mayor Michael Bonfanti said. "It definitely has a trickle-down effect on the whole economy."
FILMED ON THE NORTH SHORE
2011
"I Hate You, Dad" (Peabody)
"Here Comes the Boom" (Peabody)
"Ted" (Swampscott)
2010
"What's Your Number?" (Gloucester)
2009
"The Company Men" (Marblehead)
"Grown Ups" (Essex)
"Furry Vengeance" (Danvers, Ipswich, Topsfield)
"Knight & Day" (Danvers)
2008
"The Joneses" (Peabody, Newburyport)
"Bride Wars" (Salem)
"The Last Harbor" (Gloucester, Rockport)
"Ghosts of Girlfriends Past" (Ipswich)
"The Proposal" (Gloucester, Manchester, Rockport, Hamilton, Beverly)
2007
"The Women" (Gloucester, Georgetown)
"My Best Friend's Girl" (Ipswich)
"The Box" (Ipswich)