By Charles Winokoor
The Taunton Gazette
July 31, 2011
Filmmakers find appeal in Taunton and tax credits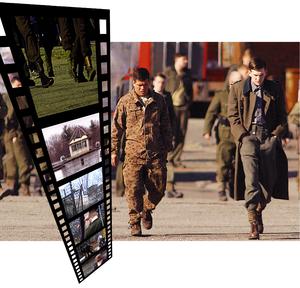 Scenes from the Martin Scorsese film "Shutter Island" shot in Taunton.Taunton Gazette file photo by Mike Gay
TAUNTON — Don't count Taunton's Mayor Charles Crowley among those having second thoughts about the state's film tax credit law.
"I saw the benefits," Crowley said. "They absolutely help."
Signed into law by Gov. Mitt Romney in 2005, and expanded upon two years later by his successor, Deval Patrick, the tax credits apply to filmmakers and companies either shooting at least half of their movie or spending at least half of their production budget within the Bay State.
It's been a generous tax break, with a credit equal to 25 cents of every dollar spent while filming here, and a 100 percent sales-tax exemption on items purchased in-state related to production.
According to the Massachusetts Film Office, the Bay State also is the only state that gives filmmakers the option either of taking their unused credits as a direct rebate at 90 percent of face value, or selling them at market rate.
But with the national economy having gone into a tailspin during the past few years — and with states scrambling to retain revenue to avoid decimating their budgets — criticism of the cinematic tax-credit program has emerged in some quarters.
In January, a Department of Revenue study indicated that most of the money (more than $82 million) reaped by filmmakers in 2009, in the form of tax credits, went to non-resident actors, many of whom earned more than $1 million apiece.
The pros and cons of the debate, meanwhile, have enough shades of grey to satisfy any fan of old Charlie Chaplin films.
In 2010, for example, an opinion piece in the Boston Globe decried film tax credits for rewarding "transient" workers, while denying money to the state for educational and infrastructure projects.
But an editorial the same year in that same paper noted how movies made in Boston and the state help to attract outside investment and tourism.
A mayor's open invitation
Notwithstanding 1942's Johnny Eager with Lana Turner, scenes of which were shot at the former Taunton dog track — when it comes to movies of note having been filmed on location in the Silver City, the gold standard remains director Martin Scorsese's "Shutter Island."
A significant portion of that psychological thriller was shot on the premises of the Whittenton Mills factory complex over a period of a month, during the winter of 2008; the movie was released in early 2010.
During the summer of 2008, scenes for what came to be known as "Surrogates" — a science fiction flick featuring Bruce Willis — were shot on the grounds of the former Paul A. Dever School.
But it was "Shutter Island" — originally titled "Ashecliffe," and featuring Leonardo DiCaprio and Ben Kingsley — that generated the greater publicity buzz and revenue dollars to local businesses.
"They spent a lot of money here, I witnessed it," Crowley said.
And he says it wasn't just local pizza shops and restaurants reaping the residual benefits.
With sets that needed to be built and dozens of people being fed, Crowley said hardware stores (chains and independents alike) and grocery stores were among businesses that saw their sales increase before and during filming.
The mayor didn't require any arm-twisting before "Shutter Island" to be convinced that a major motion picture would help put Taunton on the map, at least in the short-term.
Crowley said he personally compiled and forwarded to a Paramount Pictures advance team a promo kit of Taunton-centric photos and videos.
Unlike some other larger cities, Crowley said he waived any local permit fees that might dissuade that advance team from considering working here.
He credits Aggregate Industries for making available, at no charge, a portion of their quarry site on Fremont Street for the film crew's equipment. Also cooperative, he said, was the leadership of Holy Rosary church on Bay Street who offered free parking for production trailers.
In February 2009, a Boston-based film-location scout toured three sites in the Taunton area for what was to have been a Steven Spielberg production of a movie about Abraham Lincoln.
"We bent over backwards to make sure they came here," Crowley said, adding that any time a major motion picture is shot either in Taunton or a neighboring town, "the entire region benefits."
Although he supports the state's film tax credits, Crowley attributes the decision by Scorsese and the movie company to film part of "Shutter Island" in Taunton moreso to their having found an ideal locale, while also feeling welcomed.
"They planned to look at Taunton State Hospital, but when they saw (Whittenton Mills) they fell in love with it," he said.
Local revenue boost
Diane Benjamin, co-owner of Benjamin's restaurant on Bay Street, says it was a regular occurrence during filming for Martin Scorsese and his entourage to come in for lunch.
"He would call ahead to find out what the specials of the day were," Benjamin said.
To make the famed director feel more comfortable, she said she got in the habit of reserving one of her dining rooms for Scorsese and his group of 10 or so co-workers whenever they visited.
"We got some lovely publicity," she said, including coverage by a Boston TV crew.
"Anytime you shine a positive spotlight on the city it's good, because it's the community that benefits, not just us," Benjamin added.
And while the more upscale Benjamin's can claim director Scorsese as a former customer, it was a pizzeria called That's Amore, strategically located at 336 Whittenton St., that captured the most constant flow of additional revenue.
"It was 24/7, I mean it," said owner Louis Nunes.
Nunes, 50, estimates his sales jumped between 20 and 25 percent during the period of shooting down the block.
"People came down here from all over to check it out and see what's going on," he said.
David Murphy, owner of the 42-acre Whittenton Mills site at 437 Whittenton St., said tax credits make business sense.
Having a Hollywood movie made in Massachusetts, he said, "is fabulous, whatever area they're in."
In the case of "Shutter Island," Murphy said he offered his site for a flat $50,000 and was presented a counter-offer of $20,000.
"I took it," he said. "I had a lot of vacancies, so it didn't matter to me what they used, and they used the whole place."
One end of his complex was used to replicate the entrance of the Nazi's Dachau concentration camp, the first of its kind in WWII-era Germany.
After three months of preparation, filming and re-shooting of scenes, Murphy said he settled for the difference between the original $20,000 and what turned out to be an enormous electric bill.
Overall, and in retrospect, he said, "it was great."
Local legislators slightly leery
State Sen. Marc Pacheco, D-Taunton, said he voted in favor of the tax credits and "thus far" continues to be a supporter.
But he cautions that he'll "pay attention to it," because, like the state's annual sales tax holiday in August, it's the equivalent of "an expense."
"It's a cost to the budget; both are," Pacheco said.
For the time being at least, Pacheco said film tax credits provide "a net positive benefit," although, he added, "I'm always cautious about using our tax money to benefit one sector over the other."
Taunton's Republican state Rep. Shaunna O'Connell says if Massachusetts had a "friendly tax code" to begin with, there wouldn't be any need for it offering "special breaks to certain industries."
"Offering temporary jobs for additional revenue does not address the underlying issue (that) our tax policy and regulations really are not business friendly," she said.
A natural fit
Lisa Strout, director of Massachusetts Film Office, said the tax credit program is working. More and more movie makers, she said, have been considering Massachusetts.
"They feel comfortable and secure, and that's what every producer wants: certainty," Strout said.
She claims that since 2005 when the credits became available, the membership of Local 481 of the International Alliance of Theatrical and Stage Employees has quadrupled.
A re-training program that's been undertaken by the local, she said, guarantees "transferable skills" that can be applied in other areas as well.
Strout also notes that movie companies appreciate the state's track record for developing technological skills and expertise.
"This is a very young program," Strout said. "But this is an industry that's growing globally, and I think it makes a lot of sense for the commonwealth — it's a natural fit."
Related Galleries– Silver City on the Silver Screen: Making movies in Taunton