By Bethany Bray
The Salem News
November 18, 2011
Haverhill native Rob Zombie films witch-themed horror movie in Salem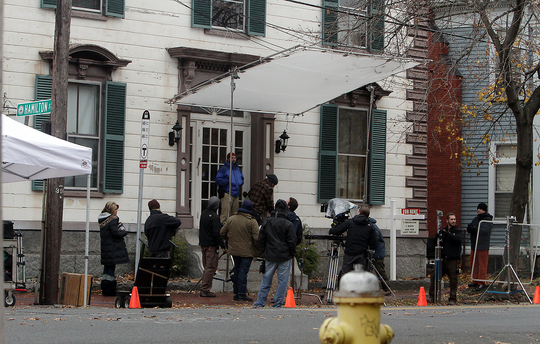 SALEM— Halloween may have ended two weeks ago, but there were still costumed witches in Salem this week.
Heavy metal musician-turned-filmmaker Rob Zombie finished filming in the city yesterday for his horror movie "The Lords of Salem."
The movie, written and directed by Zombie, involves a 300-year-old coven of witches who return to Salem. "The Lords of Salem" will hit theaters in 2012.
"It's a spooky movie … about alleged witches and their descendants today," said Murray Miller, the film's location manager. "We've got some beautiful shots of the central part of Salem. It's a great looking town. Just visually, it's a great town."
Through the week, Zombie and his crew of more than 30 people filmed in several locations around the city, including Salem Willows and Engine House Pizza on Lafayette Street.
Yesterday, several trucks packed with film equipment lined Essex Street. Despite a gray afternoon and a cold rain, crew members set up tents and prepped for filming at a Federalist-style home.
A police detail ushered traffic by the scene at 355 Essex St., as drivers slowed down to take a look at the activity.
While in Salem, Zombie's operation hired 10 crew members and used a few locals as extras, Miller said. From the Police Department to local vendors, working in Salem has been wonderful, he said.
"The city has been unbelievably supportive and extremely helpful," Miller said. "This is a treat. People couldn't have been more helpful. I have a big smile on my face, remembering Salem."
"We're very grateful to the city," he said. "I want to come back."
Zombie, a Haverhill native, formed the band White Zombie and later branched off into films, making two recent installments in the "Halloween" series.
Zombie began filming "The Lords of Salem" in Los Angeles last month, shooting interior scenes, Miller said. According to numerous websites, the cast includes Zombie's wife, Sheri Moon Zombie, and Christopher Knight, known to millions as Peter Brady from the 1970s sitcom "The Brady Bunch."
Zombie has been posting photos and messages about the film's progress on his Facebook page, and hundreds of fans have left messages in response.
Not only will the film bring silver-screen exposure to the city, but the film crew has been eating and shopping in Salem while working here, said Kate Fox, the executive director of Destination Salem, the city's tourism office.
"The economic impact is very positive," she said. "We are trying to strengthen our relationship with the Massachusetts Film Office and be considered for more films."
Staff writer Bethany Bray can be reached at bbray@salemnews.com and on Twitter @SalemNewsBB.