By Johan Kharabi
P3 Update Magazine
December 2011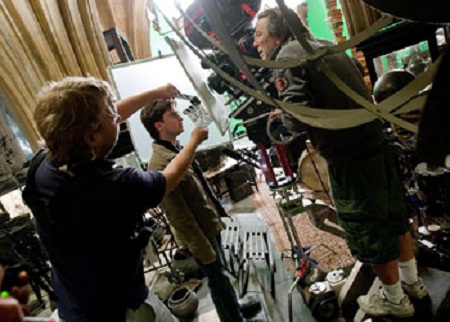 The list of this year's top worldwide locations demonstrates just how big of a comeback the United States has made. Classic favorites like California and New York are once again attracting production, while newer contenders like Georgia and North Carolina are making an on-screen name for themselves. Louisiana continues to be a favorite among filmmakers, while Canada, with its diverse looks and competitive incentive packages, is still holding strong. Indeed, while the list ventures even further to explore Europe and the Pacific, P3 Update anticipates that in 2012 production will continue to stay close to home, where infrastructure is strong and incentives remain enticing.
CALIFORNIA
After nearly a decade of exploring the country and beyond, many producers now point out that production is increasingly staying put to cut costs and take advantage of California's robust incentive package. It's no wonder that the Golden State has recently made a triumphant return to P3's list of top locations. With over 500 stages and 60 regional film offices, the state has something for everyone.
Let's start with the state's relatively new Film & TV Tax Credit Program, which provides a nonrefundable tax credit of anywhere from 20 to 25 percent for eligible production, the latter for qualifying local spend for eligible relocating TV series and independent films — a clear sign that the state is indeed fighting back. There are budget caps of $75 million and $10 million, respectively, on feature films and independent films. Some 150 projects have qualified since the program was implemented in 2009.
According to Amy Lemisch, executive director of the California Film Commission, the program is expected to bring $2.8 billion in direct spending to the state, including $1 billion in wages paid to below-the-line crewmembers. "The number of applications for the most recent $100 million round of credits more than doubled over 2010," reports Lemisch. Filmmakers, moreover, have faith in the program, as Governor Jerry Brown recently signed legislation extending it through the 2014/15 fiscal year. Of course, with a popular state like California, there are already many pictures lining up — so any applicant will see a fierce competition for credits. This year's waiting list already holds over one hundred hopeful projects.
In 2011, the Film Commission reports that the state hosted well over 200 feature films, including Gangster Squad (starring Ryan Gosling, Emma Stone and Sean Penn), J. Edgar (starring Leonardo DiCaprio) and Jack and Jill (starring Adam Sandler), while hit TV series like "Dexter," "CSI: Miami," "Sons of Anarchy" and "House" continue to call the state home. This year, estimated spending for all types of production sits somewhere around $30 billion.
Thanks to its strong incentive package and world-renowned production infrastructure, California is succeeding in luring back production. Lemisch points out that the ABC primetime drama "Body of Proof" just recently relocated production to Los Angeles from Providence, R.I. "The move occurred after the series qualified for California's tax incentive," she explains.
CONNECTICUT
Connecticut's incentive package comprises a Digital Media & Motion Picture Tax Credit, Infrastructure Tax Credit and Digital Animation Production Company Tax Credit. Most notably, the Digital Media & Motion Picture Tax Credit can reach up to 30 percent and is tiered based on local spend, starting from 10 percent for expenditures between $100,000 and $500,000. For expenditures between $500,000 and $1 million, the credit is bumped up to 15 percent, and expenditures above $1 million are eligible for the 30-percent credit.
"Over the past several years, Connecticut has not only relocated the Academy Award-winning Blue Sky Studios, but also three of NBC Universal's highly successful daytime talk shows including "Jerry Springer," "Maury Povich" and "Steve Wilkos" with a fourth show to be announced in the coming weeks," says Director of the Connecticut Office of Film, Television & Digital George Norfleet. "Connecticut also supports the continued growth and expansion of two of the state's anchor media companies: World Wrestling Entertainment Corp. and ESPN: The Worldwide Leader in Sports and has recently heralded the significant addition of NBC Sports to the state's notable sports entertainment company pedigree." She adds that amongst other sports-related productions, the network plans to bring the National Hockey League in-studio broadcast and Olympic headquarters to Stamford, further solidifying Connecticut's position as a leading destination for sports programming and providing one of the industry's highest profile stories of the year.
The small state has of late become a hotspot for larger productions. Throughout last summer and fall, the major motion picture Great Hope Springs (starring Tommy Lee Jones, Meryl Streep and Steve Carell) shot throughout Connecticut, including in Darien, Norwalk, Milford, Guilford, Stonington and Windsor Locks. With a story set in Maine, the film underscores Connecticut's ability to double as Anytown, New England. This year, the state also hosted The Wedding (starring Robert De Niro and Robin Williams) which wrapped over the summer. Scripted TV series are also laying down roots in the state, including Showtime's critically acclaimed "The Big C" and the TBS hit "Are We There Yet?"
In 2010, in-state production spend reached $190 million, and this number is projected to have jumped to $200 million in 2011. "We expect to see the sustained growth of our television industry with continued production on favorites … and new productions including the several television pilots that are currently readying for production in the state," says Norfleet. The state houses great spectacular facilities — like Sonalysts Studios, NBCUniversal's Stamford Media Center and Connecticut Film Center (in Stamford, Stamford West and Norwalk) — and is known for having an impressive production infrastructure and growing crew base due, in part, to Connecticut's highly regarded Film Industry Training Program. Connecticut will no doubt also continue to make significant inroads in the digital media and interactive gaming sectors while maintaining its position as a leading destination for sports programming.
GEORGIA
If there's any doubt that the state of Georgia houses a robust production infrastructure, one need only to look at the grand opening of Panavision Atlanta this past spring. In 2011, several feature and TV projects, like Joyful Noise, The Odd Life of Timothy Green and "Drop Dead Diva" have taken advantage of all the 10,000-square-foot facility has to offer. It's a full-service, camera-rental office with a wide array of digital and film cameras, including 35mm, 16mm, HD 35 and 2/3 inch. "Atlanta provides a wide variety of looks, from rural to urban," reports Margit Elo, president of U.S. operations at Panavision. "It has a talented and well-established crew base, growing production infrastructure … easy access by air from all directions, and a strong technology infrastructure." Of course, the opening of Panavision comes in addition to Georgia's existing notable studio spaces, like Raleigh Studios Atlanta and EUE/Screen Gems.
The Georgia Film Music & Digital Entertainment Office offers a transferable flat-tax credit of 20 percent on qualified in-state base investment for qualifying productions with a minimum spend of $500,000. An additional 10 percent is available if a production features a promotional logo, bringing the total transferable-tax credit to 30 percent. A sales-and-use tax exemption is offered as well. Elo points out that the program is most attractive because of its "significant funding and a long-term commitment." With such a solid incentive package and a crew base around six-to-seven deep, more companies like Panavision will undoubtedly be looking to invest in Georgia, leaving little doubt that the state will continue to attract productions well into the future.
LOUISIANA
Once again, Louisiana stands as a strong contender in just about every category across production, including its high-caliber crew base and ease of shooting. As the first state to adopt tax incentives, Louisiana continues to offer a reliable incentive package with a 30-percent transferable credit on total in-state expenditures (with a minimum-spending requirement of $300,000) and an additional 5-percent labor-tax credit on the payroll of employed residents.
In 2011, the big news out of the state was the launch of the Louisiana Filmmakers Grant Fund, which is designed to cultivate and support native talent by supporting filmmakers whose projects don't meet the Motion Picture Tax Credit's budget minimum. Louisiana Entertainment Executive Director Chris Stelly reports that the fund's inaugural application round commenced this summer, attracting an astounding 55 applicants. "[The fund] is vital to support the state's entertainment industry by cultivating native talent to become tomorrow's content creators and the state's long-term goals in its master plan for economic development for the State of Louisiana," explains Stelly.
Not that the state needs much more in the way of production. 2010 marked Louisiana Entertainment's highest year on record for production applications, with more than 140 projects applying. These applications totaled about $1.4 billion in total spend and $898 million in Louisiana spend. And as of October of this year, the state had received 114 film applications with a total anticipated spend of $1.1 billion — but over $848 million in Louisiana spend — for 2011. Stelly reports that these numbers put the state on track to meet and/or exceed its numbers from 2010.
The Paramount feature film G.I. Joe 2: Retaliation (starring Channing Tatum, Bruce Willis and Dwayne Johnson) shot in New Orleans and West Feliciana throughout the fall, and according to Jefferson Parish President's Office Chief Administrative Assistant Operations Jennifer M. Van Vrancken, all of its digital work is being performed in Jefferson Parish at Cineworks. HBO's "Treme" returned to the city to shoot its third season. The feature Broken City (starring Mark Wahlberg and Russell Crowe) will also shoot in New Orleans until January, while Snitch (starring Dwayne Johnson and Susan Sarandon) shoots in Shreveport. The A&E TV series "Breakout Kings" will shoot well into February in Baton Rouge, and while Warner Bros.' Harry Potter and the Deathly Hallows: Part 2 didn't film in-state, a portion of its post visual-effects work was performed in Lafayette. The estimated in-state expenditures on the film's incentive application lay around $800,000.
The film office out of the St. Tammany Parish Tourist Commission, headed by Loren Legendre, works closely with the state and New Orleans film offices, but they have also been staying busy with their own projects. "The past year has seen a lot of film activity on our side of the lake," says St. Tammany Parish Tourist Commission VP, Communications, Marketing and PR Renee Kientz. "Baytown Disco with Eva Longoria and Billy Bob Thornton shot in various Northshore locations. Forrest Whitaker's Vipaka filmed in Covington and other parish locations, as did Lay the Favorite with Bruce Willis and The Paperboy with Jennifer Lopez, Nicole Kidman and Zac Efron."
MASSACHUSETTS
Massachusetts continues to sit high on the list of worldwide locations, thanks in large part to a 25-percent payroll credit, a 25-percent production-expense credit and a 100-percent sales-tax exemption for productions with at least half of shooting done or half of the budget spent in-state. Massachusetts is unique in that it allows filmmakers to receive their unused credits as a direct rebate (90 percent of face value) or sell them at market rate. This flexibility allows producers to choose the most favorable option at the moment. The current sunset date is January 2023, so filmmakers can remain confident that great Massachusetts opportunities are here to stay.

This past fall, production began on the action/adventure film R.I.P.D. (starring Ryan Reynolds and Jeff Bridges), the largest movie to shoot in the Commonwealth to date, according to Lisa Strout, director of the Massachusetts Film Office. 2011 also saw productions for Here Comes the Boom (starring Kevin James), Ted (starring Mark Wahlberg and Mila Kunis, and directed by "Family Guy" Creator Seth MacFarlane) and I Hate You, Dad (starring Adam Sandler). Strout reports that this year has been far stronger than 2010, and notes, "Having a solid and strong incentive program that is easy to use is definitely key to Massachusetts' success."
NEW YORK
New York's Film Production Tax Credit program allocates $420 million per year up until 2014. The state offers a fully refundable 30-percent tax credit on qualified costs made in New York State, and productions can take advantage of the Post Production Credit, a fully refundable 10-percent tax credit on qualified post costs.
New York City has had a very successful fiscal year. Its television season set a record with 23 primetime episodic series, including eight new shows like "Pan Am" and "Person of Interest," and returning hits like "30 Rock,"" "Boardwalk Empire," "Gossip Girl" and "Bored to Death." According to Marybeth Ihle, press manager for the Mayor's Office of Media and Entertainment, more than 20 pilots shot throughout the city this year. Films shot in New York in 2011 include Men in Black III (which shot throughout Brooklyn and at Kaufman Astoria Studios in Queens), Extremely Loud and Incredibly Close (starring Tom Hanks and Sandra Bullock) and The Dictator (starring Sasha Baron Cohen). Ihle reports that the local entertainment industry contributes $5 billion each year to the city's economy. With the launch of the Mayor's Office of Media and Entertainment's online permit system, customers can now use the Internet to apply for permits, making it even easier for productions to see all the Big Apple has in store.
NORTH CAROLINA
North Carolina is seeing its busiest year ever, reports Aaron Syrett, director of the North Carolina Film Office. Indeed, the state's enhanced incentive is doing what it was designed for: creating high-paying, quality jobs. "Fiscal year 2010 saw an in-state spend of $75 million — to date this figure has grown to approximately $220 million in 2011," says Syrett. Part of this is driven by return TV productions that call the state home, like "One Tree Hill" (in its ninth season) and "Eastbound & Down," while new productions, such as Showtime's "Homeland" and the upcoming film The Hunger Games, are taking the hype surrounding the state seriously.
Syrett reports that all of this action in 2011 attests to the fact that production is moving back to North Carolina — and the whole state is reaping the benefits. "We are seeing activity all over the state," says Syrett. "It is not localized to just one region." North Carolina has the capacity and the infrastructure in terms of personnel, vendors and equipment to sustain this level of production well into the future. See Wilmington's EUE/Screen Gems Studios facility, for instance, which holds over 30,000 square feet of office production space and houses the 37,500 square-foot Stage 10, the third-biggest stage in the United States. Apart from this terrific infrastructure and the sheer affordability of shooting in-state, North Carolina offers an attractive incentive package comprising a very competitive 25-percent, fully refundable credit — an extra perk for any production looking to shoot in a truly experienced and film-friendly state.
CANADA
With highly skilled crews and talent, solid infrastructure, and diverse urban and natural landscapes, Canada has just about everything going for it. Unfortunately, this year's strong Canadian dollar has greatly threatened to eat into the country's long-time competitive edge, making it slightly less attractive for production to travel up from the country's southern neighbors.
Nevertheless, the country's high-caliber incentive package — which combines with a variety of attractive provincial deals — has worked to keep Canada on P3's list for 2011. "Production activity in British Columbia has remained steady in spite of the value of the Canadian dollar," confirms Susan Croome of the British Columbia Film Commission. According to Croome, in 2011 a number of high-profile films chose British Columbia for production, including Paramount Pictures' Mission: Impossible – Ghost Protocol, the new Superman flick Man of Steel, The Twilight Saga: Breaking Dawn, Underworld Awakening and The Grey (starring Liam Neeson). In recent years, the province has received recognition as hub of digital animation and visual effects production as well, with international companies like Pixar, Digital Domain and Sony Imageworks setting up shop.
Also on the to-watch list for 2012 is Alberta. "While Canada as a whole has been impacted to some degree by the exchange rate, the stability and predictability of the government funding offered in Alberta and across Canada is much more important to producers seeking a viable jurisdiction," says Jeff Brinton of the Alberta Film Commission. Brinton also reports that the current fiscal year is expected to see an increase in production from fiscal 2010/11.
Canada's refundable Production Services Tax Credit deserves credit for drawing so much production to the country. The credit is equal to 16 percent of the qualifying labor paid to Canadian residents with no caps. This comes in addition to a variety of labor-based and spend-based tax-incentive schemes offered on the provincial level. Alberta, for example, offers a grant of between 20 to 29 percent of all eligible expenses. British Columbia boasts a labor-based credit that includes four initiatives with a basic rate of 33 percent. This can be topped off by a regional bonus of 6 percent, a 6-percent distant-location credit and, finally, the province's 17.5-percent Digital Animation or Visual Effects credit.
SaskFilm contributes a tax credit of up to 55 percent of eligible labor on each project made in Saskatchewan (a 45-percent base credit, plus a rural bonus and key-position bonus). The Newfoundland and Labrador Film Development Corporation (NLFDC) offers a fully refundable corporate income-tax credit limited to the lesser of 25 percent of the total eligible budget, or 40 percent of total eligible labor expenditures. The Quebec Film and Television Council (QFTC) offers a 44-percent cash rebate, while Manitoba Film & Music offers qualifying productions a 45-percent base credit, and a slew of other incentives, including a frequent-filming bonus, rural bonus and Producer bonus (when you co-produce with a Manitoba company) that can add up to a tax credit of 65 percent. "Our tax credit does not have a cap, so the money does not run out," says Ginny Collins of the Manitoba Film & Music office. "We're known for having one of the most accommodating and flexible film communities and have an extremely experienced crew base with over 20 years' experience."
NEW ZEALAND
Recently, Film New Zealand partnered with Park Road Post Production to secure ground representation to open a Los Angeles office in early 2012. The move reflects the growing importance of New Zealand in the world of production. For fiscal year 2010, inward investment was NZD$378 million with 80 percent of that coming from North America, reports Roxane Gajadhar, communications and marketing manager for Film New Zealand, adding that spending in 2011 is falling along similar lines. Big-budget features, like The Adventures of Tintin, Rise of the Planet of the Apes and two sequels to The Hobbit, are only some of the many U.S. productions that have headed to New Zealand for production and postproduction.
"Production has been consistent and steady with the occasional seasonal fluctuation," reports Gajadhar. The country is certainly helping by making itself attractive to productions with its Large Budget Screen Production Grant, a 15-percent cash grant with no cap. There's also the Post, Digital and Visual Effects Grant for productions, as well as the Screen Production Incentive Fund. Upcoming productions can choose any one of these three options.
While the country is well known for its rolling green hills and spectacular panoramic vistas, its groundbreaking visual-effects work has too often gone under-discussed. Facilities like the Wellington-based Weta Digital are changing how New Zealand is perceived in the digital realm. Offering digital production services for feature films and commercials, its Academy Award-winning work on Avatar and the stunning effects on the recent Rise of the Planet of the Apes offer only a glimpse of all the company can do. Other notable aspects of postproduction infrastructure throughout New Zealand include Park Road Post and recently built Rubber Monkey Studio.
UNITED KINGDOM
The U.K. Film Council reports that in 2010, investment in U.K. film production reached £1.155 billion ($1.82 billion) — a new record for the British film industry. A whopping £928.9 million ($1.46 billion) of this came from outside of the U.K. The productions of Pirates of the Caribbean: On Stranger Tides, War Horse, Horrid Henry: The Movie, Tinker Tailor Soldier Spy and many more major film projects can all attest to the country's growing international appeal.
The U.K. is perhaps best known for its first-class facilities. Leavesden Studios — a 500,000-square-foot facility located just outside of London — recently hosted the latest installments of Harry Potter and Sherlock Holmes. Additionally, Universal Pictures' Snow White and the Huntsman (starring Kristen Stewart, Chris Hemsworth and Charlize Theron) recently started shooting at Pinewood Studios, home to the world-famous 59,000-square-foot 007 Stage in addition to 34 other large stages.
According to Pinewood Studio Group Head of Group Marketing Charity Massey, it's the mission of the Group to be a leading provider of studio and related services to the global film and television industry. Aimed at world class British and international productions, the impressive heritage of its UK-based Pinewood, Shepperton and Teddington Studios date back to the early 20th Century and are home to some of the most successful feature films and TV shows ever made.
The Pinewood brand is now being exported overseas to studios in Toronto, Canada; Berlin, Germany; Iskandar, Malaysia' and the Dominican Republic. The facilities are comprised of top quality sound stages, a unique underwater filming stage, specialist production resources, state-of-the-art TV studios, and postproduction and digital content services. The studios also offer easy access to some of the world's most experienced crews as well as the expertise of hundreds of complementary media companies based at its Pinewood and Shepperton Media Parks. Recent film and TV productions that have used the Studios' facilities include Pirates of the Caribbean: On Stranger Tides; Captain America: The First Avenger; X-Men: First Class; Harry Potter and the Deathly Hallows: Part 2; Jane Eyre; Johnny English Reborn; "Dancing on Ice;" "The Magicians;" and "Got To Dance and Sing If You Can."