SouthcoastTODAY.com
July 05, 2012
By Jenalina Santiago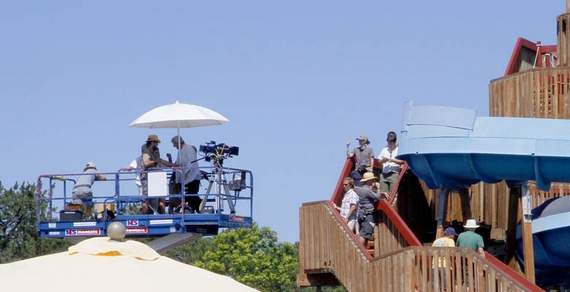 WAREHAM — For the second time in three years, Water Wizz is playing host to some Hollywood heavy-hitters.
Steve Carell of "The Office" fame leads a cast that includes Maya Rudolph, Sam Rockwell and Toni Collette in "The Way, Way Back" now filming scenes at the water park. In 2009, "Grown Ups," starring Adam Sandler, was also filmed at Water Wizz.
Earlier this week, Water Wizz patrons were buzzing about who was on set that particular day. But the movie people themselves were tight-lipped.
"I don't feel comfortable saying (exactly) who," said Scott Levine, unit publicist for the comedy/drama. "But there are some famous people here."
According to a press release, the movie is about a teenage boy who befriends the owner of a water park during his summer vacation. The friendship inspires him to stand up to his carousing stepfather, played by Carell, and reconnect with his mother, played by Collette.
On Tuesday, the crew used the park's Squid Row slide for a majority of filming but Levine said the cast and crew have used other areas of the park as well.
Tom Rice, producer of "The Way, Way Back" said the Massachusetts Film Office "directed us to Water Wizz as a film-friendly establishment. It was one of the first locations scouted and we knew immediately that it would fill our needs perfectly."
Surprisingly, there hasn't been much of a frenzy over the star-studded cast being at the park, which has remained open during the film's shooting. Water Wizz patrons have been "nonchalant" about the idea, said Levine.
Water Wizz's General Manager Rebecca Kells said relief from this week's high temps is more likely why her customers mainly visited the park.
"As far as (the filming) being the draw, I don't think so," she said.
Kells also said the production crew has been very respectful toward the customers and park staff.
According to Levine, filming has been going smoothly for both the production crew and park goers.
"The crowds have been able to have a good time and we've been able get what we need accomplished," he said.
"The Way, Way Back" is the directorial debut of duo Nat Faxon and Jim Rash, who both won the 2012 Academy Award for Best Adapted Screenplay for "The Descendants."
In addition to directing "The Way, Way Back," Faxon and Nash also wrote the screenplay and are the executive producers of the film. They also make an appearance in the movie as water park employees.
"The Way, Way Back" started filming at Water Wizz in late June and is scheduled to call it a "wrap" there on July 9. The release date is sometime in 2013, according to the movie's website.