Small communities get a financial boost from films
By Dan Adams
Boston Globe
July 7, 2012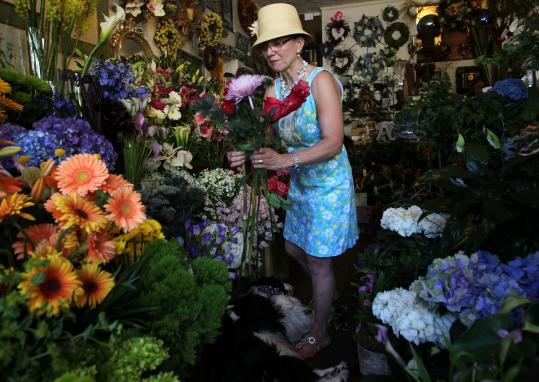 When the state started doling out tax breaks to attract big-name films in 2006, it seemed natural that Boston would take a star turn in the flurry of movies that followed, including "The Town" and "Gone Baby Gone." The city has the cachet, dramatic locations, and technical talent needed to support such large productions.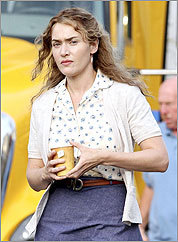 But this summer, Hollywood crews are also deployed across the suburbs, with three major projects currently filming in smaller Massachusetts communities. For businesses and residents in those towns, playing host to a movie production offers more than the chance to glimpse a star or two – it can also provide an economic boost on a hyperlocal level.
"It's like a little green shamrock," said Nancy Mantilla, who said business at her Marblehead flower shop, Flores Mantilla, jumped by about 40 percent when Adam Sandler's "Grown Ups 2" arrived in May.
Mantilla now counts actress Salma Hayek and director Dennis Dugan as regulars, and her 12 employees are working double their normal hours to keep up with orders from the cast and crew during the already-busy summer wedding season. It is a welcome change from a couple years ago, Mantilla said, when the recession forced her to use personal savings to keep the business going.
"Stores started closing all around me, it was very scary," she said. "But [the movie] really has brought a kind of turbo-engine to the businesses. It really has been helping."
In addition to patronizing small shops and companies, production companies often rent them as film locations, and hire local technicians and drivers. Curious spectators also boost sales at local shops and restaurants.
"The general public sees the celebrity aspect, but to me that's a really tiny piece," said Massachusetts Film Office director Lisa Strout. "When you go on set, you see hundreds of people working. . . . It has an interesting multiplier effect on the economy."
Marblehead is not the only community with a Hollywood buzz. "Labor Day," a thriller starring Josh Brolin and Kate Winslet. is shooting mainly in Acton and Shelburne Falls. Last month, filming took place at Benny's department store in Mansfield, while another scene had Winslet on location at the Medway Lotus restaurant.
And "The Way, Way Back," starring Massachusetts native Steve Carell as the sleazy stepfather of a bored teen trying to survive summer vacation, has been on location in Marshfield and Wareham.
For Water Wizz, a water theme park in East Wareham, this summer is turning out to be something of a sequel. It was featured in a scene in the original "Grown Ups" in 2010, and is now a prominent location for "The Way, Way Back." In the movie, Sam Rockwell plays the manager of a theme park.
"We're our own little entity, thinking we're doing our thing, and suddenly people want to come do a movie here," said Rebecca Brotemarkle, general manager of the 30-year-old Water Wizz. "My dad built the place, so it's been really amazing to see how it's grown and how dynamic it's become."
Brotemarkle would not disclose her arrangement with the movie makers, but as a marketing tool alone, having the park included in the film is invaluable.
Kevin Walsh and Tom Rice, producers of "The Way, Way Back," say the movie production outfit will spend about $2 million of its $4.7 million indie budget in the region. Representatives of "Labor Day" — which has a much bigger budget — said they will spend about $7.5 million to hire 300 area residents for various jobs, and another $5.6 million on housing, equipment rentals, and permits.
"Between local hires, hotels, restaurants, and car rentals, we're bringing a great deal of business to the entire South Shore," Walsh said. "The [area] seems thrilled to have us."
Walsh and Rice were originally considering setting the film in North Carolina, but when Carell joined the project, Massachusetts got a second look.
"Being the loyal local that he is, [Carell] made a strong push for us to film here," Rice said. "After looking into the state incentive program, we realized just how great it was . . . the backdrop here is perfect for our story."
But some people aren't starstruck by the state's tax incentives for filmmakers, which provide an exemption from the sales tax and a 25 percent credit for production and payroll costs.
"These anecdotal stories are wonderful for the individuals involved, and it's great that that's happening, but it's not a good strategy for the state," said Jim Stergios, executive director of the Pioneer Institute, a conservative research firm in Boston. "We are getting very little out of focusing hundreds of millions of dollars on the film industry."
Strout, of the state film office, said the benefits of the tax credit can be hard to measure in the short-term.
"If you're building a sustainable local film industry, you have to build up the workforce and vendors, and then infrastructure starts to come in," she said. "That's really the key to longevity and return."
For Mantilla, however, the trickle down effects of Hollywood's presence have been immediate.
"We're going to miss them and their personalities," Mantilla said of the "Grown Ups 2" crew. "And the money they bring."
Dan Adams can be reached at dadams@globe.com. Follow him on Twitter at @DanielAdams86.