By Carol Britton Meyer
Wicked Local Hingham
August 9, 2012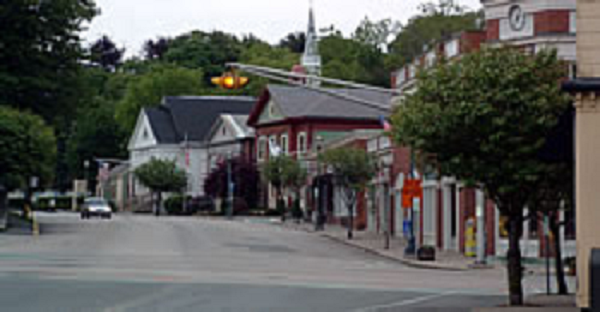 HINGHAM — There are both pros and cons should Hingham decide to seek recognition as a "film-friendly" community.
Selectmen Chairman Laura Burns has been seeking input about the viability of taking steps to attract the movie industry to Hingham.
Traffic and parking issues would pose a challenge, while the boost this could bring to the local business community while production and film crews were based here would be a big plus.
"Increasingly, small towns such as ours are getting more of this type of work," Burns said.
She also noted that Hingham "has a better set-up with regard to parking resources than many other communities. Besides, some production companies park off-site and bus their crews to [the filming location]."
The Massachusetts Film Office website features a database of potential film sites, which cities and towns wishing to attract movie companies can sign onto.
Interested communities may also post photographs of significant historic and other sites and destination points that might make good locations at which to shoot scenes from a movie.
Members of the Hingham Downtown Association and the Hingham Development & Industrial Commission are enthusiastic about this possibility.
"We have wonderful assets in this town, including the harbor, that are very filmic," Burns said.
Another plus, she said, is that film production companies put down stakes temporarily. "They spend money and then they leave!" Burns said, although some could stay as long as three months for a major film.
Burns recently drafted a permit for Hingham's use should the town move forward with this idea.
Checklist
"It's actually a checklist for a production company to go through to determine which permits it would need to seek from the town," she said. Burns has already gathered information from various town departments for that purpose.
If the town decides to further pursue this opportunity, a Town Hall staff member would be designated to guide production companies through the permitting process. Examples are permission to use school or other property for filming and an OK from the board of health to serve food.
When Powderhouse Productions recently filmed in town for a television show – two days at two different locations – Burns meet with company executives. One of the questions she asked was how much Powderhouse crews had spent at local businesses over that timeframe. "The answer was $54,000," she said. "This shows how much [this kind of enterprise] supports local businesses. That's what it's all about."
This time around Hingham Lumber, local restaurants including the Snug, and Tedeschi's benefited from the influx of new customers.
Burns introduced Margie Sullivan, a Hingham Community Access Media Inc. board member with a background in film production who has offered her expertise to the Selectmen, at a recent board meeting.
"It's important to expedite the permitting process quickly and to resolve parking issues," Sullivan said. "There can be upwards of 50 trucks and celebrity mobile homes for a big production, and it's important to keep neighbors informed. This type of operation needs to be carefully managed."
Selectman Irma Lauter agreed. "Parking Winnebagos at the harbor during the summertime is probably not a good idea," she said. Other projects could be much more low-key.
Production companies pay all related expenses, including police and fire details, according to Sullivan.
When asked how production companies tend to leave local sites once they have wrapped up filming she said, "They would return the property to its original – or better – condition."
Local business
Lauter noted that some production companies bring in their own food from their favorite caterer, "so that type of business wouldn't necessarily go to a local restaurant or catering company."
Still, Sullivan said, "The film crews would still stop at local businesses such as Dunkin' Donuts [and other stores to pick up needed supplies]."
If the town decides to further pursue this opportunity, a Town Hall staff member would be named to guide the production companies through the permitting process. "This would require a high level of service, because production companies don't have much patience," said Town Administrator Ted Alexiades. "A lot of permits wouldn't be required, but we want to create a process that would meet all of their and the town's needs."
The discussion will be continued at an upcoming Selectmen's meeting. In the meantime, Burns is going to run her draft permit before town departments for their input, and Sullivan suggested someone from the town talk to a local location scout for further information about what's involved and related impacts.