ResiStat
November 29, 2012
On Wednesday, Nov. 28, a television film crew rolled into Davis Square to shoot the ABC Family TV pilot Terminales starring Italia Ricci. They were not the first–or likely the last–crew to view our City as a good film location.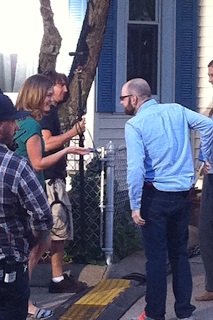 According to the Massachusetts Film Office, interest in filming in the state is on the rise, which brings financial benefits. A Film Office press release on Terminales notes that the State Department of Revenue estimates that in 2011, feature films shot in the Commonwealth generated $222 million in local spending.
"On the NBC/Universal film, 'R.I.P.D.' alone, over 900 local crew members were hired, as well as over 1,000 background actors," the release notes.
Somerville too has benefitted from what seems to be growing interest in the City as a film location. "We seem to be getting more inquiries and the crews tell us it's because they love the City, the residents and businesses are welcoming, and they enjoy contributing to the local scene," said Somerville Deputy Director of Communications Jackie Rossetti. "They also like our infrastructure and buildings."
Each time a film or show is shot here–such as The Makeover with Julia Stiles (see photo) or The Heat with Sandra Bullock, which both filmed in Somerville recently, productions and crews spend money. They pay location fees to Somerville businesses and property owners, and the productions and their crew members (sometimes numbering in the hundreds) patronize area businesses. They also pay for any parking that is blocked (the City works to free up alternate parking for residents to reduce any inconvenience).
Being depicted in national TV shows and films, in turn, can help raise the profiles of both local businesses and the City. "One thing that is really great about Terminales, is that Somerville and Diesel Cafe, where they are shooting, will both be named. That kind of publicity brings people into Somerville, who then spend their money here," said Rossetti.
The City is looking into establishing its own local Film Board to help manage the increasing requests. Once that happens, SomerStat will look into tracking film dollars that flow into the City economy–just as the Film Office measures this on the state level. Meanwhile, if Terminales gets picked up, they'll be returning to Somerville for more shoots. See a Boston.com photo of the Davis Square shoot HERE.