By Meredith Goldstein
Boston Globe
January 23, 2013
Actor David Walton has been waiting for his shot at stardom. Now, with a TV movie and a role on a hot comedy, he may be on his way.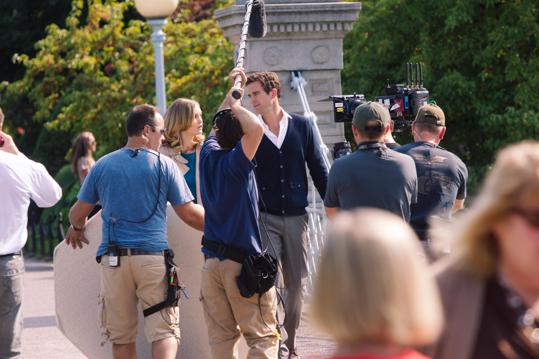 LOS ANGELES — A little over a week ago, Chestnut Hill-bred actor David Walton sat at a small table inside Café Gratitude on Larchmont Boulevard with a box of vegetables.
The 34-year-old Walton was attempting a cleanse diet, which meant that he would be limited to mostly raw food and juice for the rest of the week. He wasn't exactly taking to the menu. In fact, he looked miserable. Within a few minutes of sitting down, he confessed that he had almost passed out earlier in the day and that he just wanted to curl up into a ball and sweat.
"I think I'm dying," he said, looking skeptically at a cup of tea, unconcerned about who might be watching.
Walton might look like a polished, Hollywood heartthrob on screen, but his demeanor and dry wit are unmistakably New England. The Brown University graduate is quick with one-liners and adept at Boston sarcasm. Over a less-than-filling lunch, he revealed that he has no problems poking fun at his own resume, which includes a list of shows that were canceled after short seasons. From 2006 to 2012, Walton appeared in "100 Questions," "Quarterlife," "Heist," "Perfect Couples," and "Bent," all of which were dropped after 13 episodes or less. Walton's "Bent" costar, Amanda Peet, told the entertainment website Zap2It last spring that she was shocked that Walton wasn't already a movie star.
"That he is not is astounding to me," she said. "He is George Clooney mixed with Matt Dillon. He is stone-y, quick-witted. He's weird, he's not like anyone else."
Within a month of the show's debut, "Bent" was off the air.
"I used to be super-pessimistic to protect myself," Walton said, of the ups and downs of television. "Then I realized there's really no point."
Of course, now that Walton has learned to make peace with the pitfalls of the industry, his career is taking off all over again. He's in the thick of an arc on the Fox comedy "New Girl" that his him playing handsome Dr. Sam opposite America's sweetheart Zooey Deschanel. The day after Walton's first "New Girl" episode aired, he was recognized on the street as the tall, hunky guy who makes out with Deschanel's character Jess in a bathroom stall.
"I was like, 'It aired last night,' " he said, baffled.
This weekend, Walton will get some more exposure when he stars in the Hallmark Hall of Fame movie "The Makeover" opposite "The Bourne Ultimatum" actress Julia Stiles. The romantic comedy, a modern-day retelling of "Pygmalion," features Walton as Elliot Doolittle, a Boston guy with a Southie accent, who's groomed by Stiles to run for office. The TV movie, which airs on ABC (Channel 5) on Sunday at 9 p.m., was filmed in Charlestown, the South End, and on Boston Common last fall. Walton and his wife — former "Roswell" and "State of Georgia" star, Majandra Delfino — brought their young daughter to live on Newbury Street during the shoot.
"I had forgotten how beautiful the city was," he said. "What a lovely place to raise a family."
Boston actress Georgia Lyman, who plays Walton's sister in "The Makeover," said Walton was easy to work with and brought his two local sisters to set. "He's one of those nice guys that are few and far between in Hollywood."
Walton admits that he prepped for the job by testing his Boston accent on local radio. It started with a trip to the Cask 'n Flagon during the Patriots season opener. Walton went there to listen to some of the accents, and started texting a friend from home, Luke Coppedge, who now lives in New York. Coppedge (who played Newton youth hockey with Walton) told his friend to practice his accent by calling into 98.5 The Sports Hub. After the Pats won, Walton did call in — and wound up on air as "Dave from Meffa." His question? "Josh McDaniels called a wicked good game. Could he be the heir apparent to Belichick?"
Once the hosts took him seriously, he knew his accent was solid.
Walton spent his early years at the Dexter School in Brookline and then attended St. Paul's School in Concord, N.H., where he fell in love with acting. His dad remembers that each dorm at St. Paul's had to come up with a play for competition. Walton's productions won two years in a row.
Walton was also an athlete and went on to row during his freshman year at Brown, but he gave it up so that he could focus on his craft. Subsequent summers were spent studying acting in London and at The Actors Center in New York, where he moved after college.
There he found that working as a knife salesman was easier money than acting.
"At one point, I was seriously considering playing Huck Finn in a production in Northern Maine in the dead of winter," he said.
His big break came courtesy of fellow Newton native and Brown graduate John Krasinski, who had yet to book his gig on NBC's "The Office." Krasinski called Walton to tell him about a casting director who was looking for an actor to replace Edward Furlong in the third installment of the "Terminator" franchise.
He went in for the "Terminator" audition and didn't get it (Nick Stahl landed the role), but wound up being called into auditions the next day. Walton was also brought to Fox casting exec Marcia Shulman, who ended up giving him a $75,000 holding deal that led to a part on "Cracking Up," a 2004 sitcom that starred Jason Schwartzman (Deschanel also guest-starred on an episode). Walton believes he charmed Shulman by delivering his knife salesman pitch.
"I sold her — I believe it was — the petite carver set. I think she got such a kick out of this actor selling her knives."
After his "New Girl" run, Walton will focus on his next project, a comedy that he and his "Bent" producer Tad Quill sold to CBS last summer after a multi-network bidding war. The show will feature Walton as a bachelor firefighter in Los Angeles who winds up caring for a young girl. It looks promising.
No matter what happens, though, Walton's dad, Jay, says his son can roll with it.
"He has six siblings. Everybody learned to share. He was a very good student. And I think most of his friends are very well-grounded," he said. "We just hear it all the time, what a nice guy he is."
Meredith Goldstein can be reached at mgoldstein@globe.com. Follow her on Twitter @MeredithGoldste.