By: Sara Gaynes
Boston Herald
June 23, 2013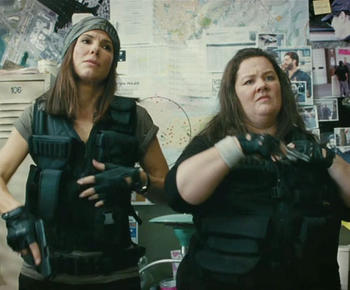 The old Boston Herald building on Harrison Avenue gets the Hollywood treatment this week, courtesy of "Bridesmaids" director Paul Feig.
The director of the Sandra Bullock/Melissa McCarthy buddy-cop flick "The Heat" was scouting locations for his Boston-set flick last year when saw the old newspaper HQ and realized it was the perfect place to set up shop.
We go in, and there's this enormous building that's completely empty. I was like 'We can shoot the whole movie here!' " Feig said in a recent interview at the fab Four Seasons. "But what I didn't realize was, it's an old building, there's no air conditioning, and it was one of the hottest summers. And so we had to bring air conditioning units in, and there was almost 60 years worth of dust and old ink in that building, and here comes these giant blowers. Every night you'd blow your nose and it'd be black," he said with a laugh.
"We're convinced we all took 10 years off our lives. Please go see this movie! A lot of people gave their lives for it."
Despite his brush with black lung, Feig said he had an amazing time shooting in the Hub.
"My wife and I fell so in love with Boston," he said. "I was here about a month ago because Esquire TV has a new show called 'The Getaway,' where each person goes to their favorite city and shows people around. They said 'What U.S. city do you want to do?' and I was like 'Boston!' "
Feig said a highlight of his Boston stay was the city's food scene.
"Barbara Lynch is my absolute hero," he said of the Hub kitchen queen. "I would declare Menton the best restaurant in the U.S. And I eat out a lot."
Feig also fell for the city's deep mine of talent — Melissa 
McCarthy's character in "The Heat" hails from an uber-Boston family and Feig cast all locals, including Jane Curtin and Bill Burr, to play the parts.
"When we knew we were setting it in Boston, I really wanted to make sure we got all the comedy we could out of the city," he said.
So naturally, the director found roles for "Real Housewives of South Boston" alums Jessica Chaffin and Jamie Denbo, after seeing their Funny or Die video "MA Men," which also featured locals Joey McIntyre and Nate Corddry.
"I was watching it and I thought, 'Oh my God, I want all of them in the movie!' " and so McIntyre and Corddry also wound up in 
McCarthy's on-screen family.
"The Heat" opens Friday.