By Stephen Schaefer
Boston Herald
June 25, 2013
NEW YORK — Boston made a fan out of Melissa McCarthy after the actress filmed "The Heat" in the Hub. "That was my first time there and I absolutely love Boston. I'm from outside Chicago and it was that same warm, friendly feeling where no one is afraid to talk to you, which I love because I'm chatty," McCarthy, 42, said Sunday at the Ritz-Carlton Central Park Hotel.After "Bridesmaids" and a 2011 best supporting actress Oscar nomination, McCarthy's raucous star turn in spring's R-rated "Identity Thief" and its $135 million gross made her Hollywood's newest bankable star.
"Heat" pairs Boston cop Shannon Mullins (McCarthy) with uptight FBI agent Sarah Ashburn (Sandra Bullock) and lets McCarthy unleash some spectacular physical comedy and improvisation. And some decidedly off-color language.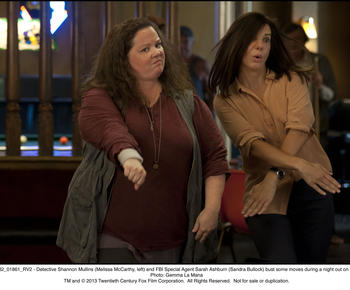 "It is genetic. I blame my people," McCarthy­ joked. "Also, I blame Paul Feig" — her "Bridesmaids" and "Heat" director — "because if I said three F-bombs, Paul would just yell for me to throw in a couple more.
"While Mullins is hardly a model for Boston law enforcement, "I have a lot of police in my family and both Sandra and I tried in the handling of the weapons and whatnot to stay good at our jobs. We're just train wrecks in our personal lives."
McCarthy still sounds surprised at her opportunity to do almost any project.
"It's crazy. Like I dreamed about having­ a stack of scripts to choose from and I always thought, 'Does that really happen? Can one movie change your life?' Yes, it sure can.
"I want to do a variety of good work. I did all dramatic plays in New York for eight years so I'm excited to see where it's going to go myself."
This week McCarthy and husband Ben Falcone finish filming "Tammy" at Niagara­ Falls, a comedy they co-wrote and he directed.
"We'll take the kid and drive cross-country home, from Niagara to L.A. and see Mount Rushmore along the way."
Then it's back to work on her TV series­ "Mike and Molly" without a break. "I don't mind," she said. "I'm doing exactly what I want."
"The Heat" opens Friday. Click HERE for the official trailer.