By Sean Horgan
Gloucester Times
November 6, 2013
Cape Pond Ice takes on key 'Olive' role
Actor Richard Jenkins walks past piles of snow and an early 1960s-model Ford Falcon Futura while filming a scene for the HBO miniseries "Olive Kitteridge" yesterday on Center Street. Jenkins plays pharmacist Henry Kitteridge, husband of the title character, in the film. (MIKE SPRINGER/Gloucester Daily Times)
GLOUCESTER — Winter came early to Main Street yesterday.
Exactly one week after the end of the baseball season, snow littered the streets and sidewalks of a portion of Gloucester's hilly commercial stretch, offering a precursor of New England things to come.
And whom do we have to thank for this early dusting? Confused weather gods? Global warming? A vengeful Jack Frost?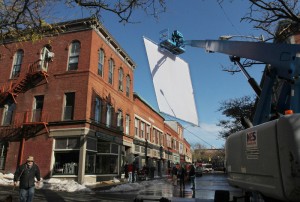 None of the above. The winter wonderland came courtesy of Gloucester's own Cape Pond Ice and the magic of the movies.
The cast and crew of the upcoming HBO miniseries "Olive Kitteridge" have been shooting scenes this week on Main Street — scenes that required turning Passports restaurant into a pharmacy and the intersection of Main and Center streets into a winter tableau.
Cue the cool guys at Cape Pond Ice, special-effects snowmakers to the stars.
Beginning about 5:30 a.m. yesterday, Cape Pond Ice owner Scott Memhard and his crew began hauling four truckloads of the special-effects snow to the movie set. By the time they finished around 9 a.m., they had dumped about 36 tons of the stuff to be spread throughout the scene.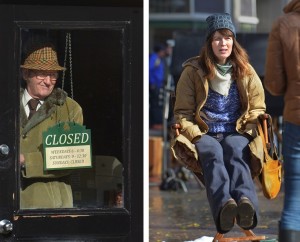 (L) Actor Richard Jenkins looks out the front door of the 'Village Pharmacy,' set inside the Passports restaurant building on Main Street in Gloucester.
(R) Dressed for winter, actress Rosemarie DeWitt sits on a chair on the set of "Olive Kitteridge" on Main Street in Gloucester yesterday. DeWitt is known for her work on a number of TV series and for her performance in the title role of the 2008 Jonathan Demme film "Rachel Getting Married."
(MIKE SPRINGER/Gloucester Daily Times)

This was not Cape Pond Ice's first foray into providing filmmakers with a taste of winter during a time of year when nature's climactic heart is elsewhere.
"We provided special-effects snow at that specific location, in fact, when Dustin Hoffman and Susan Sarandon and Jake Gyllenhaal were filming a movie called 'Babies in Black,' which got released as 'Midnight Mile,' I think," Memhard said.
Cape Pond Ice has provided a similar service for the seminal Gloucester flick, "The Perfect Storm," as well as "The Crucible," "The Good Son," "Ciderhouse Rules," "The Preacher's Son" and a host of others.
Memhard and his ice elves produce the special-effect snow in a special snow-ice blower that pulverizes the crystals to a very, very fine grade at a rate of about 5 tons an hour. It requires about 40 gallons of water to produce 1 ton.
And how long will it last?
"Well, that's a gambling question, isn't it?" Memhard said late yesterday afternoon. "If it was (Tuesday), which was about 15 degrees cooler, it would have lasted a lot longer than it did today. We were prepared to do an additional snow delivery if they needed it. But the director seemed satisfied."
As was Memhard — and why not? There's no business like snow business.