By Mark Shanahan and Meredith Goldstein
Boston Globe
November 10, 2013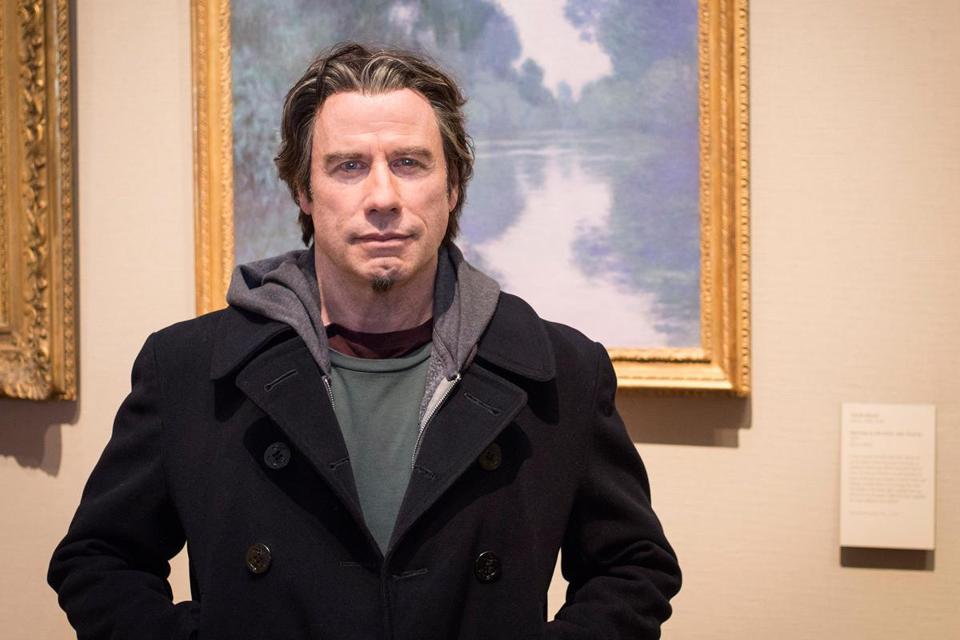 In "Night at the Museum," Ben Stiller's character discovers that the exhibits at the American Museum of Natural History come magically to life after dark. So imagine our excitement when the producers of "The Forger," the heist film now shooting at the Museum of Fine Arts, invited us to the set the other night. We envisioned ourselves mingling with some of those full-figured gals painted by Peter Paul Rubens. Ooh la la.
No such luck. What we learned is that moviemaking can be terribly tedious work, even when done amid masterpieces by a decent cast that includes John Travolta, Academy Award winner Christopher Plummer, and the adorable Abigail Spencer.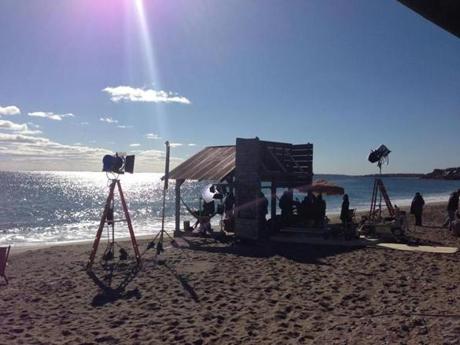 Written by Medford native Richard D'Ovidio, "The Forger" is about a second-generation art thief, played by Travolta, who gets out of prison to spend time with his ailing son, played by teenager Tye Sheridan. The 83-year-old Plummer plays Travolta's father and partner in crime. In the past five weeks, director Philip Martin has filmed scenes at Logan Airport, South Station, Boston Common, Downtown Crossing, and a beach in Marblehead made to look like Tahiti. (It was 29 degrees on the day of filming.) However, it's the museum on Huntington Avenue that has a starring role.
"The MFA is really the reason we wanted to make this in Boston," says Bart Rosenblatt, one of the producers.
"The Forger" is the first big-budget movie ever filmed at the MFA. The museum's facade is glimpsed in "Prozac Nation" and an episode of "Spenser for Hire," and MFA curators have been in several documentaries, but there's been nothing like this. As a result, security during last week's shoot was intense. Under the watchful eye of museum staff, the cast and crew worked from 10 p.m. to 9 a.m. on three successive nights. Lights and cameras could come no closer than 12 inches to the artwork, and the museum required escorts for anyone walking around the building.
"And when we left in the morning, we couldn't take the paintings with us," joked Rosenblatt, who grew up in Newton.
On the night we were there, Travolta didn't emerge from his plush trailer until sometime after 1 a.m. (By contract, he's not obligated to talk to us — and he didn't.) But we did watch Spencer shoot a scene — over and over — in the rotunda adjacent to the William I. Koch Gallery, and we also got to marvel at Plummer, who seemed alert despite being up way past his bedtime. (The octogenarian actor almost shuffled into a scene he wasn't in at one point, prompting a production assistant to mumble, "Uh oh, Plummer's wandering.")
Filming in Boston has been a blast for the cast, some of whom got to go to Game 6 of the World Series. Travolta, it turns out, was at Fenway for five Red Sox playoff games during the postseason, and the home team won every one of them. (Note to Sox PR maestro Charles Steinberg: Consider giving Vinnie Barbarino his own box at the ballpark.)
What to do about the Boston accent? German actor Marcus Thomas, who plays Travolta's best friend, told us he's "not going too Southie" in the movie, but he has managed to pick up a little of the local dialect.
"The Teamsters are good," said Thomas. "Hang around with them an hour and you get a [expletive] idea of what's going on."
Also waiting patiently on set was Mike Handelman, a curly-haired actor from Cambridge who plays Museum Guard #1 in the movie. The night before, the 25-year-old Handelman had drawn his weapon and fired several shots at Travolta's character during a getaway scene.
"I shot a gun at John Travolta," said the actor, looking a little flushed from the experience. "It was pretty stressful, but I think the director liked it."
As we strolled — with a museum escort — through the Koch Gallery, where a dozen or so extras were waiting amid Flemish masterpieces, tapestries from the Palazzo Barberini, and Nicolas Poussin's "Mars and Venus," Rosenblatt said the MFA makes a movie set. And Travolta has been a treat to work with.
"The museum's been great," he said. "But step No. 1 if you want to make a movie is get a movie star."