By Katherine Mierzwa
The Lincoln Journal
November 14, 2013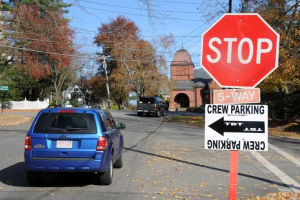 Lincoln — Another feature film crew was shooting in Lincoln this week – did you notice?
Probably not.
That's because the film crews and Lincoln town officials work to keep things low-key when crews are shooting in town. And the production crew is keeping both the name of the film and its stars hush-hush for now to facilitate filming.
A hayride scene was filmed on Monday and Tuesday at Drumlin Farm, but the only thing you might have seen was a parking lot full of rental trucks in the parking lot, or lots of cars belonging to the crew and extras parked at the deCordova's lot, or a black-and-white "Crew Parking" sign at the corner of Weston Road and Lincoln Road.
Earlier this year scenes from the movie "Captain Phillips" with Tom Hanks were shot at Matlock Farm on Old Lexington Road. In 2009, a fight scene for Mel Gibson's "Edge of Darkness" was shot in a private modern house on Tabor Hill Road. Highway scenes along the road into Hanscom Field appeared in the movies "Mall Cop 2" with Kevin James and "Grown Ups 2" with Adam Sandler. And scenes for the 1990 movie "Mermaids" starring Cher were shot here, too.
"I love Lincoln," says Charlie Harrington, a 30-year veteran film location manager. "It's a really special place with old New England homes that are still owned by their original families. It's got a large selection of 20th century modern homes and it has lots of beautiful open land that can look like Vermont or New Hampshire, but it's only 15 miles from Boston as the crow flies."
That's important to a film production whose administrative offices are in Boston and whose crew and cast are housed in Boston hotels.
"We want locations that are within 30 miles of Boston so we can minimize our travel time and costs," says Mark Fitzgerald, Boston's leading Hollywood film location manager and scout. "We also need a place with lots of parking for our big equipment trucks, along with car parking for cast, crew, and lots of extras." In Lincoln the deCordova Museum and the DPW lot on Lewis Street have taken the overflow parking for recent films, said Town Administrator Tim Higgins.
Both location managers say that Lincoln has another good thing going for it — it's very "film friendly." Fitzgerald said that Police Chief Kevin Mooney and Lt. Kevin Kennedy have been great to work with – helpful and accommodating to the needs of the production crew. Kennedy is equally complimentary about the location managers that he has dealt with.
Our job is protect public safety in Lincoln when these crews come to town. It's always been a pleasure to deal with these location managers who respect our town and are cognizant of our residents," he said
And we'll probably be seeing more filming in Lincoln in the future. The Massachusetts Film Office promotes filming in the state by offering a good package of tax incentives to attract film and TV production to Massachusetts. Once here, the office works closely with location scouts to find the potential perfect filming location.
Think your house or property belongs in a film?
You can check a list for film, TV or commercial production possibilities on the website mafilm.org.