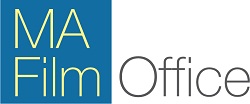 ECHO FILMS AND BRON STUDIOS BRING TUMBLEDOWN TO MASSACHUSETTS
FOR IMMEDIATE RELEASE:
BOSTON- March 23, 2014 – The Massachusetts Film Office announces the filming of Tumbledown will begin principal photography in Massachusetts today. Tumbledown stars Jason Sudeikis (Horrible Bosses, We're the Millers), Rebecca Hall (Iron Man 3, The Town), Joe Manganiello (Magic Mike, True Blood), Griffin Dunne (House of Lies, Dallas Buyers Club), and Blythe Danner (Meet the Parents, The Lucky One).
Sean Mewshaw will make his directorial debut of the script written by Desi Van Til.
Tumbledown is produced by Kristin Hahn, Aaron Gilbert and Margot Hand. Executive Producer is Desi Van Til.
"We are so happy to have this film come to fruition in North Central Massachusetts where we have found the same authentic and kind-hearted spirit as the small Maine town that we aim to replicate in the film," said Desi Van Til. "We have been so warmly welcomed by the community here and we are honored to be the first production in the incredible facility of the New England Studios in Devens."
The film revolves around a young widow (Hall) struggling to cope with the death of her husband, an acclaimed folk singer. Her life is interrupted when an unwelcome writer from New York (Sudeikis) comes to her rural Maine town to research her husband and his music, which changes her life in ways she never expected.
"We thank Desi Van Til and her producing partners for choosing Massachusetts, "says Lisa Strout, Director of the Massachusetts Film Office, "and we are pleased that so many of our residents are being hired to work on the film."
Tumbledown is the second major production to be filmed in Massachusetts in 2014.
###
About the MFO
The Massachusetts Film Office is the official state agency charged with assisting movie-making in Massachusetts and marketing the state to national and international audiences. It is located at 10 Park Plaza, Boston – within the Mass. Office of Travel + Tourism. Lisa Strout, Director. Phone # 617-973-8400 Website: www.mafilm.org
For further information please contact:
Contact: Lisa Simmons
Director of Communications
Massachusetts Office of Tourism, Sports & Film
617-973-8508