By Scott Van Voorhis
Boston Globe
April 6, 2014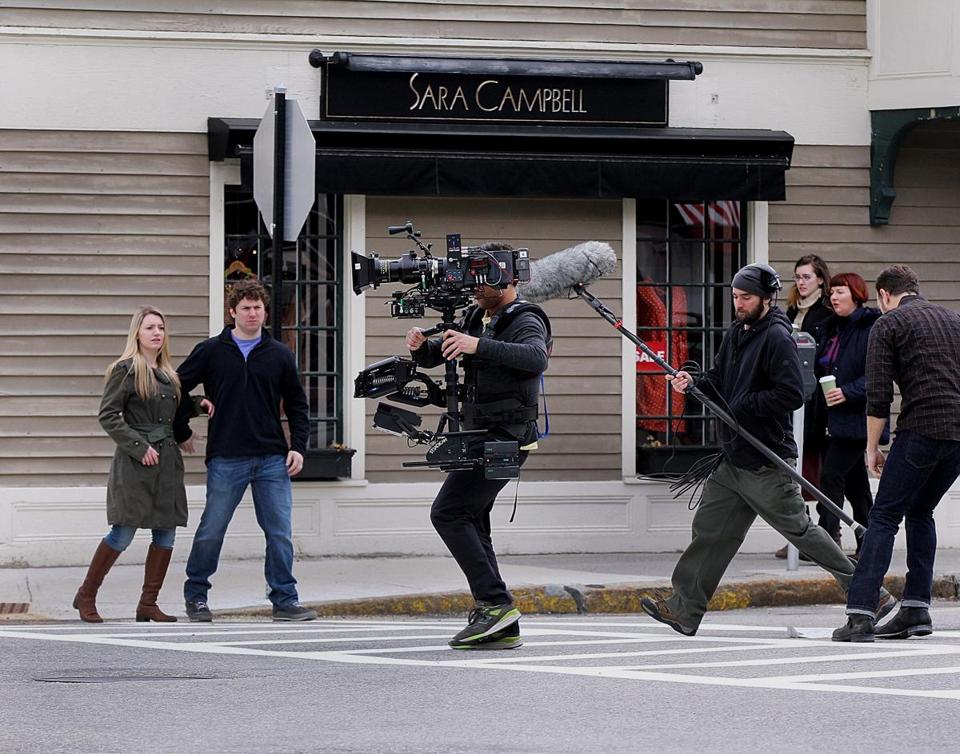 Cast and crew from the movie "Tumbledown" use Concord Center as a backdrop while filming a street scene Wednesday morning. (Wendy Maeda/Globe Staff)
Devens is getting its first taste of Hollywood, with New England Studios gearing up for its film production debut since opening its doors late last year.
"Tumbledown," a romantic comedy starring Jason Sudeikis and Rebecca Hall, has set up camp at the $41 million studio complex on the grounds of the former-Army-base-turned-corporate-park off Route 2 in Ayer, Harvard, and Shirley.
The indie film is using its offices as a headquarters, and plans to use the movie complex's sound stage and production facilities during a two-day shoot slated for later this month, said Chris Byers, marketing director for New England Studios.
Meanwhile, the film's crew and cast of 120 have been shooting scenes in area communities, taking over a women's clothing shop in downtown Concord on Tuesday afternoon, a few days after shooting scenes at an isolated home on a lake in Groton.
For New England Studios, booking "Tumbledown" is an important step toward starting to fill its calendar, Byers said, adding, "We made a deal with them — they are going to be our test show."
While the production is relatively modest by Hollywood standards, it will provide a real-life trial run that will help work out any remaining bugs, he said.
Since opening last fall, the studio has hammered out a number of glitches, including spotty cellphone reception inside the hall.
"I think it would probably calm a few nerves, coming in," Byers said. "There are so many things you have to do, bugs to get worked out, when you open a building like this."
New England Studios is hoping to follow up on its success by booking other productions, with leads including an entire cable television series and, in another case, the pilot for a new cable series, he said.
Lisa Strout, director of the Massachusetts Film Office, said there are already hopeful signs that word of the Devens complex is getting out to the Hollywood executives who decide where projects get made.
In a recent trip to Los Angeles, Strout said, she met with executives at various movie companies who mentioned the Devens studio complex and were eyeing what films might make a fit.
"New England Studios was a big topic," she said.
Meanwhile, "Tumbledown" is getting lots of local attention as the producers and cast turn up to film scenes on location.
The romantic comedy is cast in the Maine woods, with Hannah (played by Hall) struggling to move on after the death of her famous musician husband, of whom she's writing a biography. In strides Andrew (played by Sudeikis), a brash, professorial type from New York, to help with the book, according to a description by the production company, British Columbia-based Bron Studios.
The two pair up and sparks fly as Hannah and Andrew "begin to write the next chapter in their lives together," the promotional material reads.
Other notable names include former "Glee" cast member Dianna Agron, Griffin Dunne, Blythe Danner, and Joe Manganiello, according to a statement by the studios. "Tumbledown'' is director Sean Mewshaw's first feature, and was written by first-time screenwriter Desiree Van Til.
The filmmakers shot some scenes in a home in the woods on Lost Lake in Groton, said Dawn Dunbar, executive assistant to the town manager.
That was followed by two days filming in Concord. Tuesday's shoot took place inside the French Lessons shop on Walden Street, with its exterior remade into a book store, said Christoper Whelan, Concord's town manager.
The production shut down the intersection at Main and Walden streets Wednesday morning to get street scenes.
To compensate the town for the disruptions, "Tumbledown" agreed to pay for the costs of extra police needed to control traffic at the scene, he said.
Movie executives also agreed to donate $2,500 to a town fund for promoting the community to tourists and other visitors, Whelan said.
Businesses lost some parking spaces but gained some attention and foot traffic from members of the crew, he said.
"It's a little inconvenient, but I think it's great to encourage the Massachusetts film industry, so we try to help out," Whelan said.
Scott Van Voorhis can be reached at sbvanvoorhis@ hotmail.com.