By Adrea Shea
WBUR
August 6, 2014
BOSTON — Recently there've been catering trucks idling on Beacon Hill, transplanted palm trees that turned Revere Beach into Miami Beach, and Johnny Depp creepily transformed into James "Whitey" Bulger.
But for every Hollywood actor passing through Boston to make movies, there are dozens of local crewmembers working long hours on set.
"It's not a job where you're like, 'Hey, look at me,' " key costumer Honah Lee Milne, a Dorchester resident, said with a laugh. "You're like, 'Hey, don't see me, I'm hiding behind this person.' "
Milne has dressed actors for a slew of locally shot films, including Wes Anderson's "Moonrise Kingdom" and David O. Russell's "American Hustle."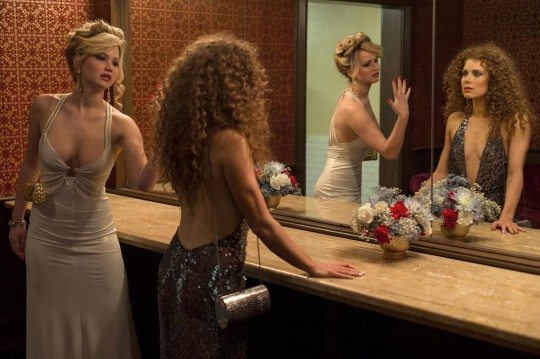 Big-budget costume departments work out of 53-foot wardrobe trucks packed with racks of clothing, Milne says. She says passersby are usually fascinated by the filmmaking activity on the streets — but not always. Sometimes she'll be unloading the trucks and a rogue motorist will drive by and yell, "Go back to Hollywood!"
"And you're like, ummm, we live here," she said with a bemused laugh.
"There is a strange conception on these films that everybody was shipped in, and that's not true at all," added Virginia Johnson, a costume supervisor and sometimes-designer. "My current project, everyone except for the designer and her assistant is a Boston local."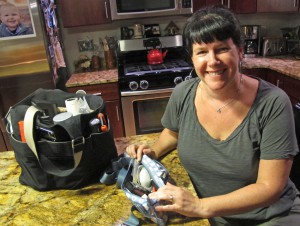 Johnson's current film is "Black Mass," which she's just wrapping up, and she also worked on "American Hustle" with Milne. Both have been in the business since around 2007 and shared a trajectory where one movie job has led to another.
"I did 'The Women' back in 2007, and that led to Richard Kelly's 'The Box,' " Johnson recalled. "And then that became 'Surrogates.' You just sort of travel from show to show. Definitely a high point was getting to work on 'The Social Network' just because it has so many roots in the Cambridge."
Milne calls her fellow crew members "non-nomadic carnies." But Johnson admits she has pondered Hollywood.
"There was definitely a moment in 2008 where I had a conversation with my partner, like, 'Do you think we stay or go?' " she said. "Because both of us at that moment had worked on three or four major motion pictures and we wondered, should we move?"
Lisa Strout, director of the Massachusetts Film Office, says she's heard that story before.
"There are about 4,500 film professionals in Massachusetts," she said. "And about 1,200 to 1,400 are in the International Alliance of Theatrical and Stage Employees."
That's the union for film crew, including gaffers, grips, set dressers and location managers.
"And that's a good number," Strout explained. "A lot of our competitors really don't have the crew base that we have."
The competitors Strout refers to are the 40 other states that have film tax incentives. Massachusetts started offering a 25 percent tax credit in 2007 to entice movies to shoot here. At the time people questioned whether the local crew base would be big enough and experienced enough to handle the influx.
Mass. Crew Base A Big Selling Point
Strout's job is to promote the state as a good place to make movies. These days, she says, crew is a huge selling point when she's trying to woo Hollywood producers.
"It's one of the very first things we talk about," she said. "They don't want to bring everybody. They really want there to be a local crew base, because just traveling people, housing, per diem — all that sort of thing is very expensive."
In 2011, when Strout started at the film office, nine major productions shot in Massachusetts. The number jumped to 23 in 2013. So far this year there are already 22.
Strout says the crew base's evolution is playing a big role. "There's nothing better than to hear a producer say, 'I've met people on the Massachusetts crew that I would take with me anywhere in the world.' "
Most Hollywood films hire unionized crew. Twenty years ago Chris O'Donnell used to be a boom operator in the film industry, but now he's the business manager of the International Alliance of Theatrical and Stage Employees Local 481, based in Woburn.
"When I started this job in 2003 the membership in this local was probably about 350. It is now closer to 900," he said. "So there's been a dramatic increase in the numbers of members, but I think as important has been a dramatic increase in the improvement of the members."
O'Donnell says producers used to import their key people from Los Angeles or New York. Not anymore.
"For example," he said, "if you walked down to the set of 'Black Mass,' everybody in Local 481 positions are hired locally. And that didn't happen 10 years ago."
That said, O'Donnell admits just a few years ago some new members didn't have the skills Hollywood demands, so he hired a training coordinator and spends upwards of 20 percent of the Local 481's annual budget on education. O'Donnell says it's paying off.
"Black Mass" assistant director Shelley Ziegler agrees. She's come to Massachusetts a few times before with other film projects.
"Just speaking from 'The Fighter' to 'American Hustle' I could see definitely a difference in the number of people who applied, and who were qualified to apply," she said. "There is a skill level."
Ziegler has been living in Cambridge since she started scouting and hiring for "Black Mass" this past March. She says a highly skilled, local crew base is critical because a film production is a huge, expensive organism with many moving parts. If there's one weak link, "It's like a domino," Ziegler said.
She estimates about 150 local technicians were used for "Black Mass," including production sound mixer Tom Williams. He records the dialogue on set.
"I've been doing it awhile, and I'm lucky enough to be at the point where I'm doing studio pictures here," he said next to a catering truck at one of the film's downtown locations. "I mean, the studios know who I am. At first they were unwilling to take a chance."
Big Fish, Smaller Pond
There was a time when filmworkers were itinerant, "or that it was a circus, or we were a bunch of gypsies," Williams mused. But now he says he's booked locally through the year, which is nice since this is where he lives. Next month, Williams will start working on the new Disney film, "The Finest Hours."
But this career soundman isn't banking on Massachusetts.
He graduated from Berklee College of Music in 1984 and started his career doing freelance sound for commercials and documentaries. Williams moved on to record dialogue for "Surrogates," "R.I.P.D.," "Underdog," "American Hustle" and "Equalizer" in Massachusetts. Even with the steady feature film work, he says he'll continue to make himself available to productions filming out-of-state.
"Because you don't know if the [tax] credit is going to stay," he said. "Sooner or later it could go away. You know, we could have a negative environment. Since this is what I do, I have to be prepared for it not to be here and for me to go to it." Then with a laugh Williams added, "Cause [sound] is all I've done!"
And lighting is all gaffer Frans Wetterings has done.
"I went to college for it, I went to BU," he said. "I'm originally from California, and I decided it was better to be a big fish in a small town than a small fish in a big town, so I stayed."
Wetterings spoke with me on the set of Woody Allen's upcoming film that's being shot in Newport, Rhode Island.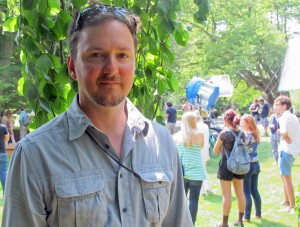 He and his partner took a chance on the industry 12 years ago when they opened a lighting production company in Allston called Red Herring Motion Pictures, Inc. Wetterings said he's got about 25 employees working on Allen's latest creation.
And even though he's from California, Wetterings prefers Boston. He also says more of his film industry peers feel the same way.
"People are moving here from LA because it's a better place to raise your family, the quality of life is better, it's not as fast-paced," he said.
Then Wetterings pointed out that the just-released film "Sex Tape," which he also worked on, is set in LA but was filmed in Boston.