By Ray Kelly
The Republican
September 6, 2014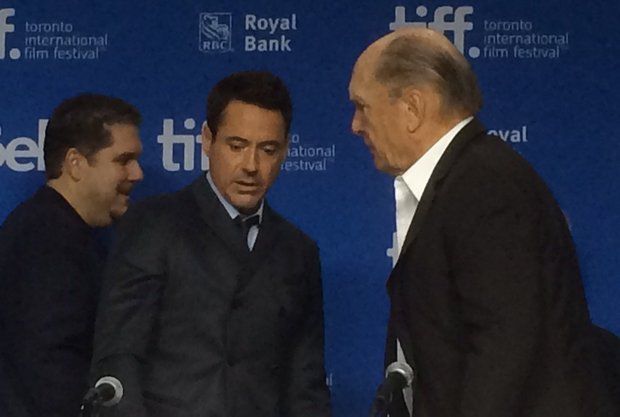 TORONTO – The reviews are in and the cast of "The Judge" gives two thumbs up to the people of Shelburne Falls.
Speaking with The Republican at the Toronto International Film Festival on Friday, the actors expressed a fondness for the people and town where much of "The Judge" was filmed last summer.
Actress Vera Farmigia called the townspeople "salt of the earth." and described her stay as "thoroughly soul quenching."
She recalled digging for worms, fishing, rafting, swimming with her children and regular runs around a nearby school track.
"It's why we were two weeks behind," Robert Downey Jr. quipped. "She said she wasn't done prepping."
"Shelburne Falls was a beautiful pastoral quintessential American town," said co-star Jeremy Strong, adding he appreciated the beauty of the Bridge of Flowers.
"It was a perfect place," he said.
With no nearby hotels, many of the cast stayed at a bed and breakfast where co-star Dax Shepard said he sat at the foot of Academy Award winner Robert Duvall's bed talking about movie-making – an experience Shepard described as surreal.
There were some picks and pans.
Duvall said he found "two pretty good restaurants" in town, though he did not name them.
Co-star Vincent D'Onofrio made it clear he was unhappy with his initial bed and breakfast lodging. He quickly relocated and stayed at a "fascinating thriving section of the city," which featured a 7-Eleven store, Gulf station, Taco Bell and Domino's. "That's my memory."
Downey added playfully,"New York snob."