By Irene Berman-Vaporis
BU Today
September 4, 2014
Members to appear in Whitey Bulger biopic Black Mass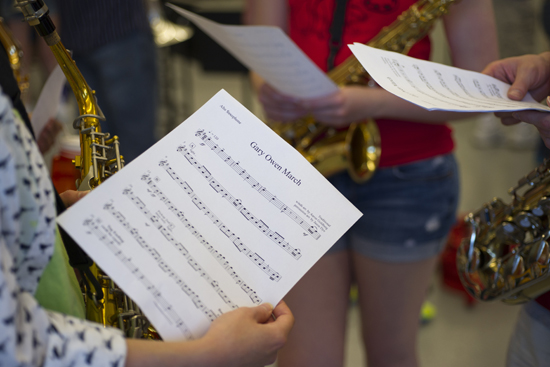 On a hot day earlier this summer, members of the Boston University Band gathered for a scene they've enacted countless times. The musicians were decked out in their trademark scarlet and white uniforms. The drum line kept rhythm. The color guard twirled flags. A hundred students marched in perfect unison down a city street.
And then suddenly someone yelled, "Cut!"
They were shooting a scene for Black Mass, a film starring Johnny Depp about notorious Boston mobster Whitey Bulger, based on the book Black Mass: Whitey Bulger, the FBI, and a Devil's Deal, co-written by Dick Lehr, a College of Communication journalism professor, and Gerard O'Neill (COM'70). On this day, the band was shooting a pivotal scene set on St. Patrick's Day. (The film, expected to be released in September 2015, also stars Benedict Cumberbatch, Sienna Miller, Adam Scott, and Joel Edgerton.) It was, in fact, the second time in recent memory that the BU Band had scored a part in a major Hollywood movie (the band was seen in Clint Eastwood's Oscar-winning 2003 drama Mystic River).
So how did the BU Band get picked to star in the Johnny Depp film? A local casting agency looking to fill 100 uniforms for the St. Patrick's Day scene got in touch with Aaron Goldberg, BU's director of Athletic Bands. "I was worried because so many people were off campus at that point," says Goldberg. He began reaching out to members who lived within driving distance of Boston and to band alumni. "Within 14 hours, we had over 200 people state their interest. There were almost 300 by the next day." The band that appears in the film was a hybrid of approximately 50 current band members, 30 band alumni, and 20 students from area colleges and high schools.
The group rehearsed only once prior to filming. "It was a little bit hectic," Goldberg recalls. "The first hour was spent learning the music, and in the second hour we practiced the piece all together. We rushed through memorization of the piece, the Irish folk tune 'The Garry Owen March,' which was fairly simple thankfully, so we could get outside and practice marching, as most of us had never marched with each other."
The BU Band members wore their own uniforms. The film's wardrobe department had initially deemed them too bright and contemporary, but in the end decided to use the current BU uniforms.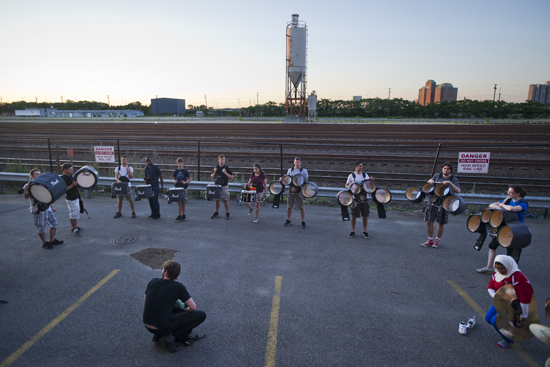 Filming took place on a warm sunny day in late June. The musicians began arriving at the band room on campus at 3 a.m. to be ready for their 4 a.m. call. Promptly at 4:30, a bus departed campus for Lynn, where the scene was to be shot. Although the annual parade is held in South Boston, shooting there had been ruled out, reportedly because it had become too gentrified to evoke the gritty place it had been in the 1970s and '80s. The bus pulled up to the set in Lynn 45 minutes later, and wardrobe people made last-minute adjustments to the band members' uniforms. Filming began at 6:30 a.m. The set had been made to resemble 1970s Southie: an old T-stop had been re-created, and storefronts redecorated to look retro. Several other groups were to appear in the same scene—bagpipers, spectators, and a company of Lexington Minutemen—but BU's was the only marching band.
They quickly ran through the scene before cameras started rolling. Goldberg had done the musical arrangement for the Irish march. "It sounds like something you would hear on St. Paddy's Day," he says, noting that the piece is repetitive so that the band could play as long as necessary.
"We simply marched up the street behind a float," says BU Pep Band manager Jennifer Gough (SAR'16). "We did the same thing several times." Between takes, the movie staff relayed directions about the upcoming take, instructing the band to change spacing occasionally or to do something differently. Wardrobe also checked members between takes to remove any smudges on their uniforms.
"I'll admit it was a bit nerve-racking when I first saw a camera pointed at me," Dylan Marshall (CAS'16) recalls. "I was on the left side, which was closest to the main camera." The scene was shot from three different angles. "We didn't always know where there was a camera or if we were supposed to be looking somewhere in particular," Gough says. Band members had practiced marching several ways so they'd be ready for whatever was needed. "Turns to the left, right, wide intervals from student to student, short intervals—we experimented with every way possible so we could be prepared for whatever the movie people asked," Goldberg says.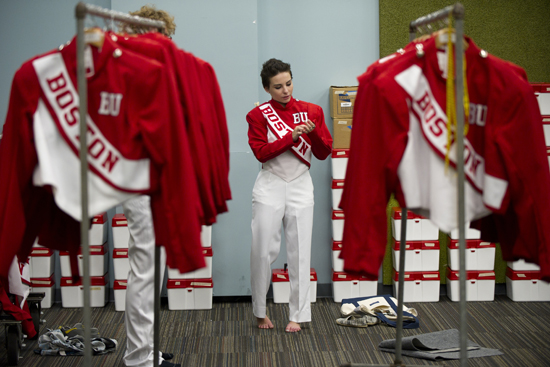 What band members hadn't anticipated, however, was having to pantomime. "We had to pretend we were playing so that they could get a good recording of the actors doing their lines," according to Robert Conner McManus (CAS'15, GRS'15). They had to mimic playing during about 10 takes. "I cannot tell you how hard it is to get 100 students to be perfectly in time going down the street in utter silence," Goldberg says. "The drummers had to fake play without hitting their drums. Others had to spin their flags in time with no cues." The silent parade felt a bit eerie. "It was kind of like watching a parade on mute, seeing everyone acting like they're enjoying the parade and clapping, but with no sound at all," McManus says.
In all, the band filmed 28 takes between 6:30 a.m. and 6:30 p.m. "It was quite the mental and physical endurance test, having to do the same thing over and over again for a 12-hour day. I've gained a whole lot of respect for actors who have to put in days like this on a regular basis," Marshall says.
"The last few hours, we were doing lots of repetitive takes. I was starting to wonder if we were doing something wrong," Goldberg says. "It turned out they kept filming multiple takes for the actors." Speaking of actors, the band members did get in a few star sightings during the grueling shoot. "I got to see Benedict Cumberbatch from a little ways away, but I got really close to Johnny Depp and Jesse Plemons," McManus says. "I was actually close enough that I was able to hear them talk to some of the other actors." The band members had signed a contract stipulating that they wouldn't interact with actors on the set, so there was no shaking hands or asking for autographs.
"I expected them to be starstruck, but the band really concentrated. They knew it was all business," Goldberg says.
The band received $2,500 for transportation costs and another $2,500 for dry-cleaning the uniforms. "It was incredibly hot and we sweated right through them that day," says Goldberg. "We were just beside ourselves to be involved in the movie." But the most rewarding part was the chance to be in such a big scene in such a big movie.
"It was an opportunity I couldn't possibly have turned down," Marshall says. "The collective relief, celebration, and sense of accomplishment in the band during the moments after we were finished was incredible."
Irene Berman-Vaporis can be reached at imbv@bu.edu.