By Eva Zymaris
WGGB
October 8th, 2014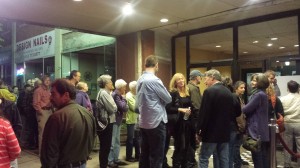 GREENFIELD, Mass. (WGGB) — A national film, with a local flare.
Hundreds gathered to the Greenfield Garden Cinemas Wednesday night to be part of "The Judge" premiere, which was shot partially in Western Massachusetts.
The film, which actor Robert Downey Jr. stars in, was filmed in Shelburne Falls for three weeks last summer.
"The Judge" will be released on Friday, but Warner Brothers — along with the Massachusetts Film Office and the Greater Shelburne Falls Area Business Association — set up a local screening.
"We had 14 Massachusetts crew members on this movie, 31 speaking roles in the movie went to Massachusetts residents, and another 800 of our residents were background actors," explains Lisa Strout, Director of Massachusetts State Film Office.
"The Judge" follows the story of a big-shot Chicago attorney (Downey) who returns to his hometown in Illinois, where his estranged father is suspected for murder.
Gretchen Fichtner, a unionized extra, has been part of many films in Massachusetts. She had three small parts within "The Judge."
"This was one of the best I've worked on," recounts Fichtner. "It was so much fun. I didn't want it to end."
The film already made its world premiere at the Toronto Film Festival back in September.