By Diane Broncaccio
The Recorder
October 9, 2014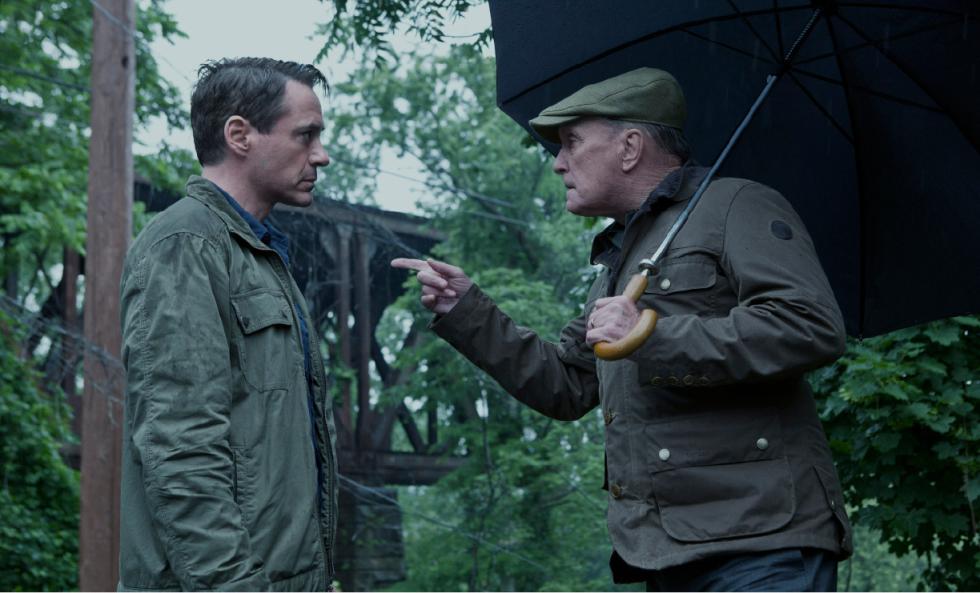 GREENFIELD — Franklin County went to the movies Wednesday night to see what so many people had only seen in bits and pieces last summer — "The Judge," starring Robert Downey Jr., Robert Duvall, and, of course, Shelburne Falls.
When a preview showing of "Labor Day" was held in Memorial Hall last year, the audience shouted and cheered as glimpses of the Iron Bridge, Keystone Market, Greenfield Savings Bank or even the Power Canal in Turners Falls were shown. But overall, the crowd was slightly disappointed not to see more of their town — or the dozens of residents who were extras in that film.
But "The Judge," in contrast, practically lingered over the settings: a tornado tears down Bridge Street, Downey's character, Hank Palmer, sits outside Baker's Pharmacy eating ice cream with his young daughter.
"It was awesome," said Tim Bohonowicz, a Greenfield Garden Cinema employee, who had previewed the movie earlier, in preparing for the invitation-only preview Wednesday night. "It's a lovely movie."
"I thought it was great," former Shelburne Town Clerk Beverly Neeley said. "I was so pleasantly surprised."
When asked if she liked it better than "Labor Day," she said, "It was much better."
A queue formed about 45 minutes before the 7:30 p.m. showing. The invited guests included movie extras and local production assistants, state Reps. Paul Mark and Steve Kulik, merchants and town officials from seven towns where scenes were filmed: Shelburne, Buckland, Charlemont, Colrain, Deerfield, Hadley and Montague. Two cinemas showed the movie to a total of 400 people.
Before the film, Brad Brigham of Colrain said he's enjoyed seeing his homestead and barn on television — in the movie trailer, in which Downey rides his bicycle down a picturesque country road. "I'm getting calls from friends around the country who recognize that barn," he said. "It's put Colrain on the map."
The movie showing, one day before its scheduled release, was hosted by Warner Bros. as a "thank you" to the communities where filming was done.
Massachusetts Film Office Director Lisa Strout introduced the film, saying that 414 Massachusetts residents worked on the film, while another 821 residents did background work.
"It's for being known as such a film-friendly place that you landed the second major film in just two years," she told the audience.
On Wednesday, Downey talked about "The Judge" on his Facebook news feed.
"The Judge is a lovely little film about past regrets, which is something I know a bit about," he wrote. "What's your biggest regret?"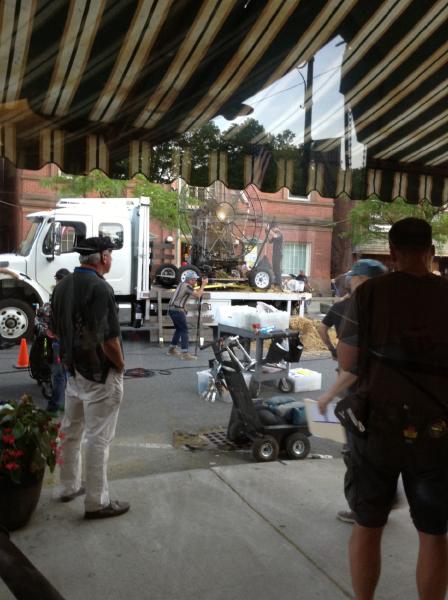 The film is about a big city lawyer who returns home for his mother's funeral, and learns that his small-town father, a judge, is a murder suspect. Instead of leaving, Downey's character stays to learn the truth and reconnects to his estranged family along the way.
In an article in Sunday's Boston Globe, director David Dobkin told Globe correspondent Ed Symkus that Shelburne Falls was his first choice for the film's fictitious Indiana town.
"I'd seen pictures of the area, and I was looking for a town that seemed like it was preserved in time, but wasn't aware of itself being that," he said. "It was important to me that the judge was defining these older, conservative values that meant something that it was a place that was … like our memory of America."
The article went on to say that Dobkin was "bummed" after learning that "Labor Day" had been filmed in Shelburne Falls the year before. But after "Labor Day" director Jason Reitman showed him what footage would be used from Shelburne Falls, Dobkin decided to go ahead filming there.
Despite its lackluster national reception, the movie "Labor Day" was a big draw last year for the Greenfield Garden Cinema.
"I think we had 'Labor Day' for eight or nine weeks — even though it was pulled, nationally, after four or five weeks," said Cinema owner George Gohl. "Up until summertime, 'Labor Day' was my number-two movie — for a national movie that hardly had any publicity."
"Labor Day" ended up being the theater's third biggest box-office draw for the year — topped only by "Guardians of the Galaxy" and "The Lego Movie."
"I think 'The Judge' will do very well here," he added.
The Greenfield Garden Cinema will show "The Judge" starting tonight with a 10 p.m. showing.