By Variety Staff
Variety
May 31, 2015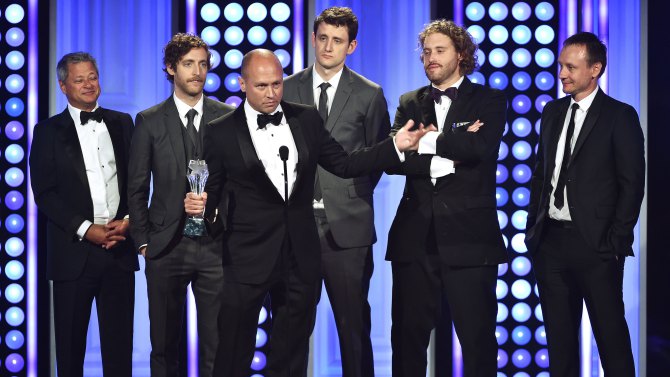 The 5th annual Critics' Choice TV Awards took place Sunday at the Beverly Hilton hotel and aired live on A&E. "So You Think You Can Dance" host Cat Deeley emceed the proceedings — and also found time to accept the prize for best reality host midway through the show. Despite playfully jabbing rival host Tom Bergeron during her intro by joking she'd purposefully gotten him relegated to one of the back tables in the ballroom, she was spotted warmly embracing the "Dancing with the Stars" mainstay during the ad break.
The first prize of the night went to "Better Call Saul's" Jonathan Banks for best supporting actor in a drama, and the thesp also had the dubious honor of earning the ceremony's first (but far from the last) bleep during his acceptance speech. The "Breaking Bad" spinoff later won a second award for Bob Odenkirk's lead role as titular conman Saul Goodman (aka Jimmy McGill). "I'm in a drama? I'm trying to get laughs!" Odenkirk quipped, evidencing the increasingly blurry line between drama and comedy contenders. That trend continued with Lorraine Toussaint's win for best supporting actress in a drama for Netflix's "Orange is the New Black," which competed (and won) in the comedy categories last year.
Likewise, best actress in a drama winner Taraji P. Henson arguably earned just as many laughs during "Empire's" freshman season as the Critics' Choice comedic contenders, and Jeffrey Tambor, who won best actor in a comedy for "Transparent," had just as many moments of pathos in the Amazon series as his counterparts in the drama race.
Henson had plenty of fans in the room among both critics and talent — applause for her win was some of the loudest of the night, and during every commercial break, her table was beset by well-wishers, including "The Americans" stars Holly Taylor and Alison Wright, who went over to express their admiration for the "Empire" scene-stealer. Likewise, Tambor's emotional win brought many attendees to their feet — including the cast and creative team of FX's "You're the Worst," who offered an extended standing ovation when Tambor's name was announced.
The night's top prizes went to shows that stayed true to their genres: HBO's "Silicon Valley" took home best comedy series, while FX's "The Americans" won best drama. It was a strong night for both cable networks: FX also scooped awards for best supporting actress in a movie or limited series for Sarah Paulson's latest "American Horror Story" performance; best guest actor in a drama thanks to Sam Elliott's role in "Justified"; and best animated series for "Archer," which was announced before the main show began. "Archer" star Judy Greer apparently wasn't impressed with the sandwich selection on their table and ordered room service pizza for her companions during the show instead — much to the envy of the other attendees.
HBO also scored three awards for "Olive Kitteridge" (best limited series, best actress for Frances McDormand and best supporting actor for Bill Murray); best movie made for television for "Bessie"; and best actor in a limited series or movie for David Oyelowo's starring role in "Nightingale."
Best actress in a comedy went to an absent Amy Schumer (who instead attended the Peabody Awards ceremony in New York, during which she locked lips with Tina Fey), while Allison Janney added to her overflowing awards shelf with the gong for best supporting actress in a comedy for "Mom" — and managed a memorable smooch of her own by planting a passionate kiss on presenter James Corden after taking the stage.
Silicon Valley" also nabbed the best supporting actor prize thanks to T.J. Miller, who crammed his mouth full of food before his acceptance speech to illustrate how unexpected his win was, causing presenters Sarah Paulson and Ben McKenzie to burst into giggles just off-camera.
"Mad Max: Fury Road" star Charlize Theron was on hand to present Seth MacFarlane with the Louis XIII Genius Award. The self-deprecating "Family Guy" creator, who arrived at the show just in time to accept his award, gave a typically risque acceptance speech that drew plenty of laughs even while toeing the boundaries of good taste. Among his targets were "Duck Dynasty," "The Simpsons" and the critics themselves: "Let's not forget I'm being declared a genius on a network that airs 'Duck Dynasty,' a show whose cast members believe hurricanes are created by gay marriage. I wish I was joking," he said during the live telecast.
After the show, guests headed outside to enjoy a more elaborate feast, including a pizza buffet (sorry, Judy Greer), beef and chicken skewers and a gelato bar, where the cast of "The Americans" celebrated their win by playing a game of oversized Jenga, "Face Off" judge Glenn Hetrick kicked back with a round of indoor ping-pong, and "Inside Amy Schumer" guest performer (and dearly departed "Good Wife" star) Josh Charles was overheard congratulating exec producer Vince Gilligan on "Better Call Saul's" success.
See More: Critics' Choice TV Awards: The Biggest Snubs and Surprises
See the full list of winners below.
Best Drama Series
The Americans (FX) (WINNERS)
Empire (Fox)
Game of Thrones (HBO)
The Good Wife (CBS)
Homeland (Showtime)
Justified (FX)
Orange Is the New Black (Netflix)
Best Comedy Series
Silicon Valley (HBO) (WINNER)
Broad City (Comedy Central)
Jane the Virgin (The CW)
Mom (CBS)
Transparent (Amazon)
Veep (HBO)
You're the Worst (FX)
Best Actress in a Drama Series
Taraji P. Henson, Empire (FOX) (WINNER)
Eva Green, Penny Dreadful (Showtime)
Julianna Margulies, The Good Wife (CBS)
Keri Russell, The Americans (FX)
Vera Farmiga, Bates Motel (A&E)
Viola Davis, How to Get Away With Murder (ABC)
Best Actor in a Drama Series
Bob Odenkirk, Better Call Saul (AMC) (WINNER)
Aden Young, Rectify (Sundance)
Charlie Hunnam, Sons of Anarchy (FX)
Freddie Highmore, Bates Motel (A&E)
Matthew Rhys, The Americans (FX)
Timothy Olyphant, Justified (FX)
Best Actor in a Comedy Series
Jeffrey Tambor, Transparent (Amazon) (WINNER)
Anthony Anderson, Blackish (ABC)
Chris Messina, The Mindy Project (FOX)
Johnny Galecki, The Big Bang Theory (CBS)
Thomas Middleditch, Silicon Valley (HBO)
Will Forte, The Last Man on Earth (FOX)
Best Actress in a Comedy Series
Amy Schumer, Inside Amy Schumer (Comedy Central) (WINNER)
Constance Wu, Fresh Off the Boat (ABC)
Gina Rodriguez, Jane the Virgin (The CW)
Ilana Glazer, Broad City (Comedy Central)
Julia Louis-Dreyfus, Veep (HBO)
Lisa Kudrow, The Comeback (HBO)
Best Limited Series
Olive Kitteridge (HBO) (WINNER)
24: Live Another Day (FOX)
American Crime (ABC)
The Book of Negroes (BET)
The Honorable Woman (Sundance)
Wolf Hall (PBS)
Best Movie Made for Television
Bessie (HBO) (WINNER)
Killing Jesus (National Geographic Channel)
Nightingale (HBO)
A Poet in New York (BBC America)
Stockholm, Pennsylvania (Lifetime)
Best Actress in a Movie or Limited Series
Frances McDormand, Olive Kitteridge (HBO) (WINNER)
Aunjanue Ellis, The Book of Negroes (BET)
Felicity Huffman, American Crime (ABC)
Jessica Lange, American Horror Story: Freak Show (FX)
Maggie Gyllenhaal, The Honorable Woman (Sundance)
Queen Latifah, Bessie (HBO)
Best Reality Series Host
Cat Deeley, So You Think You Can Dance (FOX) (WINNER)
Anthony Bourdain, Anthony Bourdain: Parts Unknown (CNN)
Betty White, Betty White's Off Their Rockers (Lifetime)
James Lipton, Inside the Actors Studio (Bravo)
Phil Keoghan, The Amazing Race (CBS
Tom Bergeron, Dancing with the Stars (ABC)
Best Reality Competition Series
Face Off (Syfy) (WINNER)
The Amazing Race (CBS)
America's Got Talent (NBC)
Dancing With the Stars (ABC)
Master Chef Junior (FOX)
The Voice (NBC)
Best Reality Series
Shark Tank (ABC) (WINNER)
Anthony Bourdain: Parts Unknown (CNN)
Deadliest Catch (Discovery Channel)
Married at First Sight (A&E)
MythBusters (Discovery Channel)
Undercover Boss (CBS)
Guest Performer in a Drama Series
Sam Elliott, Justified (FX) (WINNER)
Cicely Tyson, How to Get Away with Murder (ABC)
Julianne Nicholson, Masters of Sex (Showtime)
Linda Lavin, The Good Wife (CBS)
Lois Smith, The Americans (FX)
Walton Goggins, Sons of Anarchy (FX)
Best Guest Performer in a Comedy Series
Bradley Whitford, Transparent (Amazon) (WINNER)
Becky Ann Baker, Girls (HBO)
Josh Charles, Inside Amy Schumer (Comedy Central)
Laurie Metcalf, The Big Bang Theory (CBS)
Peter Gallagher, Togetherness (HBO)
Susie Essman, Broad City (Comedy Central)
Best Supporting Actress in a Comedy Series
Allison Janney, Mom (CBS) (WINNER)
Carrie Brownstein, Portlandia (IFC)
Eden Sher, The Middle (ABC)
Judith Light, Transparent (Amazon)
Mayim Bialik, The Big Bang Theory (CBS)
Melanie Lynskey, Togetherness (HBO)
Best Supporting Actor in a Comedy Series
T.J. Miller, Silicon Valley (HBO) (WINNER)
Adam Driver, Girls (HBO)
Cameron Monaghan, Shameless (Showtime)
Jaime Camil, Jane the Virgin (The CW)
Tituss Burgess, Unbreakable Kimmy Schmidt (Netflix)
Tony Hale, Veep (HBO)
Best Supporting Actress in a Drama Series
Lorraine Toussaint, Orange Is the New Black (Netflix) (WINNER)
Carrie Coon, The Leftovers (HBO)
Christine Baranski, The Good Wife (CBS)
Joelle Carter, Justified (FX)
Katheryn Winnick, Vikings (History)
Mae Whitman, Parenthood (NBC)
Best Supporting Actor in a Drama Series
Jonathan Banks, Better Call Saul (AMC) (WINNER)
Ben Mendelsohn, Bloodline (Netflix)
Christopher Eccleston, The Leftovers (HBO)
Craig T. Nelson, Parenthood (NBC)
Mandy Patinkin, Homeland (Showtime)
Walton Goggins, Justified (FX)
Best Talkshow
The Daily Show with Jon Stewart (Comedy Central) (WINNER)
The Graham Norton Show (BBC America)
Jimmy Kimmel Live (ABC)
Last Week Tonight with John Oliver (HBO)
The Late Late Show with James Corden (CBS)
The Tonight Show Starring Jimmy Fallon (NBC)
Best Animated Series
Archer (FX) (WINNER)
Bob's Burgers (FOX)
Gravity Falls (Disney Channel)
The Simpsons (FOX)
South Park (Comedy Central)
Star Wars Rebels (Disney XD)
Best Supporting Actress in a Movie or Limited Series
Sarah Paulson, American Horror Story: Freak Show (FX) (WINNER)
Claire Foy, Wolf Hall (PBS)
Cynthia Nixon, Stockholm, Pennsylvania (Lifetime)
Janet McTeer, The Honorable Woman (Sundance)
Khandi Alexander, Bessie (HBO)
Mo'Nique, Bessie (HBO)
Best Actor in a Movie or Limited Series
David Oyelowo, Nightingale (HBO) (WINNER)
James Nesbitt, The Missing (Starz)
Kiefer Sutherland, 24: Live Another Day (FOX)
Mark Rylance, Wolf Hall (PBS)
Michael Gambon, The Casual Vacancy (HBO)
Richard Jenkins, Olive Kitteridge (HBO)
Best Supporting Actor in a Movie or Limited Series
Bill Murray, Olive Kitteridge (HBO) (WINNER)
Cory Michael Smith, Olive Kitteridge (HBO)
Elvis Nolasco, American Crime (ABC)
Finn Wittrock, American Horror Story: Freak Show (FX)
Jason Isaacs, Stockholm, Pennsylvania (Lifetime)
Jonathan Pryce, Wolf Hall (PBS)