New Chemistry Series Brings Science to Life on PBS
THE MYSTERY OF MATTER: SEARCH FOR THE ELEMENTS, an original series that tells the amazing human story behind the Periodic Table, premieres August 19, 2015, on most PBS stations.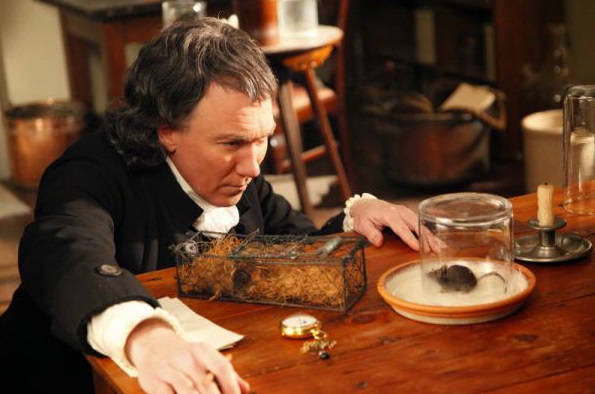 Hosted by two-time Emmy Award-winning actor Michael Emerson, the three hour-long episodes explore the contributions of seven remarkable scientists, all driven to answer the same simple question: What is the world made of? THE MYSTERY OF MATTER shows not only what these scientific explorers achieved but also how, using Broadway-caliber actors to reveal the creative process through the scientists' own words, and conveying their landmark discoveries through reenactments—complete with replicas of their original lab equipment.
"Most history of science programs give a distorted impression by focusing on one scientist at a time. So we get biographies of Einstein, Galileo and so forth," says series producer Stephen Lyons. "THE MYSTERY OF MATTER presents a truer picture of science as a collective human endeavor, with each investigator building on the work of those who came before."
The stories of the seven featured scientists are told over the three episodes as follows:
Episode 1: Out of Thin Air (1754-1806)
One of science's great odd couples—British minister Joseph Priestley and French tax administrator Antoine Lavoisier—together discover a fantastic new gas called oxygen, overturning the reigning theory of chemistry and triggering a worldwide search for new elements. Soon caught up in the hunt is science's first great showman, a precocious British chemist named Humphry Davy, who dazzles London audiences with his lectures, introduces them to laughing gas, and turns the battery into a powerful tool in the search for new elements.
Episode 2: Unruly Elements (1859-1902)
Over a single weekend in 1869, a young Russian chemistry professor named Dmitri Mendeleev invents the Periodic Table, bringing order to the growing gaggle of elements. But this sense of order is shattered when a Polish graduate student named Marie Sklodowska Curie discovers radioactivity, revealing that elements can change identities— and that atoms must have undiscovered parts inside them.
Episode 3: Into the Atom (1910-1960)
Caught up in the race to discover the atom's internal parts—and learn how they fit together—is a young British physicist named Harry Moseley, who uses newly discovered X-rays to put the Periodic Table in a whole new light. And a young American chemist named Glenn Seaborg creates a new element—plutonium—that changes the world forever, unleashing a force of unimaginable destructive power: the atomic bomb.
To watch previews of the series and three episodes, go to www.pbs.org/mysteryofmatter.
To watch any of the three episodes, go to the Vimeo links below and enter the password: matter.
Hour 1 (OPB version) with MLP bug

Hour 2 (OPB version) with MLP bug

Hour 3 (OPB version) with MLP bug
https://vimeo.com/111047469
To see where and when The Mystery of Matter will be airing, go to http://tinyurl.com/MoM-broadcast-schedule.
For additional information and promotional assets, please visit the OPB or PBS Press Rooms at
www.opb.org/pressroom/pressrelease/the-mystery-of-matter/
http://pressroom.pbs.org/Programs/m/THE-MYSTERY-OF-MATTER.aspx
Contacts
Kelsey Wallace, OPB; 503-293-1933; kwallace@opb.org
Stephen Lyons, Moreno/Lyons Productions, 617-789-3900;
###
About The Mystery of Matter: Search for the Elements
The Mystery of Matter: Search for the Elements is a production of Moreno/Lyons Productions, a Boston production company, in association with Oregon Public Broadcasting. Supported by
3 grants from the National Science Foundation and the Arthur Vining Davis Foundations, it is directed by Muffie Meyer and Stephen Lyons, makers of previous Emmy Award-winning PBS programs like Benjamin Franklin and Forgotten Genius.
About OPB
Widely recognized as a national leader in the public broadcasting arena, OPB is a major contributor to the program schedule that serves the entire country. OPB is one of the most-used and most-supported public broadcasting services in the country and is generously supported by members across Oregon and southern Washington. For more information, visit .opb.org