By Megan Johnson
People.com
November18, 2015
Ben Affleck is giving one Massachusetts town its star turn.
The Gone Girl star, 43, is currently filming the adaptation of Dennis Lehane's novel Live by Night in the city of Lawrence – and residents are getting quite a thrill when he pops up all over town.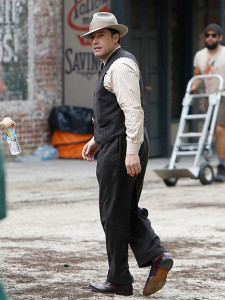 Nelvi Diaz got a chance to meet the star on Monday when Affleck took a break from filming a car chase scene. Clad in Prohibition-era clothing, the actor was grabbing lunch on the set and was more than happy to take pictures with fans.
"They took a break from the scene and Ben was walking around. He came right next to us, and he put his arm around me and we took pictures," Diaz told PEOPLE. "My husband just kept taking pictures, and Ben said 'Okay, buddy!' and started laughing. He was really nice about it. Other people came down and took pics with him. He was fine with it."
With Hollywood taking over the city, the majority of Lawrence residence are very happy their town is getting some positive publicity. Natalie Perez, 24, saw Affleck filming outside the Washington Mills Lofts, and pacing around on his phone between scenes.
"I think a lot of people are happy that Lawrence is getting a lot of exposure," said Perez.
The only downside? People weren't able to get their caffeine fix. The film's conversion of Essex Street into a strip of 1920s businesses had some local coffee drinkers peeved when security wouldn't let them by to enter Dunkin Donuts. But for the most part, it's been a very positive experience for Lawrence.
"He's been bombarded with the town's residents," said Perez. "He waves, he's really nice."
"People are really happy they're in the area," Diaz agreed. "They're asking, 'Will property value go up?' It was pretty positive. It's really nice they allowed people to be there."
Late last week, Ben was spotted strolling around Lawrence with his mother, Christine. Wrapped in a leather trench coat, scarf and knit hat, the duo took a break from the set to catch up.
Affleck has been working tirelessly on the film this fall. The production is set to head to Boston's North End later this week, followed by South Boston the week after.